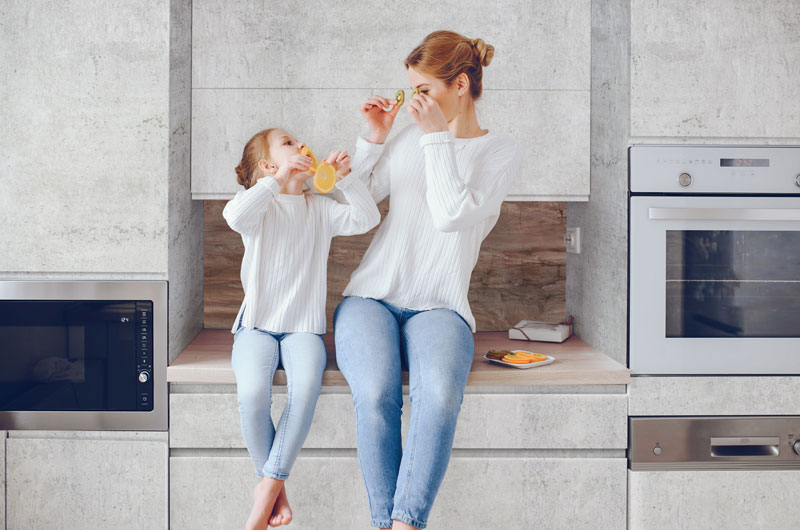 Photos: Contributed
Digital printing is nothing new. It has been around for years, it's easy and everyone does it.
From the computer, at home or in the office and even from our smart phones. Whether it's a document, a photograph, a graphic or design, digital printing is everywhere and as long as you use a quality printer and high quality paper the results are astonishing.
And now, increasingly, that same process is being used in our industry, on anything from decorative surfaces - including furniture, laminated floors and real wood in veneered or solid design.
One of the big trends in architecture, interior design and furnishing is individuality. Customers want to express their creativity and originality. They want unique designs that perfectly match their lifestyle and design ideas.
That trend creates a unique business opportunity for woodworking companies wanting to take advantage of this trend. Advances in digital printing technology are driving innovation in design and manufacturing solutions for a broad range of products. Especially in the flooring and furniture industry, but also in the cabinet industry. Digital printing technologies are the key to customization and a broad range of variety that woodworking companies can offer their customers at lower costs.
Digital printing is an innovative process for surface design and decoration, which allows for an almost unlimited variety of designs in a very high quality and gives every surface the desired look - right down to the individual item. Increasingly, customers want personalized products tailored to their exact specifications and needs. The trend towards individualization in the furniture industry is particularly evident in surface technology.
At the same time, companies today must produce faster, more efficiently and with more flexibility in order to continue to meet the needs of their customers. Digital transformation, robotics, IoT and 3D printing technology - among other things, are setting the stage for Industry 4.0.
The advantages of 
digital printing
Digital printing enables the production of small batch sizes, the integration into process chains in the decor industry, individualized mass production, fast reaction to market trends and low storage costs. Especially in the woodworking industry, digital printing has grown rapidly in recent years. The technology is booming in the furniture industry and flooring manufacturers are also increasingly using it.
The 'look and feel' of the living environment is inreasingly important. That's why manufacturers offer a variety of new decors and surfaces ranging from super matt to high gloss and even completely unique individual patterns and designs. Digital printing makes all of this possible. Soft-touch and anti-fingerprint effects promise a lasting authentic feel and look.
With coated surfaces, reproductions of wood, for example, remain particularly popular.
Modern digital printing machines are highly efficient production systems and their performance is making them viable for more and more applications and markets. The advantages of this technology are well known. With digital printing, the printing systems are supplied with the necessary data directly from the computer. Digital data transfer increases flexibility throughout the entire production process. The time-to-market 
margin is also significantly reduced. Digital printing permits rapid 
decor changes, faster reaction to customer demands and the immediate implementation of new decor concepts.
Digital printing allows so-called "endless decors" that can be produced for the flooring industry, for example. Whereas previously the print cylinder diameter (usually 1,370 mm) determined the repeat length, now, even decors with oversized repeats of up to 6,000 mm 
can be easily produced, which means four times fewer repetitions - 
a perfect solution for the lifelike decorative appearance of large and wide plank formats.
More product diversity is also created by the fact that formats can be freely selected and far more colour variations can be offered within the collections. The visual and haptic appearance of the surfaces can also be varied by 3D-structured surfaces.
For years, decor printers, machine builders and flooring manufacturers have been working hard on new developments for industrial digital printing applications. One of their goals is to be able to cover the entire range of gravure decors digitally. Problems still exist in the reproduction of certain colours including white, gold, mother-of-pearl or glitter. Because of their larger pigment platelets, digital printing systems are not able to produce them - yet.
It seems rather unlikely that digital printing will replace the conventional gravure printing process. Both technologies can serve different requirements and sales channels, so we can expect them to co-exist for the foreseeable future. It is clear, however, that digital printing will continue to expand the capabilities of printing, which means is has the potential to act as an innovator for new, sustainable product concepts.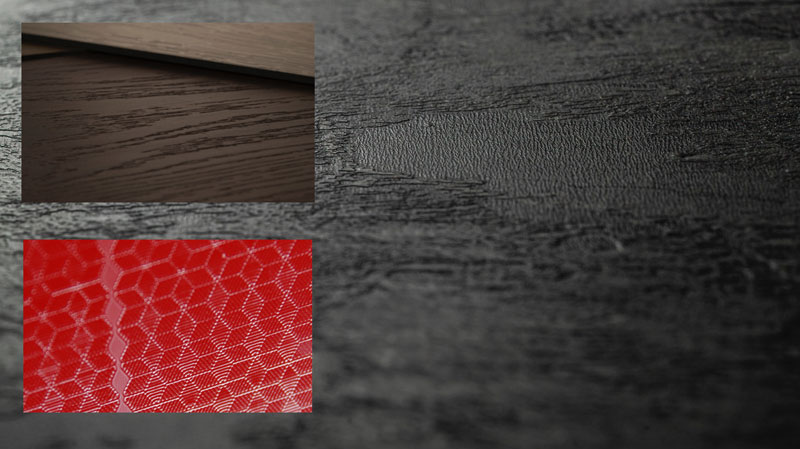 A NEW ERA IN INDUSTRIAL DIGITAL PRINTING
We're all familiar with the big players for traditional digital printing solutions such as Kodak, Ricoh, HP, Xerox, Canon etc. But digital printing for the woodworking industry is a very specific niche, which has become more and more importance due to customer's demands for individualized products.
Industrial digital printing is the answer to rapidly evolving market requirements, especially for furniture, packaging and flooring specialists. We took a closer look at some of the pioneers of digital printing solutions for wood and wood-based materials.
There is a particular demand for the realistic reproduction of natural patterns (wood) in high quality and large print runs - with the highest surface resistance and the lowest possible process costs, the flexibility to react directly to developments in fashions and trends, the reduction of production and storage times for pre-processed parts and the fast response to a wide variety of requirements. All of these characteristics are currently driving industrial digital printing. And a number of machine manufacturers have found solutions.
Digital printing is suitable for all flooring surfaces as well as for furniture, glass, laminate and plastic. Whether wood, MDF or cork - digital printing and embossing is possible in exceptional 3D quality. Here is the technology and what it can do.
Cefla Finishing
Cefla Finishing, a leading provider of surface finishing technologies, manufactures machines and coating equipment, industrial digital printers, and machines for decoration and lamination, is based in Imola, Italy. Cefla North America, located in Charlotte, North Carolina, is the company's largest subsidiary outside of Italy. Cefla is offering industrial digital printing solutions that are increasingly popular in response to rapidly evolving market demands, especially for flooring specialists. Cefla's J-PRINT range offers industrial digital printing solutions for all flooring surfaces, furniture, skirting, glass, laminates and plastics. Digital printing 
techniques enable exciting alternatives. The J-Print SP and 
TD machines for color and 
3D printing integrate perfectly 
with the entire process, from 
raw material preparation to the coated final product.
Ceflas's J-PRINT TD printer performs embossing in register (EIR) and is designed to produce an incredibly realistic and haptic effect providing tactile feedback. Applied at a resolution of 400 dpi and speeds reaching 50 m/min., the printer uses special inks in order to deliver the same surface resistance one would expect from any high-quality flooring.
The J-PRINT TD comes preconfigured with one standard position and can be configured for a maximum of two positions. Its graphics software enables it to print high-resolution gray-scale images using the machines high-quality print heads. The J-PRINT TD employs a system which circulates the ink through the print heads, thus reducing the frequency of required cleaning cycles. With its specially designed ink reservoirs and automatic control of all critical parameters, including temperature, flow and circuit pressure, the printer delivers optimal ink management. The market-leading DOD (Drop on Demand) grey-scale jet technology comes standard on the J-PRINT TD.
Barberán
Barberán, S.A, based in Barcelona, Spain is a designer and manufacturer of machinery for surface finishing. Barberán is known for the development of single pass digital printers for the furniture and flooring industry, achieving high quality prints that mimic wood, stone and other designs at industrial speeds. And to make those "prints" as authentic as possible, Barberán has, in collaboration with ZeeTree, developed trueTEXTURE technology, which is changing digital printing for the furniture and flooring industry.
This system manages to generate infinite textured effects in order to perfectly reproduce natural materials such as wood or stone. trueTEXTURE solves the two problems posed by pre-existing technologies: the precision of the design and the depth of the texture. With trueTEXTURE the texture is not generated directly by printing on the panel. Instead, a disposable material modifies the mechanical properties 
of the wet layer in the selected 
areas of the design, penetrating at different depths and generating the texture in the brushing station.
trueTEXTURE is available with the 690mm, 840mm, 1260mm, 1890mm and 2100mm wide Jetmaster. These printers feature Jetmaster G5 software, a platform developed by Barberán and designed to intuitively handle all printing operations, so that it converts a highly complex machine into an easy-to-use system. This tool is specifically adapted to single pass technology and has been inspired by the experience transmitted by the users themselves.
HYMMEN
Hymmen GmbH, based in Bielefeld, Germany is another provider of presses, laminating lines, liquid coating lines, industrial digital printing and control technology.
A new subsidiary - Hymmen North America Corp. just opened in Greensboro/North Carolina in October - and will supply the American and Canadian markets.
Manufacturers are increasingly taking advantage of the benefits of digital printing on an industrial scale. Those key benefits include:
Industrial production of small 
output volumes per decor
Integration of digital printing in the process chains of the decor industry
Individualized mass production
Fast response to market trends
Shorter time to market
Shorter set-up times
Lower storage costs
New design options (register 
lengths, colours, visual depth)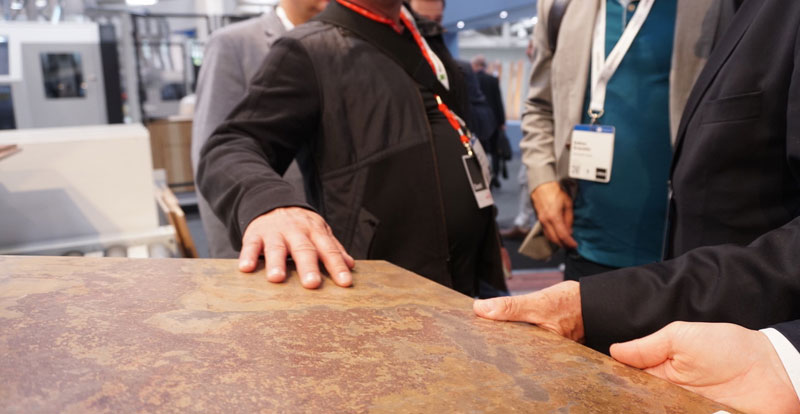 The need for an 
authentic feel
If we consider the example of flooring, its key properties don't just include the look, but also the feel of the real thing. The look is created via digital print, but the feel is typically still created with the help of pressing plates or structured rollers. That means that although digitally printed decors are becoming increasingly popular, all associated benefits of that new process are thwarted by the necessary analogue structuring process.
"We believe that digital textured printing offers major market potential," said Dr. René Pankoke, managing partner and CEO of Hymmen. And that is what prompted Hymmen to develop a process for digital surface structuring that is suitable for industrial applications.
Hymmen digital 
lacquer embossing
Digital lacquer embossing uses a transparent liquid medium, which is printed into a layer of conventional, non-cured lacquer. This is accomplished with the tried and 
tested technology of the Hymmen JUPITER digital printing lines. The deep and unique structure develops 
as a result of subsequent physical 
and chemical reactions.
Digital lacquer embossing takes advantage of all commercial and technical benefits of Hymmen's digital single-pass printing method. The process offers great flexibility, short set-up times, no storage costs, new design options and individualization – not to mention 
the savings resulting from the changeover of rollers or pressing plates. With a width of between 70 mm and 2100 mm and just a 
single digital printing bar, the technology can be easily integrated in existing processes. Despite using just a small quantity of the structuring medium, all proven features of the lacquer such as hardness, bonding, scratch resistance and chemical reliability are ensured. Lastly, it is possible to create structures that are embossed in register to the decor of the surface, whether with digital or analogue printing.
Staining using 
digital printing
The basic idea of DLE is also being adapted to create yet another product. Creating stained furniture finishes and flooring decorated with stain was previously only possible with analog techniques. Staining was only ever possible over the entire product surface and the only way to include patterns and shapes in the design was by masking.
Taking this method as inspiration and using the DLE machine technology has resulted in a new, digital process that allows for digital printing of stained surfaces.
The first step of this process treats the wood surface to reduce standing fibers. Digital printing is then used to apply a transparent ink to the areas which are not to be stained. The ink is cured and then stain is applied and distributed. A topcoat is applied to seal and protect the wood. The applied ink layer is very thin (5-8 μm) and can be removed with a fine "cleaning grind," meaning that a second pass with another stain colour or treatment with an open-pored seal is possible.
EFI Electronics 
For Imaging Inc.
EFI Electronics For Imaging Inc. - 
a global technology company based in Silicon Valley - has developed two different types of Cubik digital printer technologies for wood. One uses mineral inkjet inks for staining while another uses UV inkjet inks for decorative, full-colour applications.
Digital stain and natural decoration with the EFI Cubik for mineral inks promises new wood decoration possibilities that respect the "soul" of natural wood. EFI Cubik Mineral was developed to achieve the ability to digitally stain and decorate wood with more natural-looking results than ever. EFI's printers are ready to work 24/7 in any industrial environment, providing efficiency in the staining, decorating and finishing process, including the ability to predict colour results, tone uniformity, and accuracy from one production batch to another.
With Cubik Mineral, a world of decorative possibilities opens up, ranging from the tonal unification of the manufacturing lots to the total transformation of any wooden board.
EFI Cubik mineral ink is suitable for all types of wooden substrates, including plywood, laminates and natural wood. It fits all applications, including flooring, wall panels 
and furniture.
The EFI Cubik UV uses UV inks and offers decorative colour options for creative and customized decoration on wood. EFI's Cubik single-pass UV LED printing option allows users to print stunning, high-resolution graphics, photographic images and vivid colours on wood surfaces for highly decorative indoor applications. EFI Cubik UV LED inks easily adapt to new trends in interior design and respond to market demand for customization and contract decorative projects. This option offers a wide colour gamut and delivers consistent, repeatable results. With virtually no VOCs, lower temperatures and lower energy use, LED technology is a greener printing solution with the ability to print on thinner, heat-sensitive, and specialty substrates. EFI LED fits all applications: commercial displays, decorative panels and furniture.
EFI recently delivered the first EFI™ Cubik S700 industrial single-pass digital inkjet printer in North America to Mono, Ontario-based flooring manufacturer Kember Kreative Interiors. The company purchased the printer for its Kember Flooring subsidiary in Michigan, where it will launch a research and development initiative that is expected to improve efficiencies and relieve existing production burdens.
"The idea is to use the Cubik printer to replace our existing analog staining method," said Peter Kember, owner and managing director of Kember Kreative Interiors.
"One of the challenges we face today is to achieve a consistent colour at the end of our production lines when using varying batches of substrates. Currently, we need to adjust stain formulas to compensate for the differences, which can take hours to perfect.
"Cubik will enable them to classify each flooring plank and select the formula to achieve the desired end colour."
EFI Cubik S700 
transforms wood 
industry production
Based on EFI's single-pass printing technology, the Cubik S700 offers a unique ecosystem approach where the printer, inks and EFI Fiery proServer DFE with its colour management system all work together as a fully integrated solution, providing the wood industry with top-quality decoration, high-end performance and ink savings. The Cubik S700 uses mineral inks, providing higher image quality without affecting the natural properties of the substrate, resulting 
in better integration with the wood. 
In addition to their effectiveness 
on interior floorings, the mineral inks are also a good choice for outdoor applications as they have an excellent lightfastness in comparison to other UV ink options.
Through direct digital printing to wood materials, flooring and wood-product-manufacturers can give new life to an affordable raw material. EFI customers such as Kember Flooring can meet growing demand for customization, creating a world 
of decorative possibilities for 
home and office, construction 
and other markets.