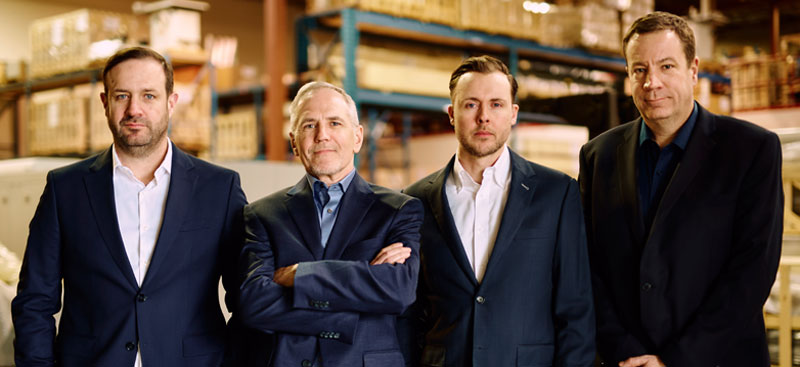 Ryan Akhurst (vice president), Eric Stebner (president), Brent Akhurst (service Manager), Graham Akhurst (vice president)

"We are very honoured to have been chosen as the recipient of this year's Family Enterprise of the Year Award from FEX B.C.," says Ryan Akhurst, vice president of Akhurst Machinery.
"We take a lot of pride in running a fourth generation family business. Our longevity is truly a testament to the great people we have worked with over the years, which includes our staff, customers and suppliers.
"As a family we feel a few of the reasons we have been successful in operating over eight decades has been our ability to communicate openly and effectively, in addition to the joint development of goals and the overall direction of our organization."
Akhurst adds that "family businesses are the heart of our business community in Canada with over 80 per cent of all businesses being family owned.
"FEX is a fantastic organization that brings together family businesses from across the country to discuss and work on challenges in their own organizations. They have a number of resources available including peer groups, a wide range of family business advisors, and online learning tools."
The fourth-generation owners of Akhurst Machinery Ltd. will receive the Family Enterprise of the Year Award (FEYA) at an online ceremony set for Sept. 24.
The award was established by the Family Enterprise Xchange in 1986 to "recognize, celebrate and promote the achievements of Canadian family businesses and the considerable contribution they make to both their local communities and our national economy."
In 1938 at the age of 60 (when others might have been thinking of retirement), W.A. Akhurst demonstrated his courage and entrepreneurship and opened his own firm, W.A. Akhurst Machinery Limited. Operating out of his family home in Vancouver, the company offered industrial equipment primarily to sawmill operations in British Columbia.
Now, with 80 employees in five offices strategically located across Canada, Akhurst Machinery has steadily grown to become one of the largest independent equipment distributors in the country. By bringing their family values to work and focusing on excellent service, they have earned many satisfied customers through the years, FEX says in its release.
The Akhurst family has also worked hard to provide a progressive environment where its staff are treated as an extension of the family. Emphasizing the importance of teamwork, they have created a culture of trust and mutual respect and are proud of the many long-term employees at the company.
Active community supporters, the Akhursts are generous contributors to the Alzheimer's Society of B.C, participate in Movember (an annual event to raise awareness of men's health issues), and volunteer to coach community sports.
Eight decades after W.A. opened his doors, Akhurst Machinery remains a family operated company, owned by 4th Generation family members Graham Akhurst, Ryan Akhurst, and Brent Akhurst. To this day, they work towards achieving business goals that are aligned with their values as a family business.