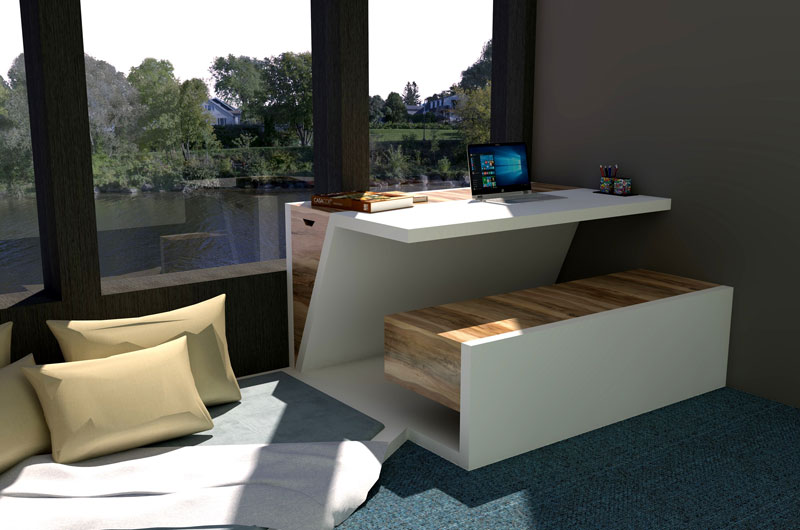 Origami, by Alexandra Clément, took 1st place in the Formica 2020 Student Innovation Competition.
The 2021 FORM Student Innovation Competition invites architecture and interior design students to showcase their vision for the future by creating furniture pieces using Formica brand products.
This year's challenge asks students to submit a color rendering and project statement for a furniture design that highlights the student's vision of "Design for the Next Generation."
The world is changing rapidly, and creativity, flexibility and adaptation will be key in the designs of tomorrow while still delivering on style and function today.
Students are asked to use their creativity when defining what a design for the next generation means to them, which could be furniture for a new learning environment for children, a post-pandemic workplace or a future-forward commercial setting. They will have the chance to win cash prizes, national recognition and have their work showcased at NeoCon 2021. The competition is open from Sept. 14, 2020 through March 12, 2021, with winners announced in May 2021.
Participants must use at least three Formica brand products, including one (or more) from the company's 2021 Specialty Collection.
The grand prize winner will receive a $2,000 cash award and their design will be fabricated and displayed during NeoCon 2021 in Chicago in June. The second-place winner will be awarded $1,000, and the third-place winner will receive $500. The top three winners will all be invited to attend NeoCon as guests of Formica Corporation, and will be able to network with industry professionals and get a taste of the design community.
An exceptional group of Quebec and Canadian students in 2020
The 2020 edition of the competition attracted an exceptional group of Quebec and Canadian students who distinguished themselves by a record number of participants, but also by the creativity and quality of the designs submitted. Two Quebecers, Alexandra Clément, from Cégep de Saint-Jean-sur-Richelieu and Jacob Ethier, from the Université du Québec à Montréal won first and second place in the competition. Two Canadians, Matthew Lam and Benjamin Ma, of the University of Waterloo, received an honorable mention for their joint work. To learn more about the winners of the last edition, click here.
Entries will be accepted from Sept. 14 to March 12.
For more information, including complete competition details, resources and rules, click here.