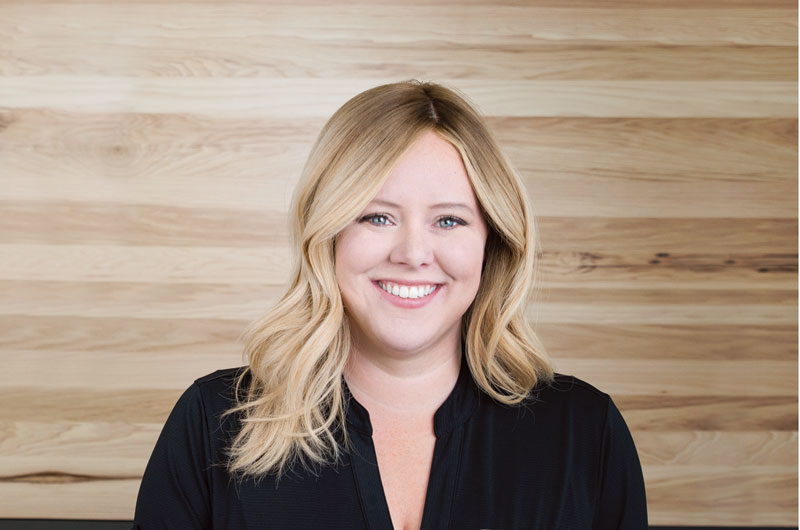 Nikki Van Boeyen
Editor's Note: This is part of a series focusing on technology and how it can build and transform business and address everything from day-to-day operational challenges to overall business strategies.
Garold and Carole Gipman started Gipman Kitchens and Cabinetry in Cranbrook, B.C. in 1988 and since then the small, one-man shop has evolved into one of the most unique and largest cabinetry manufacturing facilities in the Kootenays.
And daughter Nikki Van Boeyen – who joined the family business after university – has played a big part in helping to transform the company through technology and new systems over the past few years.
Garold Gipman had been working in millwork shops in the Kootenays from the time he was around 15 years old.
It was "very seasonal work" and when there wasn't enough of it to keep everyone busy, it was him who went out looking for projects, which he then brought back to the company.
Always based in Cranbrook, B.C., but often travelling throughout the area to find work for his employer, Gipman eventually decided to use that time to build some of his own projects instead.
He continued to work for his employer, but now, when things slowed down, he began to work for himself and "completed his own little projects during the off-season."
That's when he discovered how much he really loved the freedom that comes from running your own business and decided to set out 
on his own.
Their daughter Nikki was born in 1989 and his desire to spend more time with the family and to work for himself convinced him the time was right to start the family business.
"So my parents found a building in Cranbrook where they could live and run the shop out of," Nikki Van Boeyen says.
"We lived above the shop and dad went to work downstairs. It was a perfect setup and as a result I had a very special childhood because I always had both of my parents at home. I didn't know that wasn't normal for the longest time."
In the beginning, her father was doing mostly commercial projects, desks and furniture for offices, liquor stores and all kinds of random projects. But as in the past, the market in Cranbrook was tough and at some point, "when the commercial market around here slowed down and he had to go too far for projects, he started to look at doing kitchens and residential work instead of commercial work," she says.
That, however, turned out to be much tougher than he thought and Van Boeyen says her dad told her it took him three years to land the first kitchen job because he had to figure out everything from scratch. How to design it, how to price it, and how to build quality and still be competitive.
But he persisted and worked very closely with his customers and eventually he could design, price and sell a kitchen in three hours, the "old-school way."
So, once he got a job, he spent the next two to four weeks building it in his shop, by himself, and then installing it with the help of a friend he would come back and do the next one, she says. That was the cycle for many years.
Then, in 1993, there was another turning point in the business, because that's when he made the decision to buy a point-to-point CNC machine, which was the biggest purchase he ever made, Van Boeyen says
"It's a funny story really. A sales rep for Morbidly had ordered a machine for another customer and it was on the boat to Canada when the sale fell through. "So he was scrambling to find somebody in North America to sell it to and called every shop in Canada and every shop in the States on his list of contacts and everyone turned him down.
"My dad was last on his list and at the time he was the smallest, newest, littlest one-man shop in no-mans land, the very last name on that list, but my dad said: "Yup, I'll take it."
"That kind of stunned the guy because there were 50-men shops in Canada that didn't have a CNC machine at the time, but dad put it in his basement in his one-man shop and spent the next 10 years figuring out how to make it the most automated and efficient piece of equipment he owned."
He even proceeded to hook up barcode scanners when the software and machine company told him "you can't do that, it doesn't have that capability."
And he also helped other shops set up a similar system in their businesses.
Van Boeyen says she remembers when she was just seven years old, running that point-to-point was "one of my chores."
"I didn't have normal chores like cleaning my room, mine was help dad run the Morbidelli.
"I learned young, but of course my dad was right there with me and I definitely preferred that to vacuuming or doing dishes."
In 2010 or thereabouts, Van Boeyen says the Morbidelli sales people started bugging her dad that he had an old machine and that he needed to replace it, that he should get a nesting router, but he told them at the Las Vegas show that he wasn't going to buy anything until they had exactly what he needed.
"He wanted a 5x12 table, he wanted an infeed and outfeed and a bunch of other specs they didn't have," she says.
"But he was told they don't make that kind of machine and they may never make a machine with those exact specifications.
"So my dad told him then I'm not buying a machine."
It turned out, however, that the specifications where brought to the engineers in Italy and after a couple of weeks they said they would build him that machine to his exact specifications. That one-of-a-kind CNC was delivered in 2014 and the company has sold several more since then, which proves there is a demand for what at the time seemed like rather unusual specs.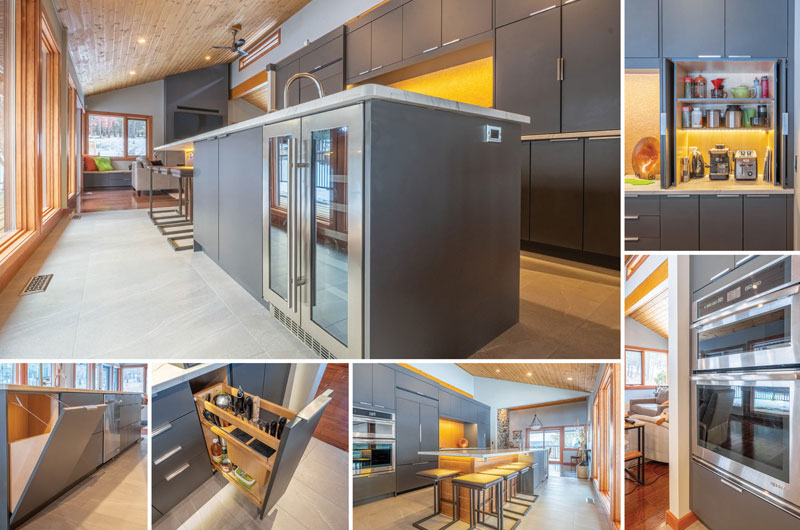 The long way
Despite Van Boeyen's early exposure to the family business via those shop chores, she took a couple of detours before committing to it full-time.
"I helped out in the shop until high school where I was part of the theatre program, so my weekends and evenings were rehearsals and theatre shows," she said "and I didn't have much time to help out in the business and at the time it wasn't really something I was interested in anymore."
Van Boeyen says she wanted to manage the shows and work with the actors and applied to the University of Lethbridge's theatre program after high school. She started at UofL in 2007, where she did her bachelors degree in theatre management and kinesiology "and I also got a minor in Japanese," she said with a laugh.
After she got her theatre degree she realized she didn't really want to work with actors, "they are really high maintenance people and not people I wanted to surround myself with for the rest of my life."
"While I was graduating from the university I was working as a manager at Starbucks, but I wasn't getting the promotions I deserved and they wouldn't work around my schedule for a couple of days a week so I had to look for another job. Turns out "Ken (Anton) from Adora Kitchens (in Coaldale just 20 minutes from Lethbridge) was looking for a receptionist, so I applied for that job and worked with him for six months."
While she was there, she also helped out in kitchen design and "that's how I got back into the business. Once I graduated, my parents suggested I come back and work for the family business because they said they will want to retire at some point and it would be nice if it stayed in the family.
"So that's how I fell in love with it all over again. That was January 2014."
From the ground up
Her father - who has always looked for ways to work more efficiently and was an early adopter of automation - wanted her help with employee training, writing training manuals and additional automation and so Van Boeyen went to work.
By then the company had built and moved into a 15,000 sq. ft. building in the industrial park (2009) and had 10 employees, but before she started on those projects, she wanted to get to know the business from the ground up.
"I started helping out in the shop, I learned all the systems and processes and how things flowed, I also worked with employees and then started to build training manuals," she said.
Also in 2014, Gipman's received four brand new machines - one every few months - and Van Boeyen had her work cut out for her documenting procedures and maintenance for that new equipment. There was a new nesting router, a new edgebander, a finishing sander and a compact finishing machine, all from SCM.
"So that was a busy time, we had a new machine come in every couple of months and it took some work to get it all located, hooked up and working together like we wanted," she said.
"My dad had planned out where everything was supposed to go and he moved our existing machines around as required. When he built this new place he knew we'd be getting new machines and he had planned everything out ahead of time. We didn't just want to find a place on the floor; we wanted to optimize everything for the best and most efficient flow.
"So he dealt with that and when the machine was delivered and the technicians showed up to hook them up, I shadowed them and documented everything, including how to run them and get the quality we wanted," Van Boeyen says.
"Then I wrote manuals and trained the staff on how to use everything.
"That was pretty much my sole focus for a year, just to keep on top of everything."
Next, Van Boeyen moved to the front office. With production working as planned, it was time to make the front end more efficient.
They wanted to optimize the sales and design processes and figure out how to best get jobs out in a timely manner.
"Our main concern was to make sure the customers had a great experience from when they first came in to getting their project completed on time and on budget."
Van Boeyen said the realized they needed to streamline their process, from the early design stage right through to manufacturing.
"I started to design projects with customers, document and develop a proper sales process for our company, so that everything was done the same way, regardless of who was working on a project," she says.
"I also built us a sales training system and a sales process that was consistent from first contact to completion of install and regardless of the scope of the project."
It took close to two years to complete that system because it's actually quite a complicated process.
"There are so many little details that are different from job to job and we wanted to make sure we're able to capture all of that as simply as possible. We also didn't want to reinvent the wheel every time we got a new project.
"So we standardized and streamlined all of our processes, from the office to production."
New systems
A crucial component of the new system was the tablets they issued to staff.
Van Boeyen says employees us them to track their time, but they also hold all of their training manuals, machine set-ups and maintenance, what to expect and when to expect it, as well as videos of quick reminders of what they are supposed to do and pictures of other important items. So they have all of that at their fingertips and it makes life so much easier when everyone is working off the same information.
"You don't have to remember how to do everything," she says.
"There is a lot because we manufacture all of our own boxes, doors, mouldings, interior packages and countertops and we do all of our own finishing. And since we have a small staff, they all eventually get cross-trained, so this way they can refer back to their manuals."
The system is essential now for Van Boeyen to know how all of the jobs are progressing.
When she first moved to the front office and got involved in the sales process, she needed systems that would allow her to travel and still know what's going on.
"We travel to jobs, two hours north, or south or east or west. There were two years when I was our sole salesperson, and in order for me to do that I needed to be able to send projects back to the shop to start being laid out while I was still on the road."
How did you do it?
Van Boeyen says she started by figuring out where the problems and bottlenecks were and then researched solutions and ways to solve them.
"The internet has the answers to everything. You just have to know where to look," she says.
"So I spent a lot of time looking and figuring out what I needed. I downloaded tons of information and figured out what other people and industries were doing and then figured out what would work for us."
She said she put in the time to test everything and I weeded out "the good, the bad and the ugly" and stuck with what she liked and what worked for them. Then she streamlined the processes to work with that.
One challenge she found with residential work was that it is tough to meet the wife and the husband together. Someone is usually away working, but they want to discuss the project and costs together, so that usually means evenings or weekends.
"So I put my systems online and as a result 90 per cent of our projects now are approved after 9 p.m. on Thursdays, Fridays and Saturdays."
She designed the system so that when a customer receives an estimate they can approve it right there, online. It gives them their contract and once they approve it also provides them their invoice and they pay the required 50 per cent down, right there, online.
Everything the customer needs is right there, it's one page after another and completely intuitive.
"So when I come to work the next day I have money in the bank and my system tells me what I have to do to follow up with that customer. To thank them for the sale and set up the next step."
The whole system works via a link customers receive in their email and it takes them to a live document that can be changed and adjusted until they've signed off on it.
"That also means I don't have to track 19 different quotes, I only ever have one document that's up to date.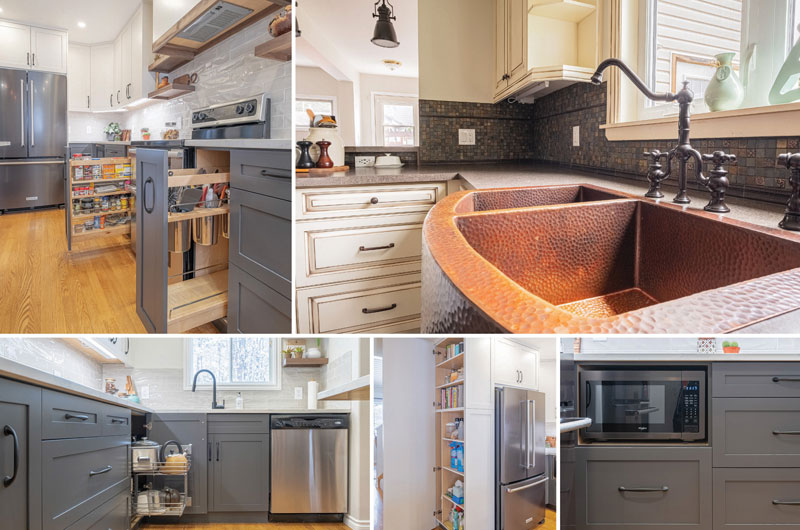 Automation doesn't have to be expensive
"I've built all of our programs myself and as cheaply as possible," Van Boeyen says.
"I definitely didn't have money to do anything. I had to figure out how to do everything as cheap or as free as possible."
She started by asking some simple questions: Does it solve my problem, does it improve my customer's experience and does it make staff's workflow easier?
She also made sure all of the programs talk to each other.
"I know for example from the tablets staff use to track their time, where any given project is at any given time. Also, any project that's sent to the shop has details on the time that's been budgeted to complete certain tasks," she says.
"So, I can see where the staff is at and it notifies us if a project or task has used up 80 per cent of the time and that if they are still working on it that we may have to check it to see what is going on.
"Having that information also allows us to increase or lower pricing if we find that the time we budgeted is off, or that we have an issue with a certain machine that needs addressing, or a material issue."
She said there are still some things they do by hand, they still need a few more machines, but most people who come through their shop can't believe the level of automation they have.
And as a result of having up-to-date information and set procedures for everything, problems can we dealt with immediately and nothing is left to chance.
"Let's say someone notices that the quality of a part is off. They will not make any adjustments, but instead talk to their supervisor who is responsible for the machine running optimally," Van Boeyen says.
"That's what my dad is doing now, he has been making his way around the shop making sure every machine is running how he wants it.
"And then between me and the shop manager, we document and update all of our training manuals so the changes we have made are reflected instantly across the system. And our staff know as soon as we do because it's updated on their tablets.
Of course there were plenty of challenges, but in the end recalibrating everything has yielded big improvements. Everything from a better customer experience and improved products to happier staff.
"Things were going fine before," Van Boeyen says, but they are even better now. "We were doing things in a harder way then we needed to because we had staff who didn't now how to use the machinery to its full capacity or because we weren't as efficient in the office."
And as is so often the case, she said it was the typical situation where a company is too busy dealing with the day-to-day and there just wasn't the time to teach everybody the best way to do things.
"Everyone knows good people are hard to come by and especially here in Cranbrook or other small towns, it's a real challenge," she says.
"But by optimizing our processes we can rely more on the machines if we have to."
Streamlined process
Now their process with a new customer always follows three steps.
They start by talking about what the customer is looking for, what they have and what they hope to have. They are asked to email a couple of pictures of their current kitchen and then they are matched up with a designer who will talk to them client during a complimentary home consultation which includes initial measurements.
The designer figures out what the client is looking for, gets an idea on the budget and then comes back to the office to work on a design.
Next is a visit to the shop by the customer who comes in to see if they like it.
"If the customer wants something that's completely unrealistic, we show them that version and then show them what should be done," Van Boeyen says.
"Then we are looking for approval and a 50 per cent deposit before we start design selections such as colours and materials.
"So we spend a few hours in consultations and design, but then we ask for a commitment and we don't give them our designs without prior approval."
Lessons learned
As for the shops that say they don't have the time or the money to install similar systems, Van Boeyen says money is just an excuse.
"Like I said, I didn't have money to do anything and we had to figure out how to do everything on the cheap.
"But if you have problems, you need to look at what that is doing to your customers, what it is doing to your reputation and what its doing to your staff - and in that order.
"Regardless of what it is, if it's a product issue and your customers don't like it, you need to get rid of it and fix it. If your customers don't know where things are at, you need to fix that because ultimately they are the ones telling all their friends that you were a giant headache to work with, or that it was a super fun experience and they loved the outcome.
"So the only thing that matters is the customers' perspective."
And Van Boeyen says it doesn't matter about the money, because in the end it is the cost of doing business.
"So if you have to buy a CRM (Customer Relationship Manager) in order to manage your jobs better, you need to spend the money. Most of these run about $35 a month, so that's not expensive and you'll have more customers in a couple of months because you can now manage more projects.
"You have to make the decision to either continue to let your reputation suffer, or spend a couple of bucks and fix it. It's $35!
"You have to be proactive and not reactive. That's probably the biggest lesson I learned.
"And one of the best pieces of advice I ever got was when my manager at another job told me to never remember anything I can take 30 seconds to write down. So if I can make a quick note about it I don't have to remember it and I know I have it somewhere. I always have that to go back to.
"Why try and remember what colour the customer wanted if you can just write it down."
As an aside, while there is obviously nothing good about COVID-19, Van Boeyen says they've only had to make minor adjustments to their existing processes because of the systems they already have in place. As a result, some of their interactions with customers have actually become more streamlined.
The quest for constant improvements never stops, but Van Boeyen says they're feeling good about where they are and what they have accomplished.
Her dad can focus on what he likes best, the shop, and her mom "who has always been the one that makes the world turn around here," can continue to "stage manage our theatre show and make sure everything happens and everything flows."
"She is so good at what she does and she knows so much because she's worked with my dad for 30 years. She does all of our payroll and all of our books and accounting.
"She also still does all of our finishing and she runs and co-ordinates our shop and our production staff, she is the silent force that keeps everything actually rolling and how it should be," Van Boeyen says.
"We all work together, but we all have our own areas of expertise."
With a talented crew of local tradesmen, Gipman Kitchens and Cabinetry is a full-service custom cabinetry manufacturer that designs kitchens and bathrooms from concept to completion all over the Kootenays and Southern Alberta.
They've done jobs as far away as Vancouver as well, but Van Boeyen says they generally stick closer to home. Over more than 30 years and hundreds of successful projects they've developed a reputation for excellence and 90 per cent of their work comes directly from homeowners.
"We do most of our projects in the Kootenays, but we have done work in Vancouver and on the Island and sometimes in Alberta. But it all depends on what it is and who it is. On a regular basis we travel about two hours in every direction."