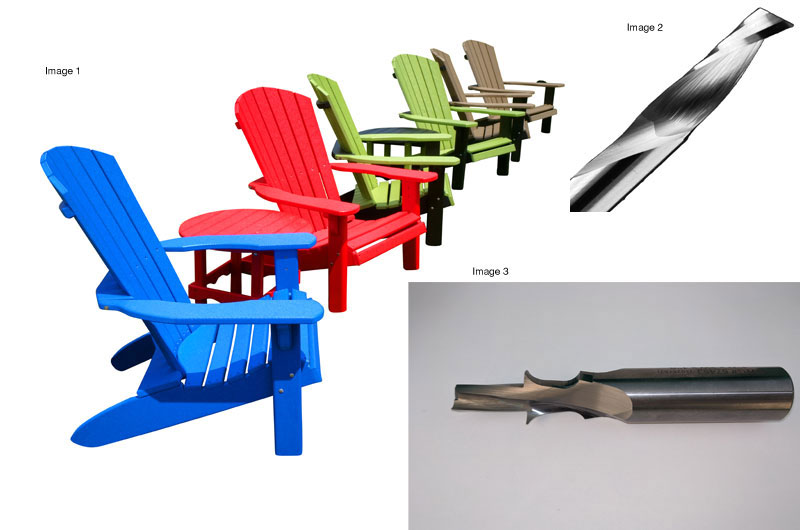 Global demand for outdoor living products has increased dramatically since March 2020, as consumers have been using outdoor spaces more frequently.
Outdoor furniture and cabinetry products have been evolving rapidly for years, but COVID-19 restrictions have expedited market growth. Residential consumers are purchasing homes and cottages with outdoor space in mind and outfitting these properties with outdoor furniture and cabinetry.
Commercial consumers are adapting their businesses to include more outdoor entertainment space and serving areas. There are numerous material options when considering outdoor furniture manufacturing. Traditional materials, such as solid wood, stainless steel and wrought iron are still popular for various style and practical reasons. A new range of resin reinforced plastics and high-pressure laminates are emerging in commercial and residential applications to meeting demands for durability. However, high density recycled plastic (HDPE) has become the most preferred choice for outdoor chairs, tables, and other accessories. HDPE provides a practical alternative to wood, with excellent durability and weather resistance characteristics. It is also available in a huge range of colours and does not require any finishing or maintenance.
Image #1 shows Muskoka chairs made from HDPE, which are part of a rapidly growing selection of outdoor furniture in various size and design. Most of these products are currently machined on CNC routers with various fixturing techniques to cut complete parts. HDPE is cut using the same machinery and material handling equipment as used in the wood industry.
However, plastic materials do machine much differently than wood composites, so alternate tool geometries and machine parameters are required. HDPE is relatively easy to cut, but material characteristics do present some challenges for manufacturers.
MATERIAL
Plastic (HDPE)
HDPE is high-density version of polyethylene (PE) and is the most common form of plastic used to make deck furniture. Most material compositions are made with recycled plastic for environmental and cost reasons. Although HDPE is incredibly durable, it is considered a "soft" plastic which machines easily, but requires special tooling to achieve premium surface finish on the edge of material.
CHALLENGES
Finish quality
The greatest challenge when machining any plastic is achieving cut quality, which is visually acceptable when it comes off the CNC router. Secondary finishing options are very limited compared to wood composites, so cut quality and surface finish is critical. Depending on the colour and composition of HDPE, machining marks can be visible on the edge of parts. Flame finishing, polishing or other methods of removing machining marks are generally not cost effective or practical for these types of products, so the manufacturer and customer must be satisfied with whatever cut quality comes off the machine.
Cost of raw material
HDPE is primarily composed of recycled plastic, so the cost per square foot is relatively low compared to other materials with comparable performance characteristics. However, it is still important to optimize material yield by organizing part layout on POD or nested machines. Depending on part layout and holding system, different diameter tools can be used to save material as well. 3/8 diameter tools seem to provide a good balance of yield and performance for thinner material, and ½ diameter may be required for thicker material to avoid tool deflection.
CUT QUALITY SOLUTION
HDPE is a relatively soft plastic, which cuts easily but does require special tool geometry.
Image #2 shows a standard solid carbide "o flute" tool for machining plastics, which gets its name form the "O" shaped flute design. It is critical to use a tool specifically designed for soft plastic to achieve best cut quality. Machine parameters are also of critical importance.
Plastics generally have a lower melting point than wood composite materials, therefore they are less forgiving, if machine parameters are not correct or tool geometry is not matched properly to the material. If you look at a cutting tool for hard and soft plastics, they appear to look the same. However, if detailed analysis is done, there are differences in geometry, which are specific to each type of plastic. Shear angles can also vary depending on the application. There is a trend in tool design toward higher shear angels on many materials, particularly for finishing operations. Solid carbide "O flute" tools are also available in 2 flute designs to allow for increased feed rates.
MACHINE PARAMETER SOLUTION
Machine parameters will have a dramatic affect on cut quality and machine efficiency. There is a balance between increasing feed rates to improve machine output and decreasing feed rates to improve cut quality. If the chip load is too large there will be machining marks prevalent on the edges which will be difficult to remove. In contrast, an excessively small chip load will generate heat resulting in material re-welding back to the tool or to cutting surface. Given the variation in materials it is always best to run a number of test cuts. That is slightly different feed rates to dial in the best cut quality option.
EFFICIENCY SOLUTION
Manufacturing outdoor furniture does involve a large variety of components in various sizes and shapes. Most components are machined with a straight tool and then have a radius added in a second operation. This normally involves multiple tools and a tool change operation which does reduce cycle times significantly.
Image #3 shows a cutting tool manufactured from solid carbide, which can pre-cut with the straight portion of the tool and apply a radius on a second pass without requiring a tool change.
As long as there is sufficient room below the parts for the tool to clear PODs, this type of tooling solution can be very effective to improve machine efficiency. It is highly recommended that solid carbide 
tools be installed in a precision 
tool holding systems, rather than 
a traditional collet. Hydraulic or shrink fit holders will ensure premium cut quality and allow for high feed rates to further optimize machine performance.
CONCLUSION:
As consumers continue to demand a greater variety of outdoor products, there is no doubt outdoor furniture manufacturers will need to innovate and find new ways to increase production efficiency. Cutting tools are a small part of a larger solution, but creative tooling designs can play a role in achieving production goals.