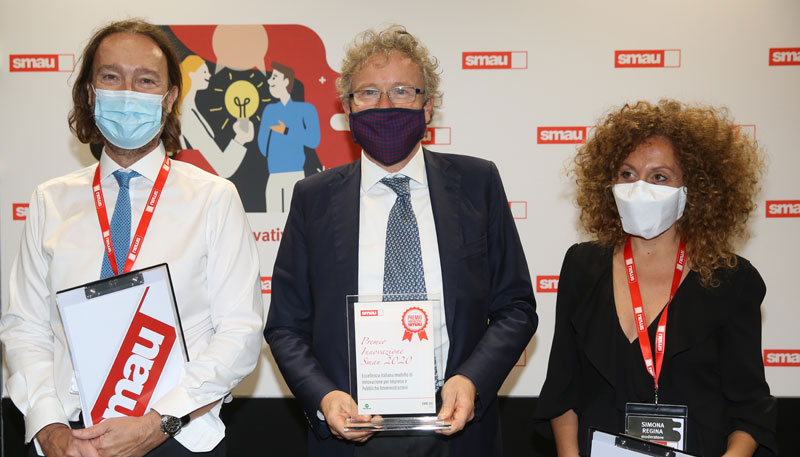 Photo: Contributed
Marco Mancini, SCM Group's general manager, with Pierantonio Macola, SMAU's president, and Simona Regina, journalist at Radio Rai.
SCM and CMS, the two benchmark brands in SCM Group's machinery sector, were key players at the 57th edition of SMAU, the annual Innovation trade fair held in Milan, Italy Oct. 20-21.
The digital software and services integrated with the SCM machines for machining wood and the CMS machines for composites, plastic, marble, glass and metal, won the "SMAU Innovation" prize.
Marco Mancini, general manager SCM Group, picked up the award on behalf of the Group during the SMAU Live Show event on the topic of "Interconnection of integrated and digital production systems and processes: the factory turns smart".
The prize is an acknowledgement of the innovative value offered by SCM and CMS industrial machines, complete with digital services and Internet of Things - IoT systems that make factories - from the furniture industry to construction, from automotive to aerospace, from nautical to plastic materials - more efficient and productive.
SCM Group's award shows how industrial machinery can be adapted from purely mechanical to increasingly more intelligent and smart, connected and integrated into the entire factory, in line with the needs of Industry 4.0.
From constant monitoring and analysis of the machine's state of repair and performance anywhere and at any time, to instant interaction and sharing of information between the customer and technical service provided, even remotely, it represents a significant reduction in time and cost when solving technical problems and allows the customer to work as efficiently and productively as possible.
"Innovation, digitalization and customer support services are the key players behind our Group's success," Mancini said.
"Even in the machinery sector, the trend is to shift away from being machine manufacturers and towards service providers which place customers' real needs at the centre as well as the optimization of their production processes and business plans."