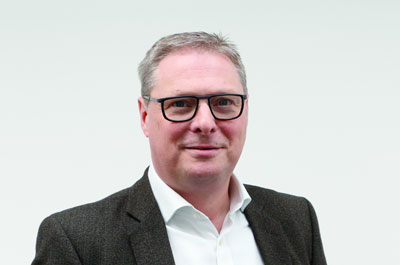 Photo: Contributed
Markus Hüllmann will take over as VDMA chairman on Jan. 1.

The board of Germany's Woodworking Machinery Association has elected Markus Hüllmann of G. Kraft Maschinenbau as its new chairman at its fall meeting.
He will succeed Pekka Paasivaara of HOMAG Group on Jan. 1.
The general assembly, which virtually on Nov. 11, also elected five new board members by mail-in vote.

They are:
- Gregor Baumbusch of Michael Weinig AG
- Christian Dieffenbacher of Dieffenbacher GmbH
- Ove Lange of Anthon GmbH
- Wolfgang Rohner of IMA Schelling Group
- Heiner Wemhöner of Wemhöner Surface Technologies GmbH Co. KG
"I am delighted that we have been able to strengthen our board with several leading companies from the industry," Paasivaara says.
"This will give the board new impetus. The trade association is also on a very good path with my successor Markus Hüllmann."
Other members of the board are:
- Dr. Stefan Brand of Vollmer Werke GmbH
- Frank Diez of Ledermann GmbH & Co. KG
- Jürgen Köppel of Leitz AG
- Matthias Krauss of Mafell AG
- Olaf Rohrbeck of Robert Bürkle GmbH
- Dr. Dieter Siempelkamp of G. Siempelkamp GmbH & Co. KG
- Dr. Stefan Möhringer of Simon Möhringer GmbH & Co. KG,
- Peter Schaeidt of Baljer & Zembrod GmbH & Co. KG
Klaus-Jürgen Lange of Anthon GmbH, is resigning his mandate.
"We are pursuing a number of current projects that will move our industry forward," says Dr. Bernhard Dirr, managing director of the trade association.
"For example, the digitalization of production in the timber industry, or international market development. The strengthened board will make us even more effective.
"On behalf of the entire industry, I would like to express my sincere thanks to Pekka Paasivaara, who headed the association for two years as chairman. And we also bid farewell to Klaus-Jürgen Lange, who was a member of the board for 32 years, with equal warmth and gratitude."