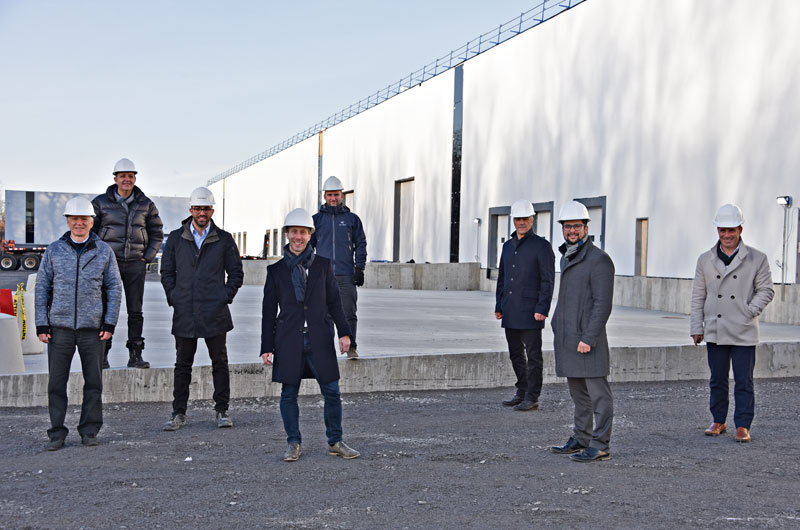 Photo: EBSU
Pictured in front of the new building are: Philipp Lawee, owner Valdev, Carmine Como, vice president finances Valdev, Mahmoud El-Koury, project manager Syscomax, Napoléon Boucher, president EBSU, Bertrand Dulude, vice-president of operations EBSU, Denis Labrosse, vice-president of finances EBSU, Miguel Lemieux, mayor of Valleyfield and Stéphane Billette, director of economic development of Valleyfield.
Kitchen and bathroom cabinets manufacturer EBSU of Saint-Louis-de-Gonzague, Quebec, will have a new plant as of March 2021.
EBSU, a stock kitchen cabinets supplier for Lowe's, Rona and other stores has been growing rapidly in recent years and has also recently signed a new contract with a major retailer.
In order to meet demand and increase its production capacity, it is now time to open a new plant, according to company President Napoléon Boucher.
The new, 180,000 sq. ft. facility will be located in the Valdev Industrial Complex, at 1290 Blv. Gérard-Cadieux, in Salaberry-de-Valleyfield.
EBSU's current facilities in St-Louis-de-Gonzague will continue to operate.
In order to successfully meet the demand, 150 new jobs will be created in the company within 18 months of the opening of this plant.
Founded in June 1981 by Mr. Michel Boucher, the company has been established in Saint-Urbain-Premier since its inception. A warehouse and another factory both located in Saint-Louis-de-Gonzague were added later. Today, all the activities of EBSU are done from St-Louis-de-Gonzaga.
In 1988, the company was making ready-to-assemble bathroom cabinets, which remained the only cabinets of the kind on the market until 1999. Then, custom kitchens made way to the first lines of ready-to-assemble kitchens, allowing EBSU to break into a new market.
Growing at a fast pace over the last few years, EBSU now distributes its products all across North America, in close to 1,000 retail stores specialized in the distribution and sale of renovation and hardware products.