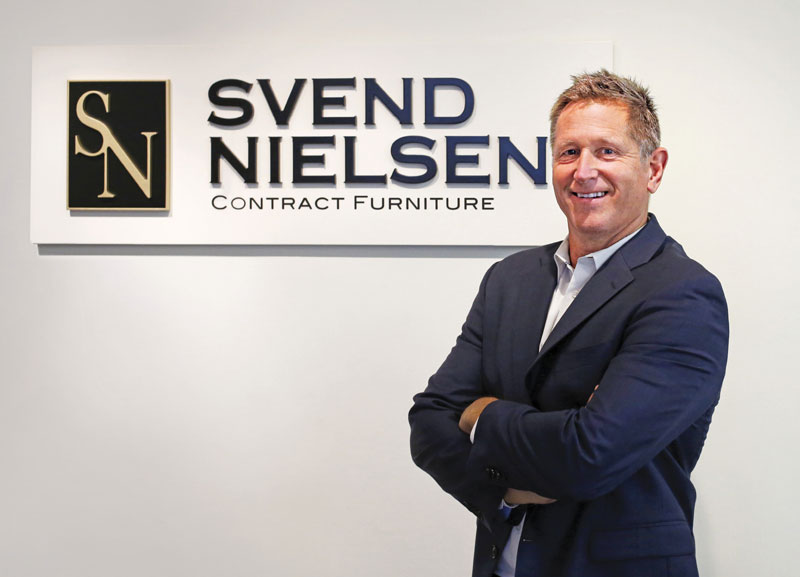 Photo: Woodworking
Derrick Nielsen
Svend Nielsen Ltd. is an Ontario-based manufacturer and designer of custom furniture and millwork. The daily mission for the company's passionate owner Derrick Nielsen, his wife and business partner Lene and their team is to create statement pieces that their owners love and the world talks about.
"I have such a passion for furniture design and being creative excites me. I live for the challenge of creating office furniture that some think is impossible to build," Nielsen says.
"We build furniture for commercial offices. Our biggest strengths are security desks, reception areas and large tables. All custom woodwork and everything we do is made in Canada", he says, "but unfortunately only very few people will ever see these stunning furniture pieces, because they are in lobbies, conference rooms and private suites of corporations most people will never enter."
The company's portfolio includes projects for Apple, Google, VISA, Deloitte, NASDAQ, NFL, NHL and the NBA, to name but a few.
"My vision is to build a brand that is recognized in the international market for high-end custom office furniture."
Svend Nielsen, Derrick's late father, founded the company in 1979 and Derrick Nielsen joined the business as a teen.
"I've started working in the company from its early days and continued to work in a part-time role while taking business, marketing and drafting programs at college. Eventually I was trained as a cabinetmaker under the leadership of two amazing master cabinetmakers,
one Danish and the other Czechoslovakian. After 15 years in fabrication I started working side-by-side with my father, first in the estimating role and later project management," Nielsen says.
In 2010 he assumed the role of Svend Nielsen's president, but "to this day, I still have my hands in the mix with the factory. It's what I love."
Svend Nielsen services clients right across Canada and internationally. In 2005 they set up U.S. representation in New York City and recently also added a sales office in Washington, D.C.
Today, 41 years since it was founded, the company continues to build award-winning furniture for many leading designers right across North America.
"We work with the majority of architects and designers in Canada and the U.S. that focus on corporate furniture and interiors," says Nielsen.
"These firms are extremely talented. We produce custom furniture for major corporations and have completed projects across Canada, in almost every U.S. state and many international markets such as the U.K., Australia, the Cayman Islands, Bermuda and Saudi Arabia.
"Our projects range from our largest 140-foot conference table, to free-formed steel, stone and solid surface reception desks."
Their most recent project was for Co-operators Insurance in Regina. The project was designed by architect and design firm HOK in Toronto. The space was intended to create a warm environment with a less hard-edged commercial feel to it. This was achieved by introducing a massive curvilinear feature wall measuring 80' in length and 10' in height. The wall is clad in walnut veneer. The reception desk and credenza are made of stainless steel and quartz, finished with solid colour lacquers.
In addition, live-edge walnut furniture pieces and various metal ceiling-hung displays made from steel and glass are used to furnish the lounge area.
"The time frame was very tight – we only had 14 weeks from the approval of drawings to installation. As with many projects there are co-ordination hurdles to ensure the design intent and elements come together on site as planned and turn the designer's vision into reality," he says.
"This project was truly a success and we are proud to have been a part of it."
Right now, they are working on a high-end project in the U.S. consisting of reception desks manufactured from stainless steel and solid 10" blocks of stone cut right out of the quarries in Italy.
"Our staff is doing the custom forming that a machine can't do at this point. These desks are going to have high polished stainless-steel top ¼" work surfaces. Our Italian partner is cutting decorative stone blocks at angles to form a large faceted curve which will create the illusion that the stone is moving when you walk around the reception desk," Nielsen says. "Seeing is believing."
Almost everything Svend Nielsen creates is under license of an architect.
"Sometimes we get a completed design with enough details that enables us to put that on the floor. We still have to do our shop drawings to work it out before we start building," he says.
"The other 50 per cent of our work is challenging, because often all we get is the verbal request for a 55-foot table with cool metal details and a stunning stone. At that point we have to source that stone throughout the world, take pictures, Photoshop it and rotate the stone to get a unique and fascinating design.
"I always say we are the MacGyvers of woodworking."
"At Svend Nielsen, we are committed to two core values: Producing furniture of the highest craftsmanship and working in close collaboration with our clients to meet, if not exceed, project expectations. If it's not perfect, it drives us insane," Nielsen says with a smile.

Other Photos: Svend Nielsen Ltd., Joel Klassen, Eric Laignel, Ben Rahn, Tom Arban and Woodworking Canada.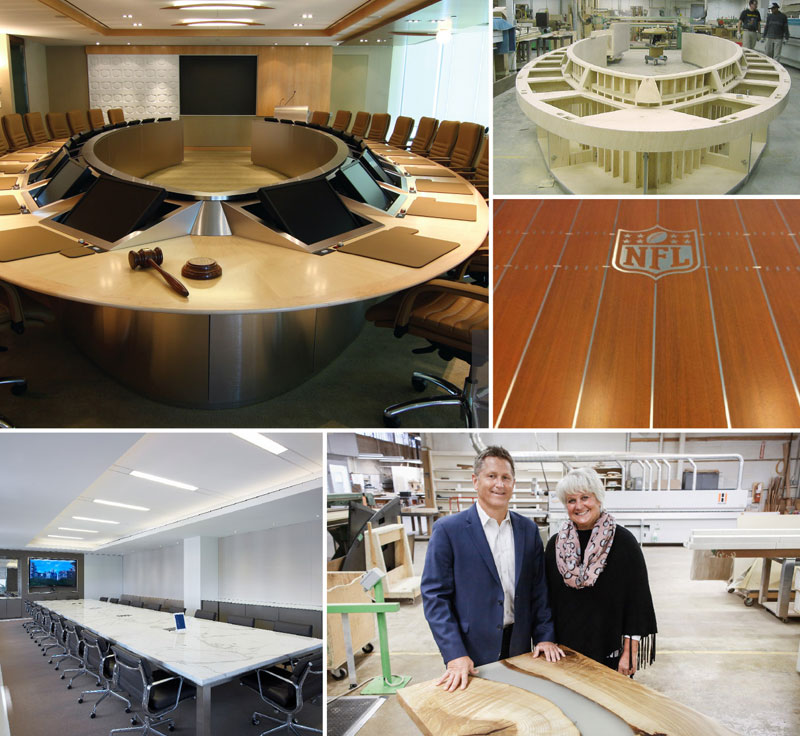 Derrick and Lene Nielsen.
As a result of that excellence the company has earned a reputation for premiere quality, which brings in a lot of repeat business.
We are also extremely versatile and we build statement pieces, says Nielsen.
As such they incorporate a wide range of materials into their projects. From metals, glass, veneers, stone or fabrics, high gloss MDF boards, powder coated steel, acrylics (backlit), leather and of course wood.
"We are always experimenting with different materials to get the best out of everything," he says.
"These materials may be applied to boardroom tables, reception desks and other millwork or upholstered items. We are noticing a big shift to new materials, especially to raw materials. Although we use a lot of real stone, we see that the other solid surface materials are taking over. Mainly because of the weight and easy maintenance. Having a non-porous surface that looks so real and is easy to clean is just great, especially these days."
Nielsen attributes the firm's ranking among the top, high-end custom furniture manufacturers to the trust and respect they have shared with the design community for years.
In addition, he credits the team of talented and dedicated long-time employees and their expertise and craftsmanship as a big part of the company's success.
Svend Nielsen has a 42-person team consisting of design engineers, sales, estimators, project managers, plant managers, cabinetmakers, finishers and installers.
And many of the employees have been part of the Nielsen family since the very beginning. In some instances, their fathers already worked with Nielsen's father and now their sons work with him and his wife.
It's that loyalty and tenure with the company that makes a difference. Some of them started in the shop as teens and are now top-trained cabinetmakers and engineers. Others, previously interior designers, converted
to woodworking.
"We have such talented staff that they are able to convert every drawing and idea into 3D models," says Nielsen.
"Currently we are using complete 3D software such as AutoCAD 3D, Inventor and V-RAY for 3D MAX, which lets us create, simulate, publish and manage the data to present photographic quality concepts to get the designers a true visual for the furniture piece."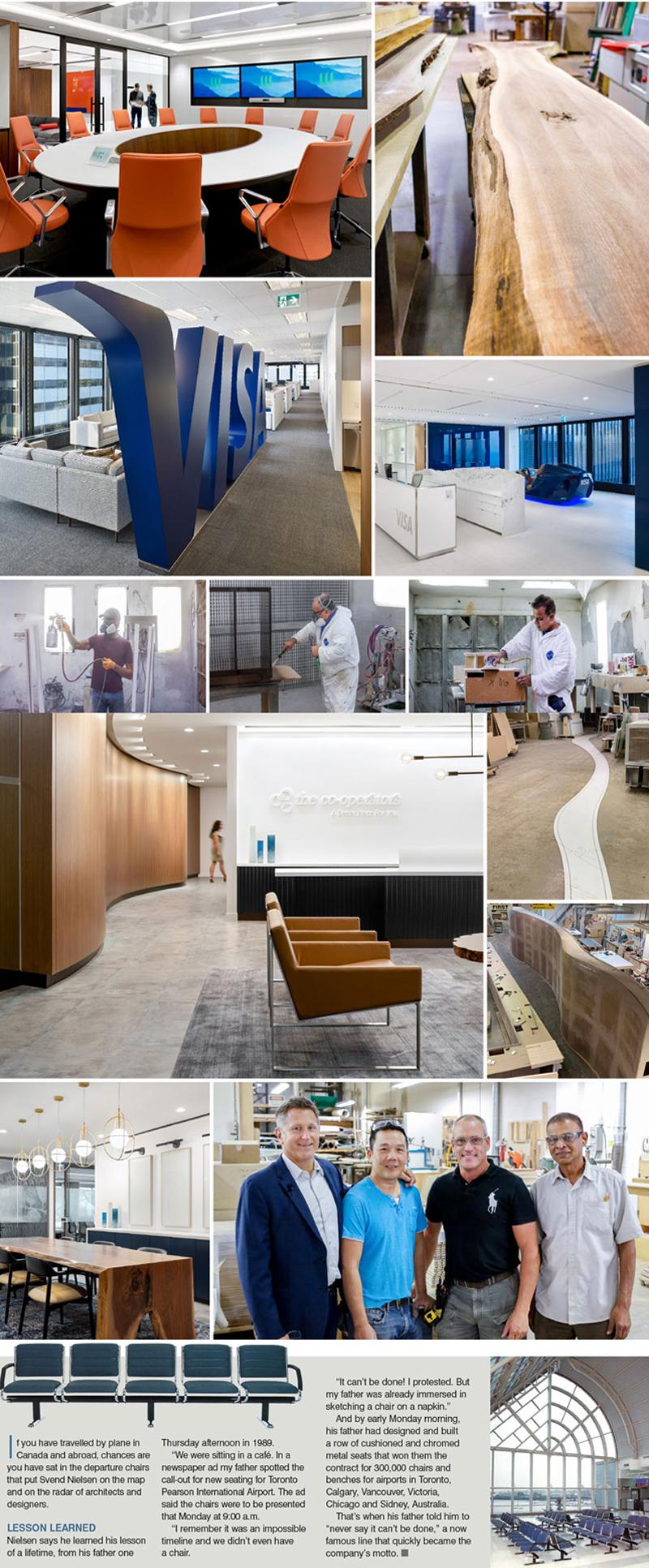 Expansion
Over the years, the company has gone through three expansions at its 55 Penn Drive facility in Toronto. They have grown from a modest family business to now include a fine cadre of skilled cabinetmakers, project management team and office support staff.
"We have our 23,000 sq. ft. division right here at Penn Drive and we have a metal division that we are affiliated with for more than 40 years. We also partner with a veneer shop in Richmond Hill, with more than 65,000 sq. ft. as a result of a longstanding family affiliation.," says Nielsen.
"We do not own the veneer shop, but we own all the materials, all the cores as well as all the veneer flitches. We buy our own architectural flitches to assure the quality we are known for. We send our own staff to create our custom work and all our veneer lay-ups. Only the laser cutting is done outside."
On the shop floor Svend Nielsen employs a broad selection of machinery, including a Biesse CNC, a new HOLZ-HER edgebander, an Altendorf sliding table saws, SCM wide belt sanders as well as selection of finishing equipment. Nielsen points to the stroke sander adding, "for the kind and size of tables we produce things often have to be calibrated on a good old-fashioned stroke sander."
With the shop already busy and new projects on the horizon the company is planning a future expansion and the addition of 5-axis CNC machinery.
"We own another acre of land right behind the shop and want to build an L-shaped expansion hopefully when COVID-19 is over."
The finishing department is another area earmarked for investment.
"Finishing is our forté –
everything is hand-finished. No finishing flat lines for our specialized work," says Nielsen.
"Right now our four experienced finishers work in three booths hand spraying every piece. The future focus will be on expediting the drying process.
"We don't have drying equipment and air drying takes too long so that we are now looking at infrared drying systems as part of our expansion."
After years in business, Nielsen says he still gets excited thinking about the great projects at hand.
"I'm like a kid watching the Zamboni flood the ice. I love what I do and I want to be the first one. I have such a passion for furniture design and being creative excites me. I live for the challenge of creating office furniture that others think is impossible."