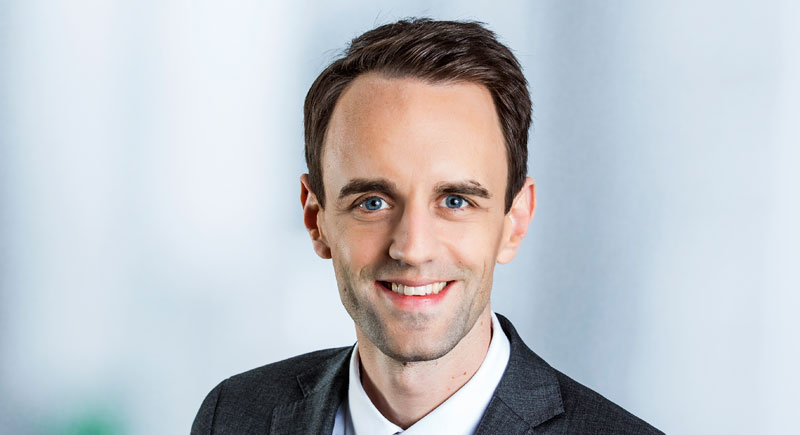 Photos: Koelnmesse
Matthias Pollmann, Vice President Trade Fair Management at Koelnmesse.

As a result of the global pandemic, many trade fairs have been cancelled or postponed, but interzum 2021 is going ahead as a hybrid event May 4-7, in Cologne, Germany. Woodworking Canada spoke with Matthias Pollmann, Vice President Trade Fair Management at Koelnmesse about the upcoming show and how they are addressing the global challenges.
Woodworking: Most trade fairs have been cancelled, postponed or switched to a virtual format. How can you hold interzum?
Pollmann: The unanimous signals we're getting from the industry are that the sector needs an interzum. That's why our goal is clearly defined too: with the interzum fair from May 4-7, 2021 in Cologne, we want to create tomorrow's living spaces together with our exhibitors. The challenge right now lies in the dynamic development of the coronavirus pandemic and its consequences for the market participants. Even though the on-site experience of a trade fair is and always will be something very special and essential, the developments of recent weeks and in particular the latest feedback from our customers have shown that we have to think in hybrid terms. Visitors to interzum can look forward to a modern trade fair that points the way to the future – both at the exhibition centre and online.
With the coronavirus vaccine picking up speed rapidly, we can also see a light at the end of the tunnel. In addition to our presence at the trade show, we are launching numerous digital formats at interzum@home for contact with decision makers, opinion leaders, multipliers and trendsetters - an exciting development in my opinion. As the world's leading trade fair for the industry, we therefore remain a reliable partner for inspiring exchange and new business opportunities, even in these challenging times.

Woodworking: You've opted for a hybrid event for the 2021 edition of interzum. What are the reasons behind that, and can you tell us more about the concept?
Pollmann: Our show is the catalyst for creating tomorrow's living spaces. Everything that takes place at the trade fair venue will be online-compatible and can therefore be streamed around the world; plus, we will have additional digital offerings, which will be online throughout the year. So, we are not replacing anything, instead we are expanding the reach of our event.
Woodworking: Do you expect the postponement of LIGNA to have an impact on interzum – especially with regard to international visitors?
Pollmann: Holding a specialist trade show for woodworking machinery immediately after interzum was certainly beneficial for visitors from overseas, particularly for those from North and South America, because it meant they could experience two world-leading fairs on one trip and save costs. But a great many of our visitors mainly come because of interzum. That's why we're not expecting the fact that LIGNA has been postponed until September to have any impact on interzum.

Woodworking: Interzum has always attracted a lot of international visitors. What are you expecting for 2021, especially in view of the global pandemic?
Pollmann: We're living through a very dynamic period. Just a few weeks ago, approx. 70% of our visitors could still have come to us. Right now, however, things are looking worse – not just in Europe, but globally as well. But that can change again very quickly, positively as well as negatively. However, because vaccines are now starting to be distributed, travel options may well change considerably – not just for visitors from Europe but for those from America and Asia too. That's why I'm convinced that interzum 2021 definitely won't be a purely European event, but a pretty global one. In addition there's something many people may not be aware of, namely that in Germany, trade fair participants have always been able to enter the country up until now, because the German authorities have classified them as "travellers with an important reason," which means they're not subject to any quarantine requirements when they enter Germany.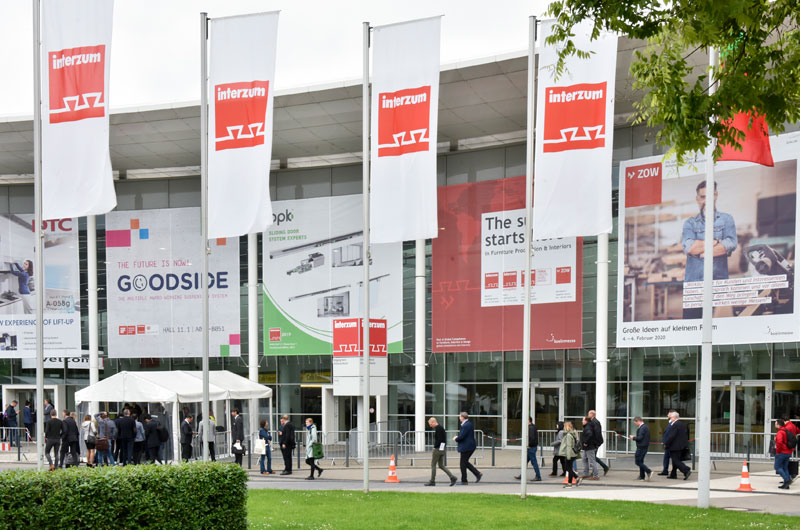 Woodworking: Could you tell us what steps you're taking to ensure a safe trade show for your visitors and exhibitors?
Pollmann: So as to make networking at our exhibition centre as safe and successful as possible even during a pandemic, we've developed a series of measures in close consultation with the authorities. Our #B-SAFE4business concept is based on four pillars: Visit Safe, Meet Safe, Show Safe and Stay Safe.
With Visit Safe, we ensure that the hygiene regulations are rigorously implemented throughout the exhibition centre. Meet Safe covers all the measures designed to ensure everybody at the exhibition can maintain sufficient distance from other people. Show Safe deals with the regulations for stand construction and design, as well as for business contacts. And finally, Stay Safe covers anything to do with ensuring that daily routines at the trade fair are safe.
In concrete terms, our #B-SAFE4business hygiene and safety concept enables us to regulate the processes that take place at the entrances and in the aisles of the exhibition halls. In general, the stands have to be planned in such a way that both the stand staff and the maximum number of visitors permitted in any individual case can maintain the required minimum distance to one another. The distancing and face covering regulations have to be complied with in the halls and at the booths. The used air in the halls is drawn outdoors and replaced with 100% new, fresh air in order to prevent aerosol transmission via our ventilation systems. Generally speaking, the spaciousness and size of our exhibition centre and the use of our digital signage system are of great benefit to us when it comes to implementing all these measures. And if congestion does occur, we can use Koelnmesse's eGuard app to steer the distribution of attendees and visitor flows.
Woodworking: What will be new at interzum 2021? (New themes, virtual content etc.)
Pollmann: The look and feel of the next interzum will probably be very different from the last edition. We've planned several innovations for the physical trade fair. There'll be a central Trend Stage, for instance, where internationally renowned experts will give presentations. Plus there will be two trend forums, dealing with the global issue of mattress recycling and smart green materials. In addition, we'll be focusing on digital printing for the second time now in our "Trend Case Digital Printing," which by the way also enables exhibitors to present themselves and their offering in the immediate vicinity.
Another important strategic focus of the upcoming interzum will be on our new digital trade fair platform "interzum@home", and therefore on using this new digital channel to increase overall reach. The components of this platform, which can certainly be considered state of the art, represent the logical complement to the physical presentation in the halls of the exhibition centre. This way, via a range of options such as digital showrooms, stages, workshops and cafés, interzum – the sector's leading international fair – will be able to reach a global audience. Broadly speaking, the main emphasis of interzum@home is on knowledge and content, whereas at the physical event in Cologne it's on the experience and socializing, but obviously always with fluid crossovers and connections. And networking is the link between offline and online.
Woodworking: What are your main objectives for interzum 2021?
Pollmann: With interzum 2021 we want to give suppliers to the furniture and interior design sectors a stage for presenting their new products and trends again – preferably in the halls of the exhibition centre. Nowhere else can the exhibiting companies reach so many national and international buyers and trade visitors who influence the purchase decision! In 2019, of the more than 74,000 visitors who attended from 152 countries, 90% were decision-makers or have a decisive influence on the relevant decisions. Our goal for 2021 is to welcome as many of those visitors as possible to Cologne or to our platform, because our aim with interzum@home is to achieve a clear increase in reach.
Woodworking: How do you think it will develop as compared to the last fair?
Pollmann: Right now preparations for interzum 2021 are going ahead as planned. In times like these, however, we all need to keep working strictly in line with the concept while nevertheless being agile and dynamic in our response to changes, because the pandemic is constantly confronting us with new challenges. That's why the way interzum turns out will ultimately depend on how the pandemic develops, although it's already clear that the look and feel of the next edition of the trade fair will be very different from that of the last interzum – it's important to be honest about that. So after a once-in-a-century interzum in 2019 and all the uncertainty since then, which is only gradually receding, I'm definitely expecting to see a drop-off in visitor numbers. On the other hand, with interzum@home, we've certainly got a very good digital add-on for reaching visitors who won't be coming to Cologne in person.
Woodworking: Could you tell us a little bit about the number and type of exhibitors you're expecting for next year's event?
Pollmann: Unfortunately, the very dynamic way corona is developing right now is causing a great deal of uncertainty in the industry. That's why, at the moment, the level of registrations for interzum is below that of previous events, but overall it's still fine. All in all, we're seeing this development in all areas of interzum, so that the relationship of the exhibitor segments to one another is similar to what it was in 2019.
Woodworking: What makes interzum such an important event for the industry?
Pollmann: interzum is and always will be the leading platform for the furniture manufacturing and interior finishing industry! Even in these challenging times, as the world's leading trade fair for the sector, we remain a reliable address for an inspiring exchange and new business opportunities. interzum doesn't just depict the entire market, it also shows the trends that will influence the next few years and thus provides orientation for the industry; it permits face-to-face interaction and, as a trade fair, is an emotional experience. As a modern trade fair, it will point the way forward again in 2021 too, both at the venue and online.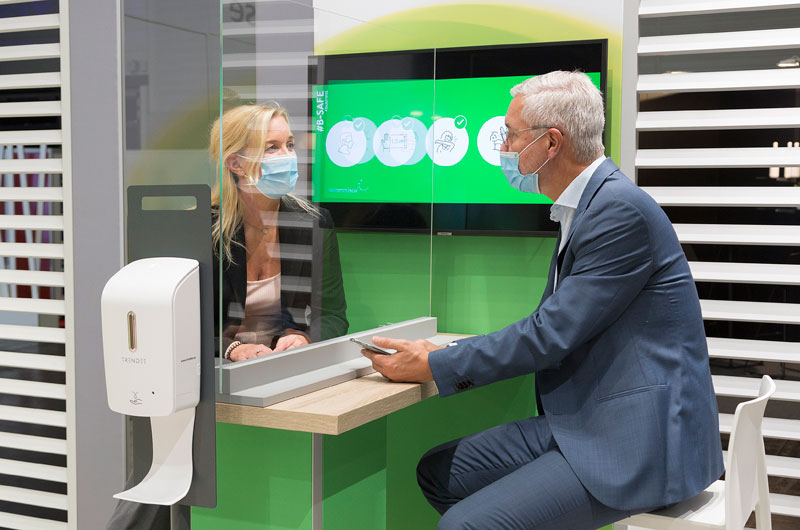 Woodworking: What have you been hearing from exhibitors? Are they positive/optimistic?
Pollmann: This year we're hearing very different ideas from our exhibitors. Whereas some want to stick with the concept of the classic physical trade show, others are in favour of a purely digital event. Because of the travel restrictions that exist right now, some exhibitors are concerned that there will be fewer visitors from abroad, but the protection of their own staff is also an important limiting factor. The kind of elaborate designs we're familiar with from the booths at interzum always take several months to prepare and right now it's difficult to assess how the pandemic will develop.
On the other hand, companies see that the on-site trade fair experience is something very special and essential. A trade fair is varied and inspiring, it lives from close contact. People are social beings; even in a business context, direct negotiations, the tactile experience of being able to touch the products and non-verbal communication play a crucial role. And that's the dilemma our exhibitors find themselves in right now.
Because of that, we have a great many exhibitors who believe in the concept of a hybrid trade fair that can combine the two components: A focused physical presence and a comprehensive digital one. We're delighted about that, because we too believe that it's the right way for 2021.
There's one thing all companies agree on: The industry needs an interzum as an international platform for the sector – in whatever form and size.
Woodworking: Do you have any message for international buyers to come to interzum 2021?
Pollmann: Visitors to interzum can look forward to a modern trade fair that points the way to the future – both at the exhibition centre and online. Our show is a reflection of the entire industry and will show trends that will influence the year ahead and will therefore lead the way going forward. interzum will also permit long awaited face-to-face encounters, which can't be substituted by a virtual setting. I look forward to seeing you (both online and offline) and drinking a good Cologne beer at interzum - you can do that even when you're standing six feet apart.