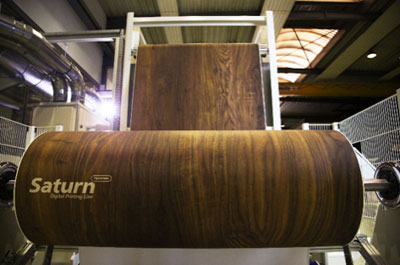 Photos: Hymmen
Hymmen's first SATURN digital printing line ready for production.

Hymmen GmbH, of Bielefeld, Germany - a provider of presses, laminating lines, liquid coating lines, industrial digital printing and control technology – has just announced that its SATURN digital printing line for decor paper is now ready for production.
SATURN is an industrial digital printing line using water-based inks that can be integrated into customers' existing production processes. It is a standard machine that offers high-tech components and proven inks for a reasonable investment.
SATURN, which guarantees efficient quality and decentralized production represents a breakthrough in the production of digitally printed decorative paper.
The development resulted from a partnership of Hymmen and Ricoh and now the first line is ready for production at the Hymmen technology center.
SATURN is designed to move the printing process closer to the end of the production chain. In contrast to many other applications, SATURN focuses on the real needs of a production site, matching the needed volumes and facilitating all the benefits of digital printing. It features lower energy consumption, easier paper drying and better reliability due to reduced complexity.
The advantages of SATURN are:
• Designed for the needs of a decentralized print-on-demand concept for all batch sizes
• Flexible printing with quick time to market
• New and individual decor possibilities
• Minimal storage of decorative papers through just-in-time production
• Lower investment volume and production cost
• Capacity is balanced to the throughput of the pre- and post-processing
Thanks to their combined expertise, Hymmen and Ricoh are ideal partners for tomorrow's water-based digital printing.