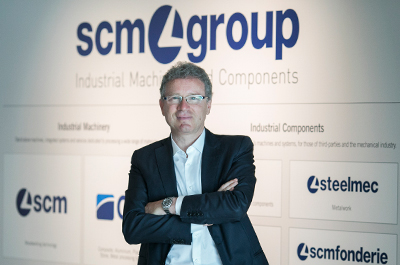 Photo: SCM Group
Marco Mancini is the new CEO of SCM Group

Marco Mancini has been appointed the new CEO of SCM Group.
SCM Group is a global leader for technologies for processing a wide range of materials and industrial components.
The new board was appointed at the group's March shareholders meeting.
Newly appointed were Giovanni Gemmani, president; Marco Mancini, CEO; and board members Andrea Aureli, Enrico Aureli, Valentina Aureli, Linda Gemmani, Martino Gemmani, Luca Franceschini and Filippo Corsini.
The shareholders also reconfirmed Adriano Aureli's appointment as honourary president.
Marco Mancini has been with SCM Group since 2015, and was general manager until his appointment to CEO, which takes effect immediately.
Shareholders thanked Alfredo Aureli for his significant contribution to the growth of the group and the strong values he has imparted to all those who have worked with him.
Shareholders also welcomed the new board members who have joined the Group: Martino Gemmani and Luca Franceschini, fourth generation representatives of the two families at the head of the Group, and Filippo Corsini.
SCM Group co-ordinates, supports and develops a system of industrial excellence in three large and highly-specialized production centres in Italy, with a turnover of 700 million euro and some 4,000 employees.