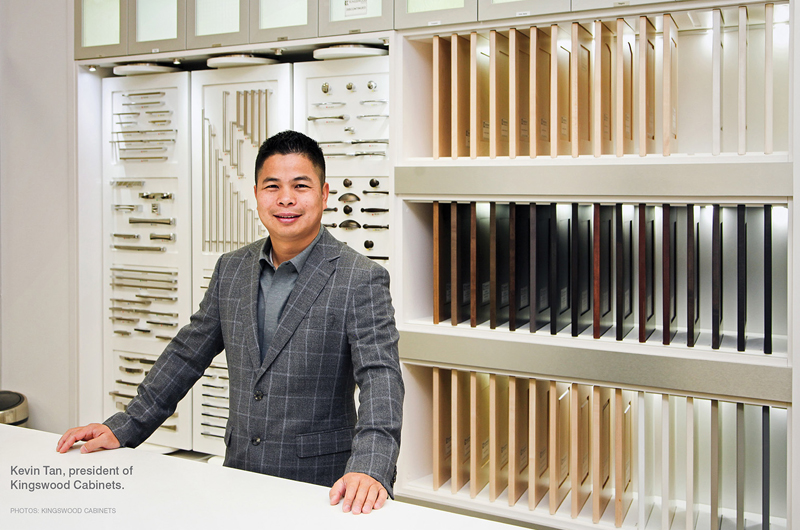 Kevin Tan is a finishing carpenter by trade and it was while he was working in that trade that he decided to open his own company – in another one.
"I was working for different contractors for many years and that's when I realized that no matter how good my work was, nobody cared about millwork and how nice of a job I was doing," Tan says.
"All everyone talked about was the kitchen. And in the magazines too, all they focused on was the kitchen. The kitchen is the heart of the home.
"So I changed my mind and in 2005 I started my company to focus only exclusively on kitchens."
During the years he was working for builders, he had also built kitchens and installed them so he knew how to do it, which made the transition to his own, kitchen-focused business much easier.
"I had built quite a few kitchens over the years, so I knew how to do it."
He started out small the first shop was around 3,000 sq. ft. with a table saw, a 10x10 spray booth and a small edgebander. It was all really basic.
"I bought the parts from suppliers and with a table saw and some other tools I built them right on site."
"We started Kingswood Cabinets because we wanted to create something that was uniquely ours. We care about the relationships and the product, so for us, it is important to control the process from manufacturing through to install 
and warranty," Tan says.
The company has continued to grow and expand to become a true homegrown success story with a reputation of superior service and pride.
Today, after a couple of moves and continued growth, husband-and-wife-team Kevin Tan and Sarah Chen have grown Kingswood Cabinets to the point that the company operates from a 150,000 sq. ft. facility.
They are still leasing out some 30,000 sq. ft. of that to another company, but Tan says it's for future growth.
Asked if he owns the building or leases it, Tan laughs and says, "the bank owns it."
Kingswood also has locations in Edmonton and Langley, B.C. (which they added in 2018) and employs around 130 people, plus some 30 subcontractors who look after all the installations. However, everything is manufactured at their Calgary facility. Edmonton and Langley merely receive and install for customers. Annual revenues are around $30 million and growing.
Impressive growth
Asked how he managed to build such a successful company in such a short time, Tan says he tries to learn something new every day and he works long hours to stay on top of everything.
"I don't know everything and I know that so that's why I try and learn more every day."
And Tan says he really likes the way he operates, which is as a supplier for builders.
"We don't have a sales department or sales people, everything we do is direct to builders, they come to us.
"We take great pride in our work and we think we provide the best service in town. Other companies take four to six weeks to deliver a kitchen and we do it in under two weeks. We work very hard for that.
Tan says they build everything from kitchens for single family homes to 400 or 500 kitchens for condo developments.
And while they can build custom kitchens if they have to, Tan says their main focus is on production kitchens, that's their bread and butter.
"We might do a couple of custom kitchens in a week, but our focus is on high volume production.
Tan says he would describe his current operation as semi-automated, "because we are not there yet, we are still learning every day.
"But being fully automated is certainly the direction in which we are going. That is the ultimate goal for us."
"We have also just purchased a lot of new machinery, we are top of the line now, we've got all the fancy machines now," he laughs.
Tan says they've invested around $7 million in machinery late last year and installations were completed early this year and are now up and running.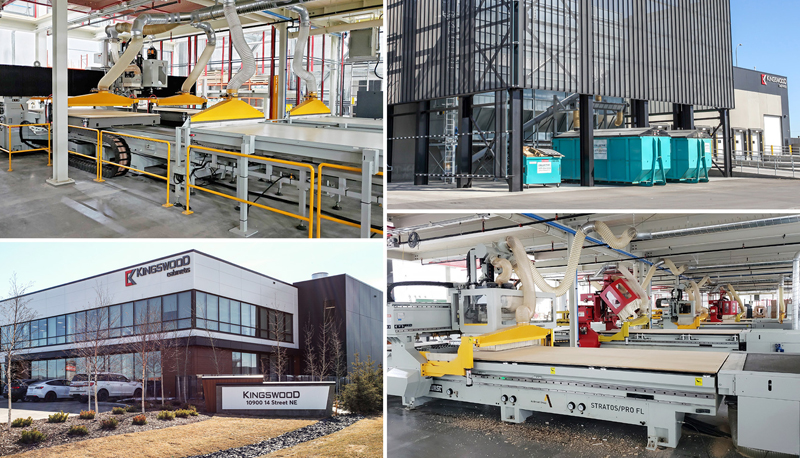 Photos: Kingswood Cabinets
Among the purchases were a double-bridged, double-decker Schelling Storage Retrieval system, which is able to feed seven high-output nesting routers.
According to Schelling, this system is one of the largest, if not the largest, in Canada in terms of size and output.
A double-decker system creates a larger capital investment cost, but when compared to land and building cost savings, provides a very attractive ROI.
And from Akhurst Machinery, Tan purchased three Anderson STRATOS PRO full-line CNC routers, which include automatic loading and unloading to upgrade Kingswood's manufacturing capabilities.
They already had one existing STRATOS PRO full-line CNC router and an older Biesse machine, which they also incorporated into the new production line. Also from Akhurst, they purchased an Anderson EXXCEL CNC router with dual 5x12' tables for producing cabinet doors.
This machine is unique in that it is driven by magnetic linear drives, which make it extremely fast.
All of the machines are now loaded automatically by the Schelling material storage system, which is located on the mezzanine level in order to save space. The system will load any of the machines as needed and the material is lowered down through openings in the floor.
Kingswood also purchased a Hocker MultiStar dust collection system from Taurus Craco. It's a multi-fan, on-demand system with seven, 50-horse-power fans and room for three more as the company continues to grow.
"All of it has been installed and has been working for a couple of months," Tan says.
"Our goal is to improve our quality even further and speed up production as well. We hope that at some point, we can double our volume."
As far as software goes, Tan says they are moving to 2020 Insight and plan to implement 2020's ERP system as well later this year.
"Right now we are doing around 500 boxes a day and we are pretty happy with that. But we want to be able to increase that number in the future."
The majority of their work is in Calgary and area and around 10 to 15 per cent in Edmonton and about 30 per cent in B.C.
And contrary to what some people might think, because of the challenges in the oil sector, Tan says the Calgary housing market is absolutely crazy right now.
"Of course you can't compare it to Toronto or B.C., but there is a lot going on right now," he says.
"I hear there is a lot of demand from people moving to Calgary from across Canada. From Ontario, especially Toronto, as well as B.C. and even from Hong Kong, and of course the interests rates are really low right now so that keeps things affordable too.
"I'm just as surprised as you, but the Calgary market is doing well right now," Tan says.
Part of what keeps Tan so busy, is that he goes to B.C. every other week to continue to grow the business there.
And although there is no production facility there, Tan says he is looking after inventory and installation scheduling.
"We are still a growing company, and we continually strive to further improve our quality and service for our customers. We want to offer the best service, quality and quick turnaround.
"There are a lot of good kitchen companies out there and we don't claim to be the best, but we work hard and we try to learn every day and we are listening to our customer. We don't claim to be perfect, and we don't want to argue with our customers, we just want to make sure it is right for our customers."
Kingswood has been providing quality cabinets and storage solutions since 2005 and Tan says they take great pride in being a full-service cabinet shop, from design through install. Their cabinets are locally designed and manufactured in Calgary, Alberta, including painting or staining in-house and they handle a broad scope of work, from high-volume production home builders, to custom homes and renovations.
And Kingswood continues to leverage its experience in all aspects of cabinetmaking to continually drive its business forward.