When preparing and reviewing our presentation for the Bluewater Wood Alliance Lean – Leadership Training, Brad Cairns of Quantum Lean and I were discussing why implementations often fail or are not providing the benefits as advertised. After a lengthy discussion we realized we were onto something. We allowed some simplifications and boiled it down to three required key ingredients.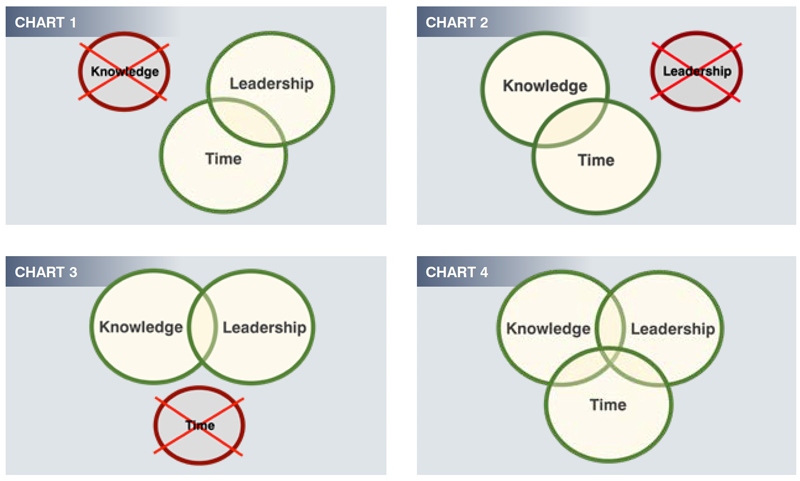 Knowledge
There is a huge amount of accumulated and continuously growing knowledge of Lean manufacturing. It is obvious that you cannot implement Lean in your factory or operation without anyone in your organization with knowledge of Lean. But that is usually the easiest of the three to obtain. There are tons of books, ranging from the theoretical and scientific to the practical and hands-on instructions. This is not just printed media, but extends to audio books and YouTube channels. It is amazing how much you can learn by listening to audio books when driving to and from work. Reading and/or listening to books can be enhanced if more people in the company are working through the same books and find a way of discussing possible application within the company.
Also, an excellent method building knowledge in your organization is attending training courses. Training courses are fast and consistent in delivering standardized knowledge. You can send your people for training to public courses or bring trainers to your company and have custom tailored courses on your schedule. Each type has specific advantages, and you need to pick which works best for you.
Pre-COVID-19 classroom training and workshops have been the standard. Now, we are learning that virtual training courses also work. I am sure we will again have public classroom type courses, but I am quite sure virtual training has found its niche and will also stay.
If you want to transfer knowledge to your organizations quickly, hiring people with pre-existing skills and knowledge is an option. This can reduce the start up curve dramatically. Hiring skills can be full-time employees, contract workers or short-term consultants.
Plant tours, networking meetings with industry associations and cluster organizations are great media to transfer knowledge to your company.
Leadership
Again, a most obvious 
key factor.
For the successful implementation of any change, you need leadership. This starts with management commitment. The ownership, the president or the operations manager need to show unwavering commitment to the cause. The higher up in the org chart the total commitment is located, the higher the chance for success. It is unlikely that a supervisor can implement Lean in her/his department in isolation. There can be applications of Lean tools, but it is never a full Lean transformation without top management support.
Lean is also a culture change. Changing a culture means that rules and paradigms change for the employees. Change brings uncertainties to the team, as each member needs to let go of existing rules and adopt new ones. Everyone adopts and changes their mind at their own speed. Holding on to old paradigms too long, and others jumping the gun, creates an ongoing crisis, which takes leadership to get through. It takes a people person with compassion, good communication skills and the right mix of patience and impatience. A good leader uses the crisis to forge the new team.
Time
This is the often-overlooked factor. Change takes time. Implementing Lean manufacturing is not a short-term endeavor - it is a long-term journey. After a few years of transformation and visible and measurable progress in Lean manufacturing, I asked the manager of a company about their progress.
"We are just at the beginning!" was their confident answer. Even Toyota, who is seen as the gold standard in Lean manufacturing, claim that they are just getting started.
You can push it, or as I prefer to say – pull it – but you cannot rush it.
The other factor with time is how much time do you allow your people to work on Lean.
How much time do you allow employees to be trained and go on training courses?
How much time does management allow for meeting with the employees on Lean manufacturing? These can be management meetings, KAIZEN meetings or regular morning meetings.
How much time do we allow employees to work on designing KANBAN storage, going through all steps of Five-S (5S), or implement any other of the tools in the fast Lean toolbox?
It needs time and resources to sustain any progress.
Two out of three is not 
too bad, or is it?
There are probably other factors, but just bear with me and let us look at these as the main three. What happens if you do not align all three of them.
Leadership +Time, but 
no Knowledge
This is not uncommon in larger companies. There is management commitment right at the top, and there are directives to allow for time for implementation. However, the employees have not been trained and they do not have the knowledge of what to do.
The result can be summarized in:
Everybody participates, 
but no one knows what 
is going on!
Knowledge + Time, but no Leadership
This is chaos! Implementation takes place at different locations in the company. The different initiatives are arguing on the right interpretation of that 
should be implemented and when. Everyone is doing their own impression on what is right.
Knowledge + Leadership, but no Time
Most companies are trimming their staffing levels to the bare minimum. Everybody already has a full-time job in fulfilling their current job requirements. So, when starting on your Lean journey and not allowing time to do the work, what will you get? Something has to give. If it is not a priority and insufficient, or no time, is allocated you will fail. With no time allowance you push and get the project started, but it will not be sustainable and will fizzle out. Management will see no progress, will call more emergency meetings, will repeat the restart under shear management pressure and will die again in a short while. If it is not prioritized and not given resources an implementation cannot 
be sustained.
Alignment is the key
To minimize frustration and missed opportunities due to failed and delayed implementation, alignment of all three key factors is required.
You do not have to be excellent in all three elements, but none of them can be omitted or neglected completely. Implementing Lean manufacturing is not difficult. If you follow a good roadmap and understand the basics, it is not difficult to start your Lean journey. By building on these three key elements, you optimize your resources and progress, and minimize possible stalls 
and setbacks. And if you 
are stuck, pull over and ask for directions.