Supply chain planning has never been so important as manufacturers face volatility in raw material sources and other inputs. Disruption of global supply chains has challenged companies in many ways. Some industries have seen dramatic declines in demand for their products, while others have experienced increased demand related to home improvements and other market changes.
Regardless of supply and demand levels, all companies are facing labour shortages and inconsistent levels of employee attendance. Given the volatile labour situation, many companies have turned to greater levels of automation and inventory organization strategies.
Cutting tools are a small part of a larger machining process, but they are critical components, which need to be organized effectively to achieve optimal production efficiency. There are many simple strategies and product design features, which provide employees with organizational support and promote a safe efficient working environment.
Barcoding and RFID chips are becoming more popular, to better organize tooling inventory. Storage systems such as vending machines and other storage cabinetry products are being integrated. As companies operate with fewer employees and implement heightened safety measures, these innovative systems are critical. There are also some simple tool design improvements, which promote employee safety and efficiency. Cutting tools can be challenging and dangerous to handle, so many tool manufacturers are introducing safety handles into cutting 
tool designs.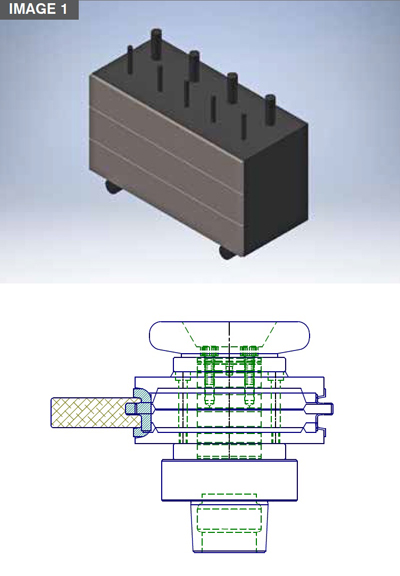 STORAGE CABINETS
Vending machines systems are very popular in the metal working industry. They do provide many organizational benefits for tooling inventory. Stock levels can be managed easily through software integration. Cutting tools are kept safe and secure to avoid being misplaced or stolen. Product usage can be tracked based on machine or employees, to identify consumption patterns. Vending machines are the "gold standard" for tool organization, but can be overly complicated for certain products or company requirements. Often a simple solution is the best way to start any organizational process.
Image #1 shows an example of a simple tool storage cabinet. Rather than buying expensive complex cabinet systems, some companies may choose to manufacture their own designs. Cabinets can be constructed with MDF particleboard or plywood, which provide sufficient space and stability for CNC router or moulder tooling if designed properly. These cabinets can be programmed and machined on CNC routers or saws to utilize existing resources and material already in the plant. The "DIY method" does provide additional customization options, to build for the size of tooling inventory and space in the facility. Parts of the cabinet can be built on casters, so they can be moved safely between machines or placed in a central location. There is such a wide variety of cutting tool designs and sizes, which makes custom cabinets a logical option for many companies.

TOOL HANDLING:
Image #2 shows a convenient safety handle, which can be assembled with many CNC moulder and shaper tools. HSK tool holder connections have improved tool change efficiency and machine flexibility in many ways. However, HSK connection tools can be more difficult to handle in some scenarios. For example, saw blades with a center bore would normally be carried using the center hole of the blade. Image #2 shows a side view of a safety handle mounted above a saw blade, so the employee can hold both sides of the assembly, rather than the sharp edges of the saw blade.
Image #3 shows a polycrystalline diamond tool with safety handle on the top of assembly. Diamond tooling is heat resistant and wear resistant, but extremely brittle. Therefore, tooling handling and employee safety is critical to avoid costly mistakes. The safely handle located on top of assembly, will allow the operator to hold the diamond tool far from the cutting edge.
TOOL TRACKING:
Barcoding and RFID chips are slowly becoming more standardized in the woodworking industry. They do provide an opportunity to organize tools quickly and accurately to promote better organization. Barcodes and RFID also provide options to cross-reference data for each tool for service and tool life tracking. However, the greatest challenge for both products is the location of barcode or RFID chip on the tool body. Cutting tools are obviously a "wear part" of machinery and must withstand excessive cutting forces, which will often erode tool bodies, resulting in removal of barcode. For example, saw blades are very easy to barcode, but very difficult to maintain a consistent barcode after saw blade usage. If the barcode is placed in the wrong location it will wear off the blade prematurely.
Small router bits and drill bits are also very challenging, due to size of product. Barcodes are generally not compatible with tool sizes under 3/8 of an inch due to size limitation. RFID chips can be mounted on top of tool shank, which generally provides a safe location, however, installation and maintenance of these chips and tools can be costly for large tool inventories. RFID chips provide a logical tracking solution for "high value" products such as polycrystalline diamond tools, but low value products, such as consumable drill bits do not justify the cost of RFID. Often the best solution for tracking small, low value items is simple barcoding of packaging, combined with a system to organize the tools and package to avoid confusion.
Cutterheads can also be difficult to barcode, depending on size and configuration. If there is sufficient space at the top of the tool, the barcode will generally hold up under extreme machining conditions. The addition of safety handles does provide a logical placement for barcodes for a number of reasons. Properly-designed handles provide a flat surface for an adequately sized barcode printing. Most handles are located as far from the cutting edge as possible, which will prevent excessive erosion of the barcode.
CONCLUSION
Supply chain planning has never been so important as manufacturing markets face volatility in raw material supply and human resources. Cutting tools are a "wear part" of machinery, which require continual planning to ensure machinery can operate efficiently and effectively. As wood manufacturing operations evolve to meet market challenges, cutting tool organization and safety procedures will be critical factors. Tooling inventories can be managed accurately and safely, using a combination of creative designs and simple management systems.