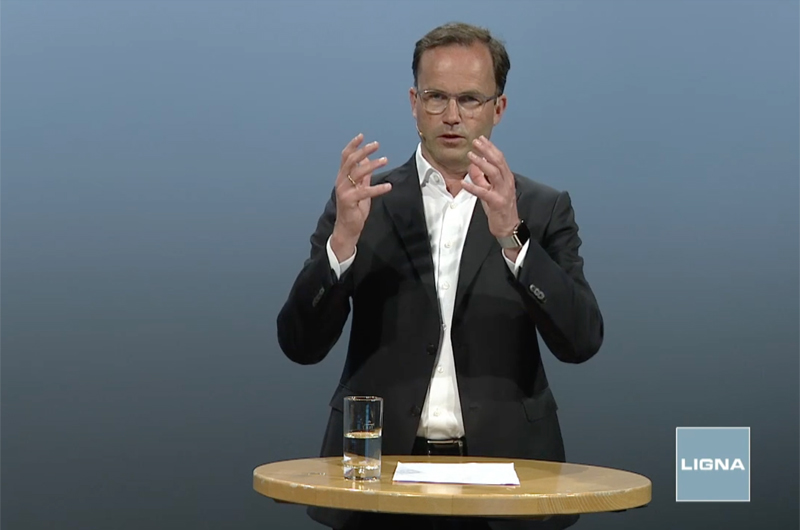 Dr. Jochen Köckler, CEO of Deutsche Messe AG, during the launch announcement.


The LIGNA.Innovation Network, a new digital format that focuses on the leading themes of LIGNA, is being launched this September.
A collaboration between Deutsche Messe (LIGNA) and the woodworking division of the German machinery association (VDMA), the LIGNA.Innovation Network, which will be held Sept. 27-29, will offer a virtual forum for the industry to discuss the latest trends and innovations.
"As a trade fair organizer, we have acquired a great deal of online know-how and expertise over the past few months," Dr. Jochen Köckler, CEO of Deutsche Messe AG, said during the launch announcement.
"With the HANNOVER MESSE Digital Edition in April, we demonstrated that we could put on large digital events and create new networks.
"In a LIGNA year, the woodworking and wood processing industry needs to discuss current industry trends, present innovations and network with interested parties, which is why we will present the LIGNA.Innovation Network this fall."
"LIGNA is and remains the meeting point where people and machines from all over the world come together at the exhibits in Hannover," said Dr. Bernhard Dirr, managing director of the VDMA's woodworking machinery division.
"But we also want the community to remain up to date and be able to discuss the latest trends. This is exactly what we should achieve this year with the LIGNA.Innovation Network."
The LIGNA.Innovation Network will feature three main areas - Expo, Conference and Networking - and takes place in the H'Up streaming studio at the Hannover Exhibition Center.
In the Expo area, visitors have direct access to extensive product overviews from exhibitors. Best-case applications, video tutorials, live streams, and video chats enable them to not only learn about specific solutions for optimizing their processes, but also to enter into direct exchange with exhibiting companies.
The virtual Conference will highlight the key topics of LIGNA such as using digitalization and connectivity to transform woodworking, prefabrication processes in timber construction, or the new theme "Process Technologies of the Bioeconomy." The program looks at wood as the most important renewable resource and spotlights new processing options that drive forward economic and technical innovations in the industry.
The Networking function will enable participants in the LIGNA.Innovation Network to contact exhibitors, speakers and visitors directly.
First LIGNA.Conference in Rosenheim in June 2022
Following the LIGNA.Innovation Network, Deutsche Messe and the Technical University of Rosenheim will stage the first LIGNA.Conference in Rosenheim - which also delivers an in-depth look at the key topics of LIGNA - from June 1-2, 2022.
"With the LIGNA.Conference we are finally able to once again provide the woodworking and processing industry with a live event for product presentations and professional exchange within the community. The next LIGNA in Hannover in May 2023 is the international innovation event with technology to look at, touch and try out," said Christian Pfeiffer, global director LIGNA and woodworking shows at Deutsche Messe.