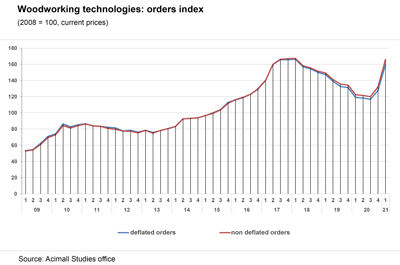 Acimall has reported a strong recovery in the first quarter of 2021, "which bodes well for the future."
"There is no better way to start a new year," says Luigi De Vito, president of Acimall - the association representing Italian manufacturers of technologies, tools and equipment for wood and wood-based materials.
"Our data now confirms the 'strong perception' of the last few months that 2021 started very positively, with a strong increase in demand for technology for the furniture and wood industry."
The strong results of the first three months of this year saw orders up by 58 per cent compared to the same period last year. The trend for international demand saw a 52 percent increase, while domestic demand grew an astonishing 87.8 percent.
"The first three months of 2020 were strongly affected by the lockdowns resulting from the global pandemic, but the rebound has far exceeded our expectations, supported by the positive signals that had come in the final quarter of 2020," De Vito says.
In the quality survey, respondents provided clear feedback, with 75 per cent of the sample reporting a positive production trend (up from 50 percent in the previous quarter, a clear indication of increasing confidence in more "reactive" markets); five per cent reported declining business, while 20 per cent were stable. Growth was also the predominant trend in employment numbers, with 55 per cent of the sample reporting a stable trend, while 40 per cent reported an increase and five percent reported a decrease.
According to the forecast survey, 55 per cent of companies expect the export trend to remain at current levels, while 45 per cent believe the situation may improve. No one fears that the situation may worsen, which is important for confidence in the future.
Looking only at the domestic market, the outlook is somewhat different, with 55 per cent of the sample expecting further expansion, 40 per cent stability and five per cent expecting a decline.