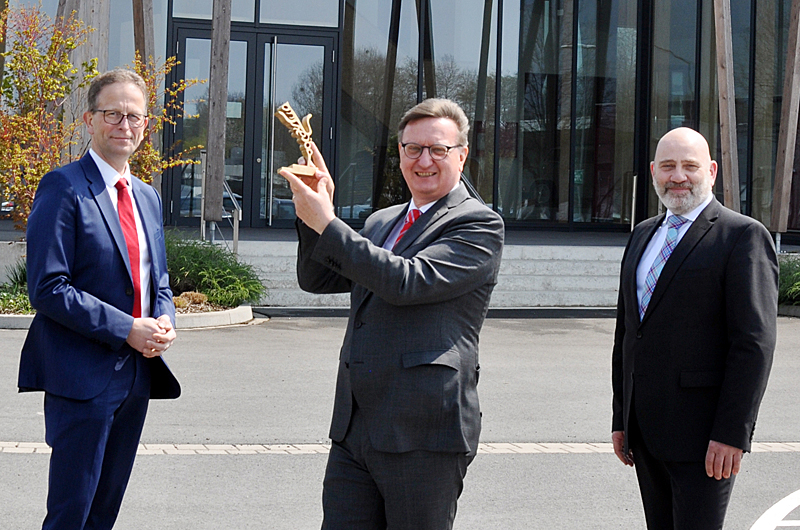 Photo: Jowat
Jowat SE received the 'Best Managed Company' award at the company's "House of Technology" in Detmold. From left are: Dr. Christian Terfloth, Ralf Nitschke, Klaus Kullmann.


For the second time in a row, adhesives manufacturer Jowat has received the "Axia Best Managed Company" award for successful mid-sized companies.
The company has shown strategic foresight, innovative strength, sustainable management culture and good corporate governance.
The Best Managed Company Award honours mid-sized companies in Germany that represent the backbone of the economy. It is companies like Jowat that flourish even in extraordinary times They develop a path to the future in times of crisis by recognizing the increased urgency of new developments such as digitalization and sustainability and implementing them in a way useful for society," says Mischa Tschopp, market group head Germany and Austria International at Credit Suisse.
"The repeat award as Best Managed Company is a great honour and confirms our strategic, sustainability-oriented actions with our employees and business partners," says Ralf Nitschke, member of the board of Jowat SE.
The Axia Best Managed Companies (BMC) program is a competition and seal of approval for successful medium-sized companies run by Deloitte Private, WirtschaftsWoche, Credit Suisse and BDI in Germany. The vision: to build a national and global ecosystem of excellently managed medium-sized companies. A key unique selling point of BMC is its internationality: BMC was launched by Deloitte in Canada in the 1990s and has since been successfully introduced in more than 30 countries.