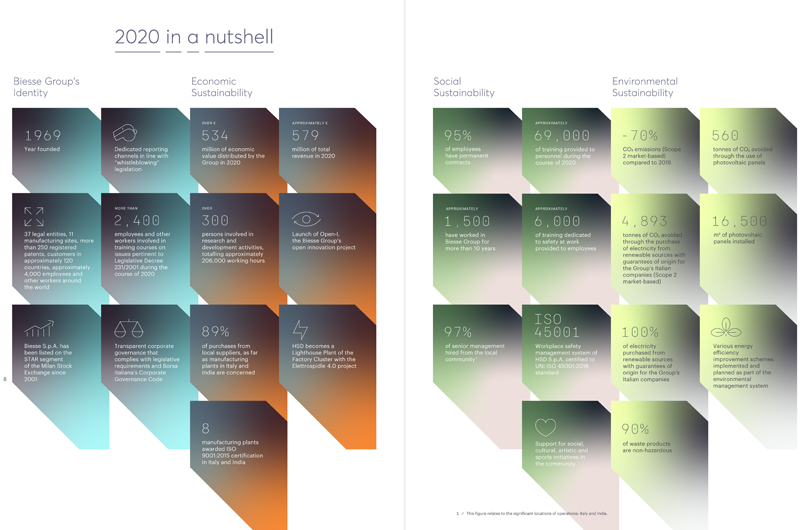 Graphic: Biess Group


Biesse Group, a leader in technology for processing wood, glass, stone, advanced materials and metal, recently presented its Sustainability Report 2020.
The report shows that the group's work and focus on sustainability has already had a positive impact on the environment and for its stakeholders.
According to the report, significant reductions are already being made, including:
• 70 per cent drop in CO2 emissions (Scope 2 market based) compared to 2019
• 100 per cent of electricity purchased from renewable sources with guarantees of origin for the Group's Italian companies
• 4,893 tons of CO2 avoided by purchasing electricity from renewable sources with guarantees of origin for the Group's Italian companies (Scope 2 market based)
• Nearly 180,000 sq. ft. of photovoltaic panels installed
• 560 tons of CO2 avoided through the use of photovoltaic panels
• 90 per cent of waste produced is non-hazardous
• Various energy efficiency activities carried out and planned as part of the environmental management system.
In addition, Biesse Group's commitment to all aspects of sustainability, ESG (Environmental, Social, Governance), were also recently recognized and rewarded by the 'Leaders in Sustainability' study sponsored by Sole 24 Ore and carried out by Statista, which places Biesse Group among the top 150 companies in Italy.
Biesse was similarly recognized by the first Italian ESG Report carried out by V-Finance (IR Top Consulting) analyzing the Sustainability Reports and the Non-Financial Statements (NFSs) of all the Italian companies listed on the Italian Stock Exchange (376) in their respective markets (MTA, FTSE Mib and AIM).
"Our commitment to sustainability continues year after year, through a path aimed at continuous improvement," said Paolo Tarchioni, Biesse Group chief innovation, social responsibility & quality officer.
"Economic, social and environmental sustainability have always been our pillars of development, which are reflected in a constant commitment to innovation, the local area and the environment. This year we are happy to announce that our environmental choices, inspired by the ambitious European plans to cut CO2 emissions, have already led to significant results, such as the 70% reduction in CO2 emissions compared to the previous year."