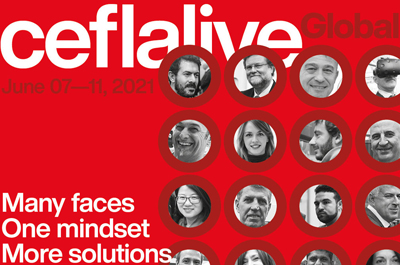 Cefla Finishing has announced a five-day hybrid event with a mix of live webinars originating at the LAB in Imola, Italy as well as two physical gatherings held at venues in China and the U.S.
Cefla Live Global, from June 7 – 11, will once again be the company's annual showcase for the latest innovations in surface enhancement technologies. This year's edition will focus on sustainability and efficiency, seen as the prime targets of each innovation.
Cefla Live Global: How, where and what
Hosted online and in person at two locations, Cefla Live Global is a special edition addressing the current situation and the diversity between market areas. Participants can attend in person at the Asian and American venues to discover machines and technologies in a laboratory environment, Cefla Finishing technology experts in Imola will be presenting each innovation in a series of live online webinars during the five-day event, catering for different international time zones and languages. Wherever participants are located, they can register for any number of webinars, enjoy direct contact with technology experts and their local sales representatives. Moreover, they will be given access to content for each of the technologies presented.
The new iBotic spray-coating machine introduces innovative features and devices to increase production efficiency and minimize downtime. Less lacquer, less impact on the environment and less time on the line are the key benefits of Smart vacuum, designed to achieve uniform coating quality between the flat surface and the edge of the panel. Similar benefits can be expected from the new Elispray, the 12 or 24-gun elliptical spray coating solution for high volumes. Sustainability is also the driver behind the new inert curing oven developed with an eye to reducing the need to use photoinitiators. UV-I works in an inert atmosphere cutting most of the costs linked to these expensive and harmful lacquer additives.
Also on show will be innovations from Cefla's line of industrial digital printers, especially with regard to providing unique customization opportunities and a huge reduction in stock requirements for rotary printing components or decorative.
For example, using a single graphic file on J-Print, companies have the unique opportunity to print both the panel surface and edge with the same pattern or motif. By exploiting a wealth of data, companies can enhance production efficiency and improve their profitability.
For more information, follow the link.