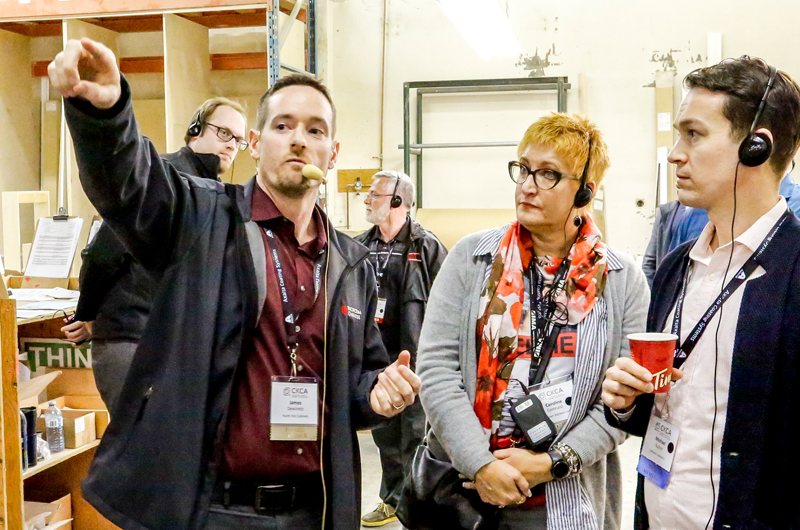 Photos: Woodworking & Pacific Rim Cabinets
James Dewinetz during a Canadian Kitchen Cabinet Association tour of Pacific Rim Cabinet's production facility.
Pacific Rim Cabinets is located in Delta B.C., just outside Vancouver.
Bill Dewinetz, who says kitchens have been his life and passion for decades, founded the company in 1997 to build high-quality products for the growing Japanese market.
They still serve that market, but today their bread and butter is right here in Canada.
However, those early days - when they were serving the Japanese market with its unique requirements for exports, from specific dimensions and sizing in metric, to strict import regulations, transportation logistics, lead times, and stringent formaldehyde emissions control – "set a very high bar for us at Pacific Rim, and have taught us how to succeed in all markets effectively and competitively.
"Working with Japan has had a tremendous impact on our organization and we are forever grateful to our partners and dealers there."
Woodworking spoke with James Dewinetz, who took over as company president from his father a couple of years ago, to find out how his strategies to grow the company are coming together and how the pandemic has affected their operations.
"It's crazy right now," Dewinetz says. "I literally come in and go OK, I have this, this and this to do, and then you go no, these clients want to talk and this contractor wants to talk and these guys want to put an order in and this happens here and it's like, OK, it's 7 p.m. now and time for me to go home."
"Of course it's a nice problem to have that much work, but then it also isn't," he says.
"I tell everybody in the office it's what we've been hoping for, but there are growing pains and we're trying to figure out where to focus our efforts and bring in more people."
Dewinetz says just over the last couple of weeks they've hired five more people to be able to meet demand.
The shop is just over 23,000 sq. ft. and they have 25 to 30 people on the shop floor. But Dewinetz says even with the additional recent hires, it's been tricky to plan.
"Last year was an up and down year for us. We had busy periods and then it would drop off a cliff. Then it would get busy again and so on. It's been challenging because it is tough to budget for and now, suddenly, we are extremely busy.
"We were fortunate in B.C. in that we could keep our case numbers lower than many other parts of the country and we didn't have to take a single day off.
"And we certainly took advantage of any government money that was available to us, just like any business should have if they were eligible."
Dewinetz says its not unusual to have up and down periods, slower in winter busier in the spring. But last year was extreme, real peaks and valleys.
"It would spike and drop of a cliff, and spike and drop off a cliff.
"Over all it ended up being a below average year, but to be fair, we've had been growing the company significantly year over year in previous years. So this year we just didn't make that growth we had been expecting and dipped back to below what it had been the year before.
Dewinetz says he believes there are several factors in play right now.
"Spring is typically busier, but this, in my opinion is also a lot of pent-up demand because people put projects on hold last year because of the uncertainty of COVID-19, and there is easy access to relatively cheap money with where interests rates are right now and people are taking advantage of that.
"And especially with new stress tests coming soon, people are trying to jump on it before those kick in.
"And then there is the fact that many people are at home and they are staring at their kitchens and the money they didn't spend on travelling is available for improvements and renovations."
For the past few years Dewinetz has been working to expand the company's offerings and markets to do more millwork and firmly establish Pacific Rim Cabinets in the mid-to-high-end market.
"Kitchens are still our bread and butter, but we are doing every room in the house, especially right now," he says. "Cabinetry and millwork for entertainment and living rooms as well as home offices or custom pieces such as fireplace mantels. Our customers are asking for all kinds of things right now, in addition to kitchens, because they spend do much time at home, and we are in a position to do every part of their project.
"So that's what I mean by every room, you look at a room and there is something we can do in there that people are looking for. That's a big part of the business model I have been pushing for the last four or five years," Dewinetz says.
"And why wouldn't we, we are already talking to them about the kitchen, so we are also asking them about all the other areas we can help them out with.
"It's also more cost effective to do it all at once. You start adding deliveries and installs to four or five different phases and now you end you end up spending a lot more money."
As far as the impact of the pandemic is concerned, Dewinetz says they have been very diligent and managed to keep everyone healthy and safe without any missed days or shutdowns.
"When it started last year, I was having company-wide meetings every other week through March, April and May," he says.
"In the summer I slowed it down to every month. But I continue to push the fact that we have been fortunate as a company. And we have been very careful about what we are doing with our safety protocols, but I can only control what happens inside of work, once people leave the shop or the office they are doing their own thing, that's their personal time."
But he says he has been reminding everyone regularly, "that we are not out of it yet and nobody wants us to shut down for a couple of weeks, or longer.
"So we have to continue to be smart with what we are doing outside of work. It's a delicate discussion because I can't control what they do outside of work. We can do the distancing here and the masks and sanitizing and hand washing, but ultimately I have to hope and trust 
that people are doing the right thing outside of work as well."
Dewinetz says it is important 
and he regularly communicates 
with the employees that everyone's health and safety is his priority.
"And I ask people to look around their circle because these are the people you are affecting. And hopefully that resonates with them, because that's the kind of people we try to hire to work here, people who are respectful of everybody else that works here. That's the biggest thing I can say and do."
The company also instituted a mask policy and everyone is wearing masks and they've staggered lunches and breaks so they don't have "everyone in there at the same time."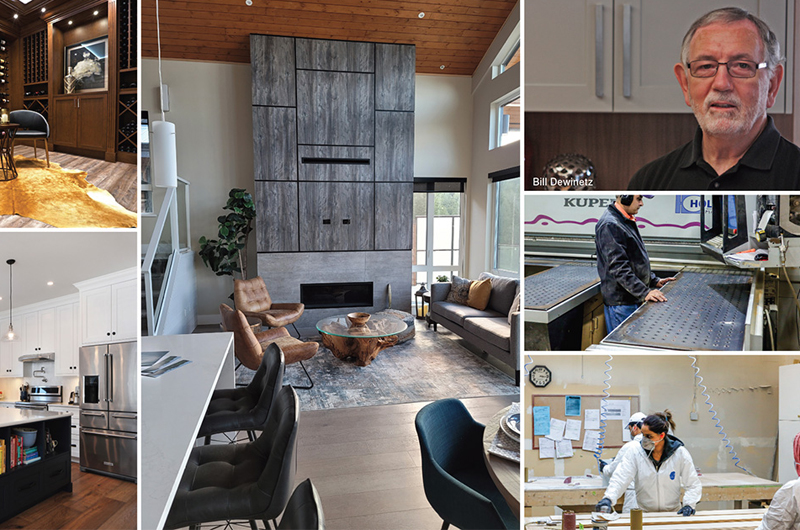 Lower Mainland
Most of their business is in the Lower Mainland, "but I'll ship a kitchen anywhere in the world as long as they pay for it," Dewinetz says with 
a chuckle.
"Actually when my father started 
the company in 1997, for the first eight years, from 1997 to 2005, he shipped everything to Japan and we still have dealers there.
"But really our main area is the Lower Mainland, from Whistler to Hope and Chilliwack, but we also have dealers on Vancouver Island and others that serve Nelson and Cologna and one in Alberta. And when the borders were still open we were also doing some work in the U.S., particularly in Arizona.
Dewinetz says about 75 per cent of the business would be direct sales with local designers, contractors and retail customers while the rest is through their dealers in B.C. Alberta and Japan.
He considers their retail sales part of their direct sales, but it's not a large part, he says.
"It's mostly word of mouth, 'you did my neighbour's kitchen and it's awesome and I want something like that.' Or people who have bought from us before and now they are buying a new home and they want a new kitchen.
"We offer a 10-year warranty on our craftsmanship and workmanship, so we don't get a lot of repeat business unless it's a new house. And that's the longest warranty I know of in Canada and that's a big feature for us. And we use all Blum hinges and slides and that's a lifetime warranty right there."
Supply chain challenges and price increases
One of the big challenges right now – 
and it's related to COVID-19 – are 
the cost increases he is seeing 
from suppliers.
"It seems like everything has been going up in price. Paint's gone up, materials have gone up and shipping has gone up," Dewinetz says.
"I got an email from one of my moulding suppliers last week and it was a 30 per cent increase and no notice, it's effective immediately.
"You've got to be kidding me. I have jobs sold for the next three months already and now they are doing that.
"It's like everybody thinks we 
are busy and we are making money hand over fist, but I can only wish. 
I have all these increases and I have t
o manage that.
"Just yesterday I had an hour-long conversation with a rep from our main board supplier because everything was up between five and 17 per cent. So overall, I think we've seen a 15 per cent 
increase on our supplies.
"So then we have to push back a little, because at the very least we need some notice."
But he says it goes right down the line, because the contractors they work with are also pushing back against their increases, because they are getting increases from all of their other trades as well. Dewinetz says he heard from one contractor the other day that said their latest quote for electrical saw a 50 per cent increase.
"So even though we are busy, it's not easy to deal with what's happening to supplies. Both from a cost standpoint, but also as far as availability is concerned. It's quite challenging right now."
Their current lead time is between 15 and 16 weeks and that is unprecedented Dewinetz says.
"Usually when we are really busy, we might be at around 12 weeks, so this is very unusual."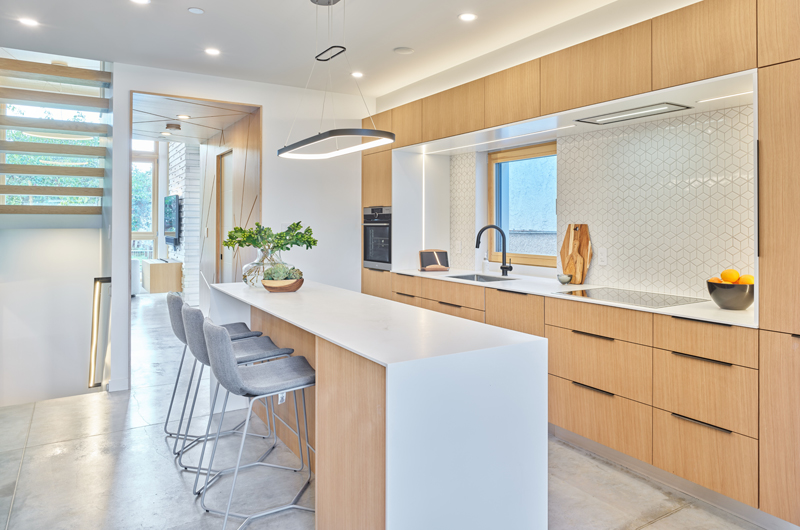 PHOTO: Nick Bray Architecture and Martin Knowles Photo/Media
An award-winning kitchen.


Targeting the 
design community
Since the push started to do more work for their customers, the aforementioned "something for every room,' Dewinetz says he now describes the company as a custom cabinet and millwork shop.
"We're not an architectural millwork shop and we're not a custom cabinet shop either. We're sort of that in between, I tell everybody we're in the mid to high range," he say.
"You could go to an architectural millwork shop and they'd probably charge you 50 per cent more and there are many places where you can get a cheaper kitchen. So we've been a custom cabinet shop for years, but over the last five years or so we have added more of a millwork component to it which gets us more into the design community in the lower mainland.
"That means we hear about projects sooner and we get our name out there and more people see our work and then ask us to do projects for them.
"And we can also do more complicated projects now with special features and materials. We are in a good spot now, but it took a long time to get there."
Dewinetz says he interviewed a designer a few years ago who lived just 10 minutes from their shop, but she said she had never heard of Pacific Rim before.
"So that was a huge red flag for me and I knew we had to change that. If there are people in the design community and they are doing custom designs, especially residential, and they don't even know about of us then that is a big problem," he says.
"So I made it a big point over the past few years to change that.
"One of the biggest things I did is I joined the local homebuilders association and started promoting us there. I got very involved with them since then and that really changed our status in that community. And just a few days ago we also won an award from them for the 'Best New Kitchen Under $50,000.'
So those efforts to transition into more design and custom projects in the higher range have been paying off.
And going forward, Dewinetz says he wants to continue to grow the business into that mid- to high-end market, which continues to grow in the lower mainland.
"Before COVID-19 hit we had consistent growth year over year and we want to get back on track with that as well. And longer term, we want to establish what we can do in the market and how we can help contractors."
Dewinetz says the value of their product is one thing, but he also wants to give the contractors they work with enhanced service with more efficiencies and take some of the pressures of them.
"They are dealing with a lot of different trades when they are building a home, so if they say, 'I will pay a premium for Pacific Rim Cabinets, because I don't have to worry about anything, they will take care of every aspect of the cabinet and millwork portion and I don't have to worry about it and I can focus on other things I have to deal with,' then that is an important and valuable service we are providing.
"I am really finding that people are willing to pay that premium for quality and service and peace of mind as long as you actually do take care of those issues and not create more problems for them," Dewinetz says.
"They know it's going to fit, they know it's going to work, they know if there is an issue it's going to get taken care of."
Family company
Before Bill Dewinetz started Pacific Rim Cabinets in 1997, he worked at Merit Kitchens for his older brother who started that company in 1971.
"My dad worked for him for 25 years," Dewinetz says, "and when my uncle sold the company my father started Pacific Rim.
"I also worked at Merit when I was in Grade 11 and Grade 12 for summer jobs."
But Dewinetz didn't stay there and instead, after graduation, attended university for his CMA designation.
But he came back to work in the family business full time in 2010. He started in accounting and slowly worked his way through the different departments.
"I didn't want to be the owner's son, I wanted to be James and I wanted people to understand that I knew what I was doing and that what I was bringing to the table was valuable," he says.
So he worked in accounting for a number of years, and HR and he was also getting more into the business side of things.
In 2016, he took on the role as general manager and when his father decided to retire, well, semi-retire would be more accurate, in 2019, he became president.
"My dad actually surprised me with this, I had no idea it was coming.
"We had a company meeting and that's when my dad gave me new business 
cards that said 'President' on them. So that was a really nice surprise, but of course it also came with mixed emotions."
Pacific Rim Cabinets has been building award-winning kitchens for years and Dewinetz says that although last year has been challenging, he enjoys carrying on the family business tradition of excellence, great design 
and workmanship.