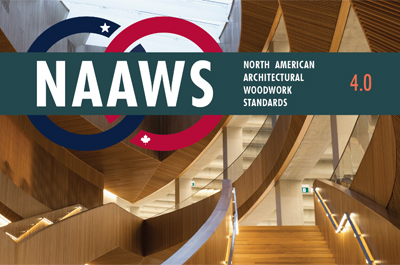 The Architectural Woodwork Manufacturers Association of Canada (AWMAC) is excited to announce that an all-new version of The North American Architectural Woodwork Standards, edition 4.0 (NAAWS 4.0), will be released on 
May 31, 2021.The all-new NAAWS 4.0 will continue to be the benchmark and proven standard that the architectural woodwork industry knows and trusts.
NAAWS 4.0 is jointly developed with the Woodwork Institute - a national organization based in California, whose primary purpose is to assure excellence and craftsmanship in woodwork.
Like all previous NAAWS editions, it will be available as a free download or hardcopy purchase at naaws.com in both English and French.
In addition, NAAWS 4.0 will also be available in Spanish.
After its release on May 31, 2021, NAAWS 4.0 will become effective on Sept. 1, 2021 and will serve as a comprehensive and forward-focused standard that will both build on and replace NAAWS 3.1.
New additions to NAAWS 4.0 are many and include:
An even easier-to-use format
A unified installation guide
Expanded material uses
Additional assembly methods
Casework integrity testing
Features returning from 
previous editions:
Comprehensive standards 
in a single manual
Familiar format
Fully interactive 
digital edition
Collaborative development
To receive the latest information on NAAWS 4.0, join 
the NAAWS mailing list by downloading NAAWS 3.1 at
www.naaws.com or follow NAAWS on LinkedIn at 
www.linkedin.com/company/wi-awmac
You can learn more about NAAWS 4.0 at www.naaws.com
Please take the time to visit our website at
www.awmac.com
and give us a like and follow on our social media channels.