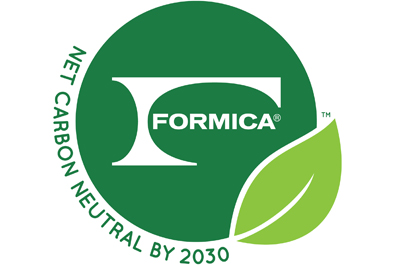 Formica Corporation has announced new sustainability goals and targets net carbon neutrality by 2030.
At a time when 98 per cent of designers say their clients are placing a greater importance on environmentally friendly countertop materials, consumers can turn to Formica brand surfaces with renewed confidence as the company announces a suite of new sustainability initiatives.
"Consumers are seeking surfacing options that are better for the planet, and we are laying out a clear and aggressive action plan to meet their expectations," said Mitch Quint, president of Formica Corporation North America.
"We look forward to providing updates on our progress as we continue to explore opportunities to increase the efficiency of our processes."
While Formica Corporation has always prioritized sustainable practices, the company's 2019 acquisition by Netherlands-based Broadview Holdings helped accelerate its progress. Broadview is a sustainability leader in the decorative materials market and has provided the tools and technology to expedite Formica Corporation's path toward carbon neutrality.
As part of its goal to achieve net carbon neutrality by 2030, Formica Corporation aims for a midpoint benchmark of a 25 per cent reduction of CO2 emissions and 10 per cent reduction in primary energy demand by 2026. In addition, the company will pursue a 5 per cent reduction of its water footprint in the next five years.
In addition to its goal to achieve net carbon neutrality, Formica Corporation has pledged to publish its environmental impact data every year, along with its targets and initiatives for the coming year. The 2021 Sustainability Position Paper—as well as information about third-party product certifications, sample recycling programs and laminates made from recycled materials—can be viewed at www.formica.com/en-ca/campaigns/sustainability.
Formica Canada takes action
In Canada, Formica has also implemented several sustainability initiatives in transportation, production, natural gas use, hardware procurement, recycling and materials use.
Transportation
For over a year, Formica Canada has pursued transportation efficiencies to reduce consumption of packaging materials, pallets and gasoline, as well as wear on transport trucks. Moreover, laminate sheets that cannot be sold due to imperfections are used for pallet wrapping or cut into smaller sizes and resold whenever possible. Sherbrooke University partnership Formica Canada is working with the Sherbrooke University on initiatives to reduce the amount of natural gas used in the plant's ovens by burning laminates with too many imperfections and using gas from wastewater cleaning.
Computer equipment
Formica Canada buys 98 per cent of its computer equipment from local suppliers, recycles its used equipment through specialized partners and sends its used ink cartridges to the Mira Foundation. Materials Formica Canada recycles most of its water to support its plant's production. Over 15 per cent of the kraft paper the company uses is recycled paper entirely derived from the regional market. The raw materials it uses – melamine and phenolic resin – are also sourced 100 per cent in Quebec.
Green team
To continue to improve its practices and mobilize its employees, Formica has also set up the Green team, which aims to help find opportunities for green improvement initiatives for the entire business from field sales to office people.
"We are very proud of Formica Corporation's commitment and of all the measures we've implemented over the past few years at our Saint-Jean-sur-Richelieu plant. We'll continue to review our practices to constantly improve for the benefit of the environment," says Christelle Locat-Rainville, marketing director at Formica Canada.