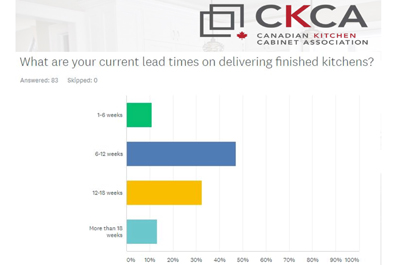 The Canadian Kitchen Cabinet Association has completed its latest industry survey to hear from its members about lead times, production and sales.
Companies from across Canada - ranging in size from two to 450 employees - responded.
The Canadian kitchen cabinet industry generates an estimated $1.5 billion in annual sales and employs more than 25,000 Canadians in an estimated 4,000 Sees (small to medium sized enterprises) with the largest of companies employing more than 1,500 employees and the smallest just one employee.
The majority of companies - 70 per cent - have fewer than 50 employees.
Among the questions participants were asked was one about lead times and nearly 50 per cent of respondents said they had lead times from six to 12 weeks, while just over 30 per cent reported 12 to 18 weeks.
Another question asked whether they were seeing any signs of a slowdown in demand for their products and services and more than 80 per cent answered "no," while 16 per cent said "somewhat."
When it comes to increasing, maintaining or decreasing sales and production levels, roughly half of respondents said they are increasing, while another 50 per cent said they are maintaining current levels.
And fully 90 per cent said they have increased their prices because raw material costs have gone up significantly.
For more information and to access the full survey and other industry information, join CKCA.