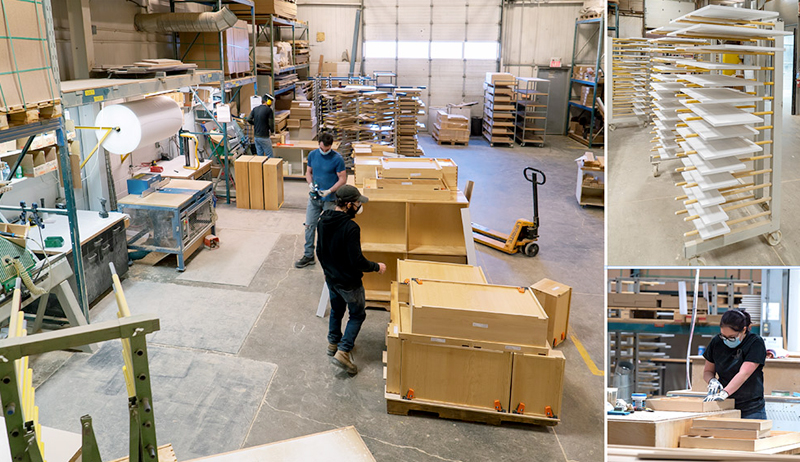 Photos: Distinctive Wood Products
Distinctive 
Wood Products just about doubled its production space and employee numbers over the last two years.
Alec Huynh is the president at Distinctive 
Wood Products of Kitchener, Ontario and he is proud to talk about the recent growth they've managed to achieve thanks to a carefully planned expansion of their facility and product offering.
Distinctive Wood Products now operates from two buildings - after expanding early in 2020 – totalling "just over 35,000 sq. ft. total with 53 employees, 
38 in manufacturing.
"It's really a great story," Huynh says. "Two years ago, I was the 24th employee hired, so we have been very fortunate, even through these challenging times, to be able to grow the company significantly."
Manufacturing is roughly split with one facility handling drawer box manufacturing and the new facility for door production.
"We strategically split up production of our two core products and while we had to increase our fleet size, we didn't have to double up on any equipment because the two business units use different types of equipment for manufacturing and assembly.
"This was part of our growth plan and to 
find efficiencies."
In the beginning
Joe Duimering and his wife Sue started Distinctive Wood Products in1992.
"As a cabinetmaker, Joe was not very pleased with the quality of the doors he was receiving from his suppliers and he started investigating making his own doors and dovetail drawer boxes, which eventually led him to start his own company to make a better product," Huynh says.
"And that's how he started to focus on making quality cabinet components rather than cabinet work, and business took off and he refocused all his efforts to built better components."
Then, in 2019, Duimering was looking for investors and/or partners to grow the company further and that's how AnnexPark got involved.
AnnexPark Capital was founded by Alan Lever and Stephen Luengo to invest in and grow a small portfolio of leading private Canadian small and mid-market companies. The company is based in Toronto and founded on the guiding principles of trust and integrity.
"So Stephen and Alan came on board July 1, 2019, Joe continues on the board of directors," says Huynh.
Distinctive Wood Products specialize in providing on trend, quality products including MDF cabinet doors, primed, ready-for-paint components, as well as dovetail drawer boxes and custom wood components and accessories.
Huynh says the company has seen a period of incredible growth over the past couple of years, as "we ride this unprecedent wave.
"We've just about doubled our production space and employee numbers and our sales increases have kept pace with that, so we are very fortunate. It has been truly remarkable, especially given the short time period. Alan and Steve have made significant investments to make the growth possible.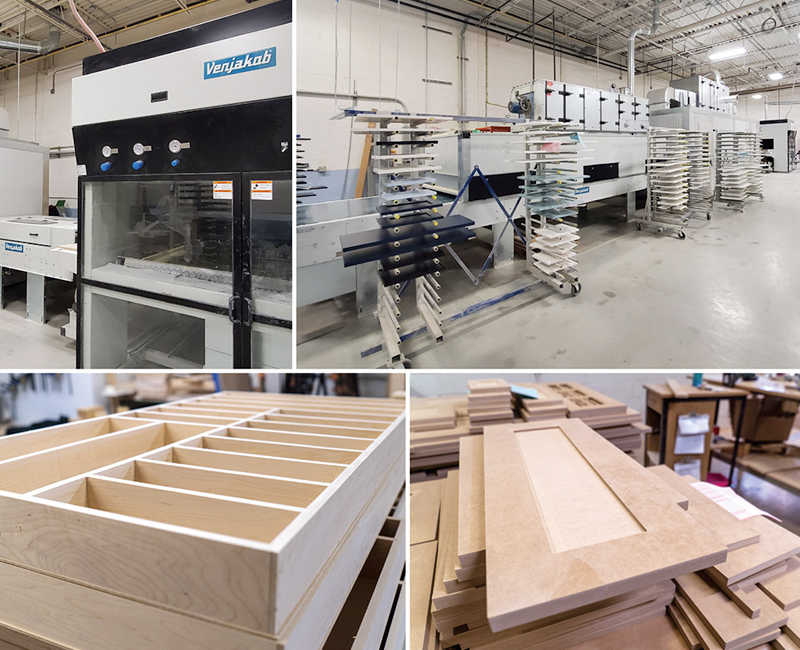 "Just recently we have invested in a fully-automated Venjakob flat line finishing system that goes to a seven stack oven, increasing our value added with consistency in product quality in priming our MDF doors vs. doing it manually.
"And that has made a huge difference for us already. We are now looking at starting top coating as well."
Huynh says they have several customers who have come onboard and are willing to work with them as they are slowly introducing top coating options across their lines.
"Our approach has always been that we want to excel at something before we go to mass market. So we are working with these customers to dial this in and then we'll offer it to all our customers."
At this point the finish line is solvent based, but Huynh indicates, some customers are asking for a water-based option "and we are testing with our suppliers to introduce a universal water-based primer option that allows the primer to meet both solvent and water-base top coat preferences.
"We are excited about this new opportunity and how it could provide our customers another sales opportunity to their respective end customer."
Looking ahead, Huynh says they continue to plan for additional growth.
"Since I've joined in September 2019, we have added four CNC machines, automated with a flat line and oven to the finishing department, and we just put in an order for two more CNCs and that's just on the door side and additional capital investments to our infrastructure to support our growth plans.
"On the drawer side we have added an assembly machine and a dovetailer to support our two major lines. Maple, which is our premium line and we have the birch line, but we also offer other species such as walnut and white oak, but those need a little longer lead time, but if it's something someone wants we can supply it. For some customers, we have also just started a plywood line that has been well received to compliment their project work offerings."
Distinctive Wood Products delivers most of its products to customers in Ontario and the majority are smaller cabinet shops, but they also have some major accounts and "we have just recently begun to expand to Western Canada and Quebec."
In addition, through connections and word of mouth, they have also recently started adding new customers in the U.S.
And again, Huynh says it is that same type of philosophy for their customer base, some large accounts, but the majority are cabinetmaker that complete a kitchen or two a week.
"Of course some of our growth is the result of that wave of renovations we are seeing right across the industry as a result of people sitting in their homes all day and spending money on improvements," he says.
"Having said that, I think most of it has to do with our quality, the way we build our doors for example. It brings so much value to our customers and more and more people are seeing that.
"Joe has put us in a position of being innovators, the way our two-piece door is constructed, and we are taking full advantage of that now with careful planning and strategic investments.
"One of our biggest selling features is the quality of our products and the premium materials we use, Huynh says.
"As a cabinetmaker, you can certainly buy a cheaper door than ours, but people are realizing they can add a lot of value to their kitchens by using our high-quality products and at the same time reduce their respective internal manufacturing cost. We understand our customers and that's part of why we have been able to grow so much with their trust in our product."
And Huynh says the company is seeing additional growth now because their customers are increasingly asking for that extra value added and are ordering more finished products, "because their pain point is hiring finishers and opening up their capacity.
"We have now automated our painting process, so that is the biggest advancement we've had in almost three years. That and other automation, for example rotary sanders, and we have used these added efficiencies to help us grow."
You can't grow a company without loyal customers and a trusted supply chain, "which has been an important factor for us, especially during these challenging times. Case in point, we are not experiencing any significant supply-chain issues despite the well-known challenges in that area right now.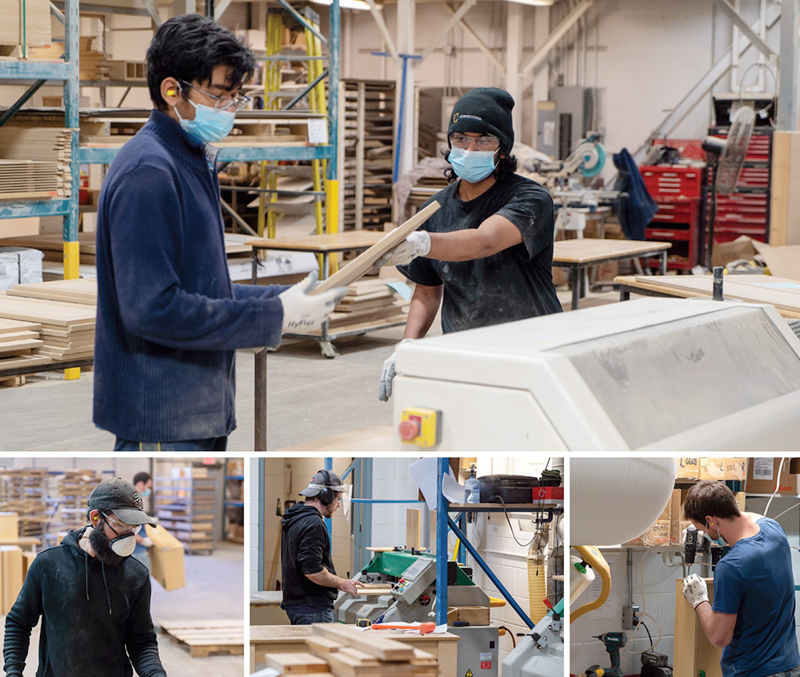 "Our suppliers are very supportive of us and our plans and I really believe that is another essential key to our success."
"With exponential growth comes challenges as we bring scale to our operation. Adding new teammates and supporting their development to our best-in-class manufacturing and quality principles is a big part of our future success. Through these expansion periods, our lead times have certainly been stretched beyond our standard, especially during this busy time," Huynh says, "but they've been able to "adhere to delivery commitments that remain well within industry standards"
What's the difference?
"Simply put, we believe we make a better product using premium materials and we carry that on right through to the finish.
"Our experience and our loyalty, both to our customers and our supply chain assures our customers they can be confident in our ability to maintain supply and enhance the products for their customers," Huynh says
"We also have a top notch customer service team so we don't lose that strength and at the end of the day I believe we are simply selling a better product.