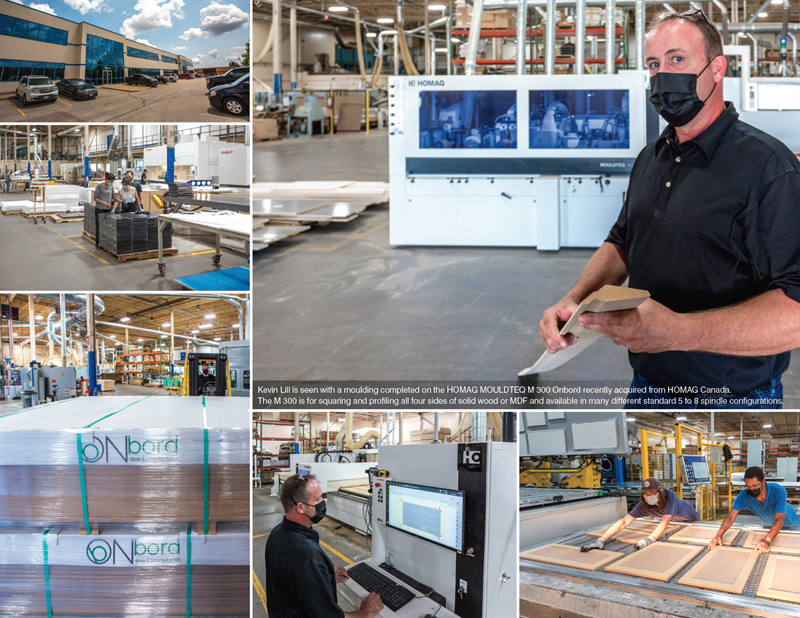 Photos: Woodworking
Vaughn LaVigne has been in the industry for more than 40 years and his latest venture, Onbord Doors & Processed Panels, was the result of a favour he was doing for a customer of his original company, the one he started with his father.
"I got started in the industry through my father who was already working in the industry and encouraged me to follow him," LaVigne says.
And in 1993 - they were both working for another plywood manufacturer at the time - they decided to set out on their own and start their own company.
"We started with 10,000 sq. ft. 
and kept growing, to 20,000, then to 
40,000 and eventually to 83,000 sq. ft. and we now have between 50 and 
55 employees," LaVigne says.
That company is ProPly Custom Plywood Inc., which is located in Brampton, Ontario and has grown from a small, family-run business to one of the leading technology-based plywood manufacturers in Canada.
ProPly is one of the most modern facilities in North America and uses automation and robotics in its production line for increased efficiency and quality. ProPly specializes in hardwood, softwood and custom plywood, using a wide variety of veneer species, cuts and grades ranging from standard to marine and fire rated grades.
Onbord Doors 
& Processed Panels
You'd think that'd be plenty to keep LaVigne busy, but no, he started another company instead.
"About three years ago we started making doors for one of our customers," LaVigne says.
"And then it got to the point where we were making too many doors and we had to decide whether we're gonna make doors or stop making doors," 
he says with a chuckle.
So he decided yes, and 
started Onbord.
"We've been here now just over 
2 ½ years, since we started and now 
we have roughly 30 employees."
"I spend a lot of my time here, just because we're still in the infancy stages, whereas ProPly can pretty much run by itself."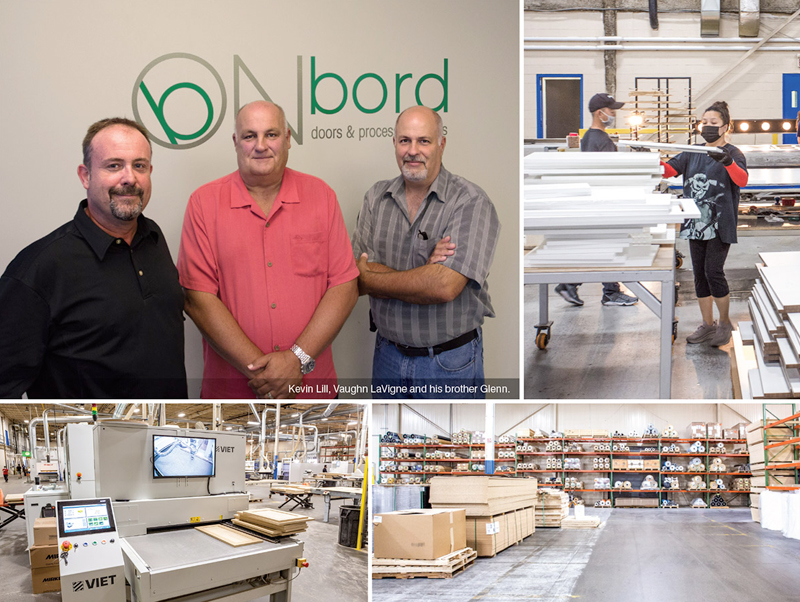 Direct to manufacturers
Most of the doors are sold directly to manufacturers and high-quality thermofoil doors are a big part of what they do.
LaVigne says they are using only the highest quality materials and machinery to make a quality product.
"We only use first-class MDF from the two major mills in Canada, it's a premium product, and the same for the vinyls we use, the majority of it is pure vinyl, either from Germany or Italy. And you have to have proper glue application, not a guy in a booth, but a fully automated line offering consistency and repeatability, door after door after door. That's a key part of it," he says.
"We don't want to cut any corners, it's all about quality."
Kevin Lill, Onbord's vice president of sales, says "there is really strong demand for thermofoil – and not just in the kitchen industry, but also in the healthcare sector and in hospital settings and old age homes because of the way the product is manufactured."
"The product is completely sealed.
Thermofoil used to be known as a cheaper option, but that is no longer true."
Onbord builds high-quality cabinet doors for residential and commercial projects, as well as finished components, cut-to-size, drilled and edgebanded panels and accessory mouldings from crown moulding to baseboards