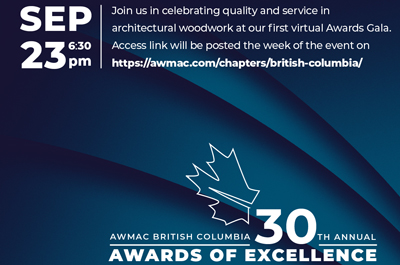 AWMAC B.C.s Awards of Excellence have been changed to an online event.
Originally scheduled to be held, as usual, at the Vancouver Convention Centre, the awards are now being held virtually.
In a statement, the associataion says they are "privileged to celebrate 30 years of awarding distinction in architectural woodwork at our first ever AWMAC B.C. Virtual Awards of Excellence on Thursday, Sept. 23.
"The past 18 months have been a challenge, and regrettably, much-needed celebrations were canceled due to the pandemic. However, adaptation creates opportunity and we are delighted to virtually showcase 45 projects eligible for the Quality, Service and Best Overall awards, continuing the tradition of honoring expert craftsmanship, installation, and design in architectural woodwork.
"Mark it on your calendar and invite friends, colleagues and partners because the great news about a virtual celebration is that everyone can join with the click of a mouse. The evening promises to be entertaining and will include audience interaction with great prizes.
Watch https://awmac.com/chapters/british-columbia/ the week of the event for the live link to join the celebration.