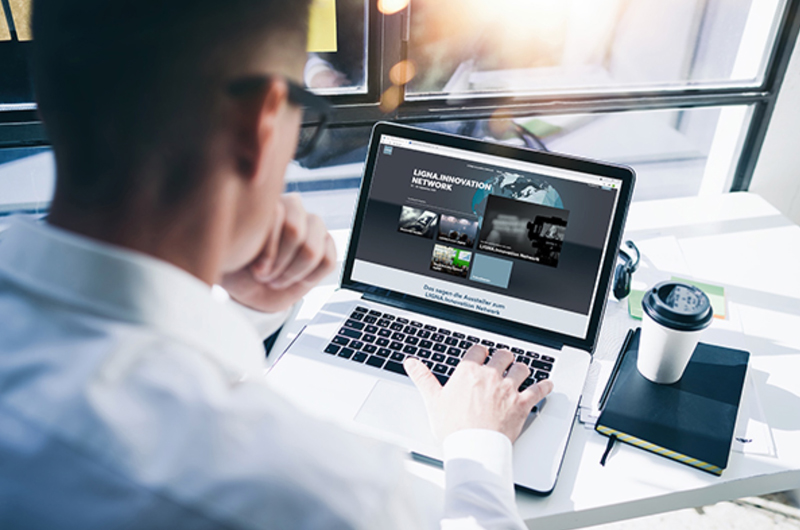 Photo: Deutsche Messe

Mark your calendars and book your tickets now - from Sept. 27-29, the LIGNA.Innovation Network (LIGNA.IN) will launch a new digital format for the international woodworking and wood processing industry.
Deutsche Messe and the woodworking division of the Association of German Mechanical and Plant Engineering (VDMA) will stage a digital event - the LIGNA.Innovation Network - that focuses on the leading topics of LIGNA and you can be part of it online.
The virtual conference highlights key topics such as digitalization and connectivity to transform woodworking, prefabrication processes in timber construction, or the new theme "Process Technologies of the Bioeconomy". The program will also examine wood as the most important renewable resource and spotlights new processing and processing options that drive forward economic and technical innovations in the industry.
The networking function enables all participants to directly contact exhibitors, speakers and visitors. A personalized entry page supports this with a corresponding dashboard that displays the companies, speakers and participants relevant to the respective visitor. From there, the visitor can initiate a direct contact request and then connect via chat or video call.
In the expo area, visitors have direct access to extensive product overviews from exhibitors. Best-case applications, video tutorials, live streams, and video chats enable them not only to learn about specific solutions for optimizing their processes, but also to enter into direct exchange with exhibiting companies.
LIGNA.Innovation Network's new digital forum has been established specifically for the woodworking and wood processing industries.
"In the face of the ongoing challenges posed by the global COVID-19 pandemic, this digital event is your best opportunity to discuss current trends, showcase innovations and network with interested players," says Christian Pfeiffer, global director LIGNA & Woodworking Shows at Hannover-based Deutsche Messe.
"Whenever conditions are changing, we need to work together to find new answers to make our industry marketplace, in this case LIGNA, sustainable. The LIGNA.Innovation Network is an ideal example of such a new, jointly conceptualized response."
You can register here.