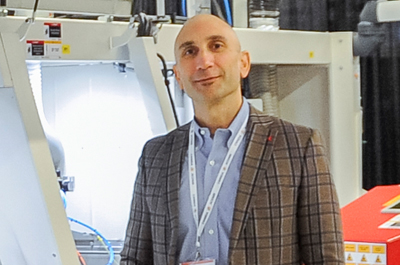 Photo: Woodworking
Murat Dogan
The Canadian Woodworking Machinery Distributors Association (CWMDA) it looking forward to its Woodworking Technology
Days (WTD) event scheduled for Nov. 1-6.
The postponement of WMS 2021 notwithstanding, CWMDA says that based on the success and experience of last year's WTD, and considering that it takes place in members' showrooms, the event can be carried out safely, following current measures and rules enforced by the Ontario government.
The WTD event was created last year by the association as a way to showcase specialized production equipment and offer a larger number of demos. With several major international shows cancelled, this is a great opportunity for Canadian woodworkers to visit and see more machinery than ever.
Murat Dogan, president of IMA-Schelling Canada and also president of the CWMMA, says planning for this year's Woodworking Technology Days event began shortly after our last event and was always going to go ahead independently from WMS.
And Murat is buoyed about the response the CWMDA is seeing.
"Last year's event coincided with one of the worst lockdowns we ever had," Dogan says, "but we were able to abide by all the rules and restrictions and hold a successful event and we are expecting an even better and bigger event this year."
He says the idea is to "bring the most to our customers in the shortest time through our combined efforts.
"We want to use the convenience of most of our members' showrooms being very close
to each other - within 20 or
25 minute drive - and have separate open house events at all of these locations at the same time.
"Now, we have to use the word open house with caution, because of covid restrictions," Dogan says.
"So it may not be that open in the old sense because of those restrictions, but let's call it an open house with new rules. Like making an appointment, controlled access and maximum occupancy to keep everyone safe."
Dogan says considering there hasn't been a significant trade show in Canada in a couple of years, this is definitely something the industry needs, especially considering that the industry is in good shape and everybody is very busy right now. From cabinet companies, RTA companies and millworkers, everybody is busy "so that is the goal, to offer them a great show."
"2020 was our first event and it was challenging to be sure with the lockdown," he says, "but we managed to put together a great event for the industry by following all public health guideline and restrictions. We basically stuck to the numbers allowed at the time, there was strict screening and contract tracing and requiring appointment for certain time slots, which limited numbers in the showrooms."
Dogan says visitors attended during their assigned time slots and anyone that just showed up may have had to wait until others left before they were allowed to enter in order to comply with the rules and regulations in placae at the time.
"And we're going to do it the same way again this year.
"We once again are encouraging visitors to make an appointment ahead of time."
WTD continues to grow
"This year we are expecting quite a few more visitors than last year, which was our first event," Dogan says.
Looking at the registrations, I can see we will have people all the way from Quebec to British Columbia, so quite a few out-of-town customers.
"We had some last year, but this year we are expecting quite a few more."
Last year people were a little bit more nervous, especially about travelling, Dogan says, but we have learned what to do now and how to stay safe, and with most people double vaccinated, that anxiety is less and there is a lot of interest from people to attend our events.
"Also this year, we are very fortunate to be industry partners with CKCA, AFDIC, AWMAC and WMCO. They are all endorsing our event.
"Everybody was happy with the turnout last year and as I said, we are expecting many more people to attend this year and I think it has a lot to do with most of the country being double vaccinated, people more comfortable travelling and the fact that we haven't had an opportunity
to get out and see what's new."
Asked about the ongoing supply chain challenges that are affecting all industries, Dogan says members are well stocked to put on a great show and demonstrate the latest innovations.
"I want to once again encourage people to register," Dogan says.
"Like any other trade show really, even without covid, people are highly advised to make in order to assure them that they get the best from their time and we have technicians available to spend the time they need with them to address their needs."
"And our event is spread out over six days," he says, "so that gives people lot of time and the opportunity to visit all showrooms, even twice if they want to do a second visit.
"I think this will be a good week for our industry."