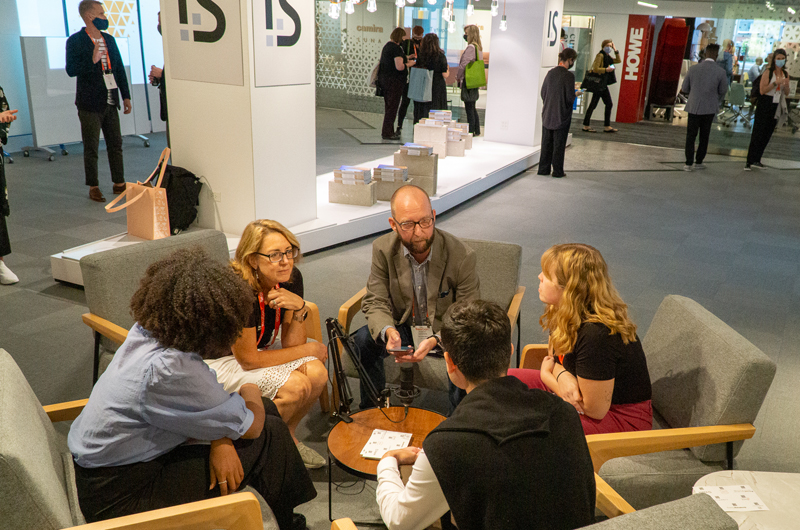 Photo: Formica

The three winners, with Renee Hytry Derrington, participating in the I+S Design podcast.
The three winners of the 2020 and 2021 editions of the FORM Student Innovation Competition were invited to Chicago, from Oct. 3-5, to attend NeoCon, one of the world's largest design trade shows, to see their work exhibited. This is the first time that Formica Canada has had the opportunity to offer such an experience to three Canadian winners of the annual FORM competition.
"The FORM Student Innovation Competition aims to foster the expression of talent in young North American designers' talent, as well as inspire them at the beginning of their careers. By inviting the winners to participate in NeoCon, we want
them to appreciate the breadth and diversity of trends in the commercial design world, the range of materials available, and the industry's designers and companies," says Christelle Locat-Rainville, marketing director at Formica Canada.
Formica Canada invited Alexandra Clément (2020 winner), Martin Gonzalez Godoy (2021 co-winner) and Bénédicte Laurent (2021 co-winner) to participate in this major design exhibition, which was held from Oct. 4-6, where they were able to see their respective works on display, meet many design community stakeholders and learn more about the industry's products and companies, while also discovering Chicago and its unique architecture.

A formative and unforgettable stay
"Our trip began with an architecture-themed boat tour of Chicago, which was a fabulous way to see the city and learn more about its history and architecture," says Martin Gonzalez Godoy. The winners then travelled to NeoCon, where they visited the Formica booth to learn about new products, design and manufacturing processes, and the company's vision and plans.
"This exciting visit helped us understand the specifics and use of the different materials Formica offers. I really appreciated the design possibilities that their innovations inspire," says Bénédicte Laurent.
Accompanied by Renee Hytry Derrington, managing principal of design at Formica Corporation, the winners were taken on a tour of the exhibition, where they had the chance to view new products, talk to representatives and learn about the manufacturing process.
The students were also invited to a Happy Hour event, during which their work was exhibited. They were able to present their creations, chat with various design community stakeholders and participate in an I+S Design podcast.
All three winners greatly appreciated this rewarding professional and personal experience.
"I loved my stay, and I really appreciated the fact that I could share it with the other winners and meet part of the Formica team," says Alexandra Clément. "It was a truly great experience that I'll never forget," says Martin Gonzalez Godoy.