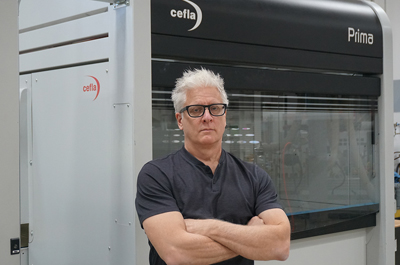 Photo: Cefla
Jude Zimmermann


Cefla North America, a leading supplier of surface enhancement technologies in the United States and Canada, has again grown its finishing laboratory team with the addition of lab manager Jude Zimmermann.
A dedicated production manager, Zimmermann has 20-plus years of experience in manufacturing and operations. He is a decisive leader with complex problem solving and team leadership skills. With a background that has heavily involved printing, wood and metal boutique finishing, metal fabrication, and CNC, Zimmermann is an ideal fit for the role and will offer a new lens with which the department can organize and be structured for success.
Zimmermann hails from the greater Milwaukee, Wisconsin area and has recently relocated to Charlotte, North Carolina to oversee laboratory operations. With his team, Zimmermann will facilitate daily testing either on behalf of Cefla customers, via virtual testing, or alongside them to conduct testing that achieves the customer's finish objectives. Within the finishing laboratory, he will also be involved in planning, budgeting, and coordinate with the company's service division on new machine builds.
Cefla North America houses the largest laboratory dedicated to finishing professionals second to its global headquarters in Imola, Italy and is the company's largest investment outside of Italy. The lab enables customers to test substrates and coatings in an environment that does not disrupt their company's production. The lab also serves a center of research on the latest trends, techniques and technologies available to the finishing industry. Cefla North America in particular is a center for vacuum technology and manufactures a line of vacuum coating finishing systems available in USA and Canada.