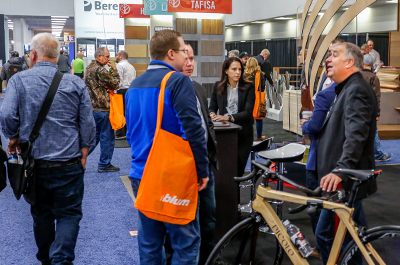 The Woodworking Machinery Conference and Expo (WMS) returns to the International Centre Feb. 24-26, in Mississauga for the first time in more than two years. Originally scheduled to be held in November, WMS was postponed due to the pandemic.
"Our past attendees and exhibitors are chomping at the bit for a face-to-face event again in Canada," said Tim Fixmer, president and CEO of CCI Canada, Inc., part of Woodworking Network. "At last the Canadian industry is able to see the latest new technologies, materials and supplies in person. As Canada's woodworkers continue to deal with the long-lasting effects of the pandemic, WMS will give them the opportunity to look for solutions to supply chain issues and the skilled labor shortage. At the same time, the industry will finally get a chance to network face-to-face for more than two years."
According to Fixmer, attendee pre-registration numbers is running ahead of 2019's pace.
In addition to exhibits, WMS attendees will be treated to a host of complimentary educational sessions and keynotes on the show floor. More than a dozen sessions will be presented at WMS Live, including two keynotes and wide-ranging topics from dealing with the legal implications of the pandemic in your business to learning the latest in digital marketing.
Keynotes
Luke Elias, president and CEO of Muskoka Cabinet Co., will present the opening keynote at 11 a.m. on Thursday, Feb. 24 on the WMS Live Stage. He will discuss the challenges and opportunities his company has addressed over the last two years. Muskoka Cabinet, an Industry 4.0-enabled manufacturer, added a productivity-boosting robotic work cell last year. It represents the company's latest investments in robotics that began in 2015. Muskoka has also been a leader in the use of ERP, MES, and RFID technologies.
In recognition of his achievements – at Muskoka Cabinet and on behalf of the industry as a whole – Elias was named a 2021 Wood Industry Market Leader. In addition to his opening keynote presentation at WMS, Luke Elias will provide a live remote demo of his automated processes on the WMS Live stage.
FDMC Editor Will Sampson will present "Solving the Pricing Puzzle" as the Day 2 opening keynote at WMS, Friday, Feb. 25. The veteran woodworking journalist will share the highlights and his personal insights of FDMC's annual Pricing Survey. He'll examine what various shops charge for the same work, the fundamentals of pricing custom work, and common pitfalls to avoid in the estimating process.
Sampson has spearheaded the collection and analysis of the FDMC Pricing Survey for more than two decades. He said he is constantly amazed by the wide range of prices submitted by participating readers who develop their estimates using a common set of project specifications. Invariably, he added, the larger and more complex the project, "the more startling the price variations."
WMS Live
A wide range of topics will also be presented on the WMS Live stage during the three-day event held at the International Centre. WMS Live is the main education feature and these complimentary sessions are presented by industry leaders and exhibitors on the show floor. The Wood Manufacturing Cluster of Ontario has committed to several sessions for WMS Live. WMCO sessions include:
Cyber Security: Latest issues, trends, and must-dos for your company presented by Erez Zevulunov, Boris Zlatogorov, MIT Consulting.
Developing leaders in your organization presented by Barry Reid, LMI Canada.
COVID legal updates with the return to work implications presented by Edward W. Snetsinger, Sherrard Kuzz, employment and labor lawyers, and Randy Dignard, Industrial Safety Trainers.
Lean Manufacturing Strategies: How to start, and how to sustain and keep engaging your people once you started presented by Sepp Gmeiner, Lignum Consulting and Brad Cairns, Quantum Lean.
WMCO/WSIB Health & Safety Excellence Rebate Program presented by James Ebidia, health and safety consultant.
Pandemic supply chain challenge panel discussion: Building dialogue with suppliers and manufacturers moderated by Peter Degelder, Wood Supply Chain Group Inc., and Mike Baker, CEO, WMCO.
Business Growth for Small Shops Produced by the Wood Manufacturing Cluster of Ontario.
Digital marketing essentials for wood manufacturers in today's digital world presented by Darrell Keezer, CEO, Candybox Marketing.