As entry door material composition has evolved from solid wood to composite products, tooling technology has improved to meet machining demands.
In many cases, solid wood has been replaced with LVL and other composite core materials to create hybrid door panels. Hybrid raw materials consisting of various layers of material do have many performance benefits, but careful consideration must be made when machining these products.
Fire rated doors are produced with extremely abrasive core material, which causes excessive heat generation and premature tool failure. MDF carved doors require multiple tool paths and extreme depth of cut, resulting in tool longevity issues. Gesso coatings and other abrasive coatings, create cutting tool challenges on all parts of the entry door. All of these factors make carbide tooling impossible to use in high volume machining situations. In most cases, diamond tooling is the only viable tooling option to achieve optimal performance and cut quality results.
Door edge machining
Image 1
shows a diamond high shear tool, which has proven to optimize all door edge machining operations on CNC routers and tenoners. High shear flute geometry alters cutting actions to effectively slice wood fibers and prevent cross grain tear out or blow out on the corners of door edges. Cut quality results are incredible compared to traditional tool geometry. This tooling solution is particularly effective when machining delicate veneer products, which are susceptible to chipping. High shear angles eliminate chipping on corner of door or any area where veneer is not well bonded to the core of door.
High-shear tooling can be produced in router bit or cutter head format and allows for higher feed rates on all types of machinery, without sacrificing cut quality. Tool longevity is also improved dramatically as high shear geometry applies less force on cutting edges, resulting in minimal heat generation and cutting-edge wear.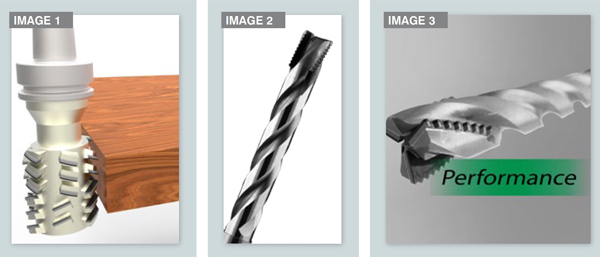 Hinge pocket machining
Hinge pocketing has traditionally been a very simple operation, which does not create tooling challenges, as the machining is normally minimal compared to other operations. Shallow hinge pockets on solid wood door edges, can be machined with simple carbide tools on CNC routers or manual router equipment. However, integration of fibreglass and other composite materials into door production does make this operation more complex.
Coatings such as "Gesso" or other products have become very popular to improve surface durability of doors, which does result in better product performance and durability. But these coatings do dramatically reduce tool longevity and cause premature tool failure; therefore, alternative cutting tool options are required. Diamond tools have become the standard choice for most hinge pocket operations to dramatically increase tool longevity and improve cut quality. Some applications do require additions flutes on the cutting tool, to prevent tear out and maintain optimal feed rates.
Lock mortising
This application is very common in entry door manufacturing, as door edge locksets require deep mortise pockets for hardware installation. Deep pocket machining does present cutting tool challenges for various reasons. Extreme depth of cut inevitably generates excessive heat, resulting in tool life reduction. Short tool paths will always result in lower feed rates, which exaggerate heat generation problems.
Image 2 & 3
shows an example of a polycrystalline diamond (PCD) router designed for deep mortising in various materials. This design utilizes polycrystalline cutting edges with chip breaker geometry to reduce cutting forces and improve overall performance when machining at higher depth of cut. PCD cutting edges have proven to increase tool longevity by 200 to 300 times when machining abrasive composite material.
Aggregates vs. 5-axis machinery
Traditionally aggregates have been widely used for edge machining operations and deep mortising applications. Aggregates do play a valuable role in many entry door production operations and effectively increase flexibility of 3-axis machinery. However, aggregate designs do have limitations related to tool holding and rigidity. Extended length mortising tools are installed in an aggregate unit using ER collets or other means of manual connection.
Extended length tools do add additional pressures on tool connections, which can result in tool deflection and eventual failure depending on material density and machine parameters. As 5-axis machinery has become more common in entry door manufacturing, aggregated units have become unnecessary in some cases. Deep mortising operations can be optimized using 5-axis machinery, as the cutting tool is connected directly to the machine spindle with less points of connection. The result is a more rigid set up, which can perform at higher feed rates with less tool vibration. Hydraulic or shrink fit tool holders cannot be assembled with aggregates, but can easily be used on 5-axis machinery to increase tool rigidity and balance. These types of tool holder upgrades will result in better overall machine performance and tool longevity.
Machine parameters
Proper machine parameters are important considerations in any routing application, but especially when performing deep pocketing applications. Improper machine parameters will result in excessive heat generation and dramatic tool life reduction, especially when machining composite materials.
Many tool designs utilize three-flute geometry, which can create problems if the RPM is too high or feed rate is too low. A 3-flute tool running at high RPM will have a small chip load if feed rates are not adequately increased. Due to the nature of lock mortise tool machining, it is very difficult to increase feed rates because the tool paths are generally very short, which does not allow the CNC router to ramp up to high feed rate. Therefore, RPM reduction is the most logical solution to control heat generation. Most 3-flute lock mortise tools should run at 14,000 RPM or lower depending on tool diameter. Tooling half inch diameter and under can be run up to 16,000 RPM but careful attention must be paid to ensure the tool is not overheating. If heat generation persists, a two-flute tooling solution should be considered to optimize chip load.
CONCLUSION
As material composition and entry door designs continue to evolve, cutting tool technology will change to meet demands for better cut quality and tool longevity.
Diamond tooling solutions will play a valuable role to optimize machining operations on all parts of entry doors. Regardless of machinery choices, tooling selection and proper machine parameters are critical factors to ensure successful results when producing entry doors.