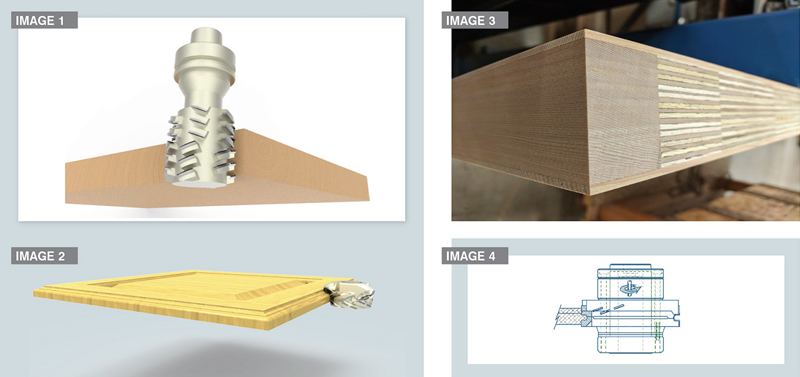 High shear diamond tooling concepts continue to evolve and optimize machinery performance. Most cutting tool manufacturers in North America have started to produce high shear diamond tools in various formats, which have improved machining operations in many segments of the industry. High shear diamond tooling has proven to improve cutting efficiency and cut quality in many applications using a variety of wood species and composite material. In particular, solid wood door, furniture and flooring components have been improved by utilizing the benefits of high shear cutting geometry.
BENEFITS:
1. Premium cut quality by eliminating cross grain tear-out;
2. Dramatically increased feed rates without sacrificing quality; and
3. Significantly extends tool longevity and durability.
IMPORTANT CONSIDERATIONS:
High shear geometry can be utilized in straight edge machining and minor angles, but it does have limitations with deeper, more complex profiles. Combination designs are possible to manufacture shallow profiles on cabinet doors or flooring components.
Images 1 & 2 show two examples of designs, which perform extremely well in high shear configuration.
Image 1 shows a common entry door edge application, which can be done in straight edge or 3-degree angle format. Image 2 shows a straight / profile combination tool which is very common in cabinet doors and can be machined effectively with high shear tools.
High shear tools excel at perimeter trimming applications on CNC routers, moulders and tenoners. Cut quality results are incredible, but are generally limited to half-inch depth of cut. High shear geometry does not perform well in nested applications or applications with high radial engagement requirements, however, there are a variety of trimming applications, which can be improved by using high shear tools.
High shear tools are designed with segmented cutting edges; therefore minor overlap lines between cutting edges will still be evident. Minor lines are easily removed with low pressure sanding operations no different than any other tool. However, there is an added benefit, as the high shear tool does not tear out loose grain even on difficult wood species. As a result, sanding labour and abrasive requirements are reduced significantly.
High shear tooling does create substantial upward and downward force on the work piece due to extreme shear angles. Therefore, it is very important that the tool path runs with equal up and down shear on the part or, if possible, more down shear on the part being machined. This will ensure part hold down is maximized and part movement is minimized especially at high feedrates.
High shear cutting edge geometry is very complex to produce and does require specialized machinery and software features to manufacture and service accurately. Clearance angles and cutting-edge relief is critical. It is imperative that tooling is sent to a qualified service facility and sharpened on proper manufacturing equipment to ensue optimal performance after service.
APPLICATION UPDATE: PERIMETER CUTTING SOLID WOOD DOORS & COMPONETS
CNC Routers:
Many custom door and wood component operations have shifted to CNC router technology due to accuracy benefits of CNC machining on a router. The quality improvements are undeniable, but cycle time limits have always been a challenge. High shear tooling has changed the conversation and made CNC routers more attractive from a production efficiency perspective. In numerous case studies, customers have reported a 100 to 150 per cent increase in feedrates depending on the application. Traditionally, dramatic feedrate increases at this level have come at a cost to cut quality, but high shear tool designs have allowed for aggressive feedrate increases, without any decline in cut quality. It is possible to increase productivity and improve cut quality at the same time by using high shear geometry.
Image 3 shows cut quality results from a recent case study to improve cut quality on hybrid material. A test sample was manufactured using plywood core sandwiched between five mm cedar skins, which presented a difficult cutting challenge. Plywood can be very difficult to machine without tear-out on cross grain wood fires, and cedar is notoriously difficult to machine in an application. High shear tool geometry was manufactured in router format and run at high feedrate on a CNC router. The test results are shown in Image 3. Even loose grain plywood and dry cedar veneer was machined with incredible results with high shear geometry. The customer was able to double feedrates from 400 to 800 inches per minute, resulting in dramatic cycle time reduction to compliment cut quality improvements.
Tenoners:
For many years, corner "blow out" and grain tearing has been minimized through use of "jump heads" or multi-rotational machining on tenoners. However, "jump heads" have traditionally been tedious to set up and very difficult to produce a door edge without a subtle ridge appearing between the two cutters as material feeds through the machine. Even with advancements in CNC adjustable spindles and more accurate part holding systems, the problem of transfer lines can still create dramatic quality control issues. In several case studies, high shear tools have been very useful in solving this problem. In some circumstances, depending on wood species, it is possible to run the tenoner with 
only one rotation and produce acceptable cut quality results. This effectively reduces tooling cost and eliminates the problem of transfer lines on the edge of parts.
High shear tools have traditionally been used on the edge of parts, however, there have been some developments in tongue and groove machining on tenoners. High shear geometry cannot be manufactured to cut shaped profiles, but it can be made to rebate straight or angled sections of a part. Image 4 shows a cutter head designed to machine a simple tongue and groove profile. Although this is a simple profile, there are often grain-tearing issues which persist above the tongue area. This problem is common in solid wood and cabinet door and flooring applications and causes high defect rates due to the critical location of the component. High shear geometry can be added to this specific area of the tool to eliminate cross grain tear-out resulting in dramatic reduction in defect rates.
Shapers:
Even simple door edging operations can benefit from using high shear edge tooling. As shapers do not have "jump heads" or any multi-rotation machining capabilities, it has always been difficult to machine square parts without corner tear-out. A properly designed high shear tool will cut with grain and across grain without tearing out the corners. If a logical 
sequence is followed to machine cross grain 1st, and with grain 2nd, premium cut quality can be achieved without jump heads.
MACHING DIFFUCULT WOOD SPEICIES ON MOULDERS
Moulders generally utilize complex profile tooling, so high shear tools are not always useful when considering tooling options for a moulder. But there are a couple specific operations within the moulder which can be optimized with high shear. Straight edge cutting on the first right spindle is critical to final cut quality results, so a high shear tool can be utilized to provide the best possible cut quality on the straight edges. Many customers have trouble machining specific wood species such as Douglas fir, alder, and other softer wood species, which are susceptible to grain tearing. This often forces the operator to slow down moulder feedrates resulting in a negative affect on tool life and productivity of the moulder. High shear tools can dramatically reduce grain tearing and pitting in difficult wood species and allow moulders to run at higher feedrates to maximize machine productivity.
CONCLUSION:
The positive effects of high shear tooling have been realized on various machinery and applications, as tool manufactures create new tool designs and discover new ways to apply high shear geometry. This type of tooling does not provide benefits in every application; however, the cycle time benefits and cut quality improvements are incredible if used in proper applications. High shear designs will continue to evolve as more demanding applications and materials continue to drive innovation.