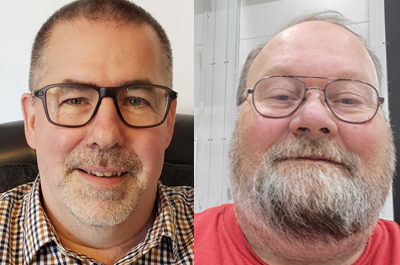 Photos: Contributed
Chris Havey and Richard Normile

Chris Havey and Richard Normile have joined the CNC Automation team.
CNC Automation is pleased to announce the addition of Chris Havey to the team as their business innovation manager. Havey is joining CNC after 19 years at Deslaurier Custom Cabinets, a member of the senior leadership group, he held the role of manager of supply chain and NPI (new product introduction).
As a seasoned operations and supply chain professional, Havey will be bringing tremendous insight and knowledge to the team.
With exceptional experience spanning across many sectors, such as cabinetry manufacturing, high tech, building materials, sporting goods and banking, his overall business operations proficiency will allow CNC to serve its clients even better.
CNC Automation also welcomes Richard Normile to the team as their finishing integration manager.
Normile first started in the industrial coatings industry over 45 years ago. Then, in 2001, realizing that they would quickly become essential machines in most woodworking shops, he started working with automated spray equipment.
He spent the next 20 years adapting the machines and coatings from manual spraying to automated systems.
Normile is part of a select few in Canada with vast experience in this area.
His immense knowledge will aid in bringing all the key ingredients together, making the step to automation almost seamless.