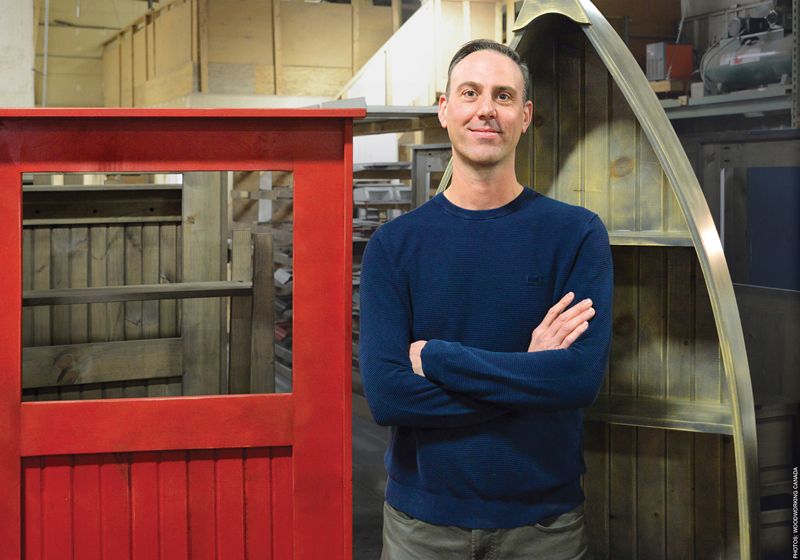 Photos: Woodworking Canada
Simon Lloyd represents the second generation of the family company.


Springwater Woodcraft began as a small woodworking shop at the home of Grant and Tricia Lloyd in 1992 and has grown to become one of Ontario's leading suppliers of solid wood home accents.
Today the company has a staff of 15 woodworkers, servicing retail stores across Canada from their 14,000 sq ft facility.
"But we continue to be a family-run business that maintains the values and personal service of that tiny home-based shop," says Simon Lloyd, who represents the second generation of the family company.
"We offer a line of close to 150 early Canadian-style furniture and decorative items, all of which are made right here, mostly by hand and using only solid North American pine. You won't find any MDF or particle board anywhere in our shop."
Lloyd says his father Grant has worked in the industry for most of his life and done everything from building houses to kitchens. He also owned and operated several successful kitchen businesses. But he got tired of doing kitchens and endless customization and wanted to go back to his roots so to speak.
"He wanted something simpler, of course something that still involved wood, but something more old-fashioned, less automated, using less software, call it more analog," Lloyd says. And that's how Springwater Woodcraft was born.
Lloyd – having grown up in and with this parents' various woodworking businesses – knows wood and just like his dad caught the "bug," that love and appreciation of wood and the craftsmanship involved in making things.
Lloyd grew up in North Bay where his parents operated "one of the bigger kitchen shops in that city with quite a few staff and quite a big building, definitely a booming business."
His father owned the business along with a partner and when they decided they really wanted different things, he sold his part of the business and moved the family to Barrie, in 1991, to start something else.
"I think he wanted something a little smaller while his partner wanted something bigger," Lloyd says. "So there was an opportunity in Barrie, which was really growing at the time, and still is, so he started over, ironically initially with yet another kitchen business."
"It was just a small shop, just him and a couple of guys, but then he got sick of doing that and that time made the decision to do something completely different.
"He tried a couple of different things, from building cargo trailers to a contract with the federal government and eventually settled on what we're doing now – "Early Canadian Furniture."
Lloyd says his father discovered a company in Indiana that was making very crafty, all-pine and all one-colour accent pieces, things like shadow boxes, candle holders and mirrors and he thought that's something that would do well here as well. "And after importing and selling those products for a while and seeing that there was a market for it, he decided he could make those products himself, which is how Springwater Woodcraft got started.
"So in 1992 my father started making these kinds of products himself, just in our garage.
"He is really super high energy and always likes to try something new. Combine that with a great vision for what he wants and enjoys doing, this turned out to be the thing that interested him most and he made it work.
Springwater Woodcraft started small, but continued to grow quickly and after several moves to progressively bigger buildings, they now operate from the aforementioned 14,000 sq. ft. facility in Minesing, Ontario just outside of Barrie, about an hour north of Toronto.
And in keeping with his father's knack for building just about anything, he even built the new building, which finally gave them enough space for inventory.
However, Lloyd says that after they joined the former Bluewater Wood Alliance, which has since transformed into the Wood Manufacturing Cluster of Ontario (WMCO), the company started implementing some of the things they learned during all those WMCO events and adopted Lean manufacturing. As a result, all that racking that was so important for them and their inventory system has now come down and they "have no inventory to speak of.
"We had always built to inventory and drew from that inventory, we had a push system," Lloyd says.
"But since we have embraced Lean, our business has transformed to a pull system and everything is based on what's going out the door. It's changed everything and we no longer need inventory."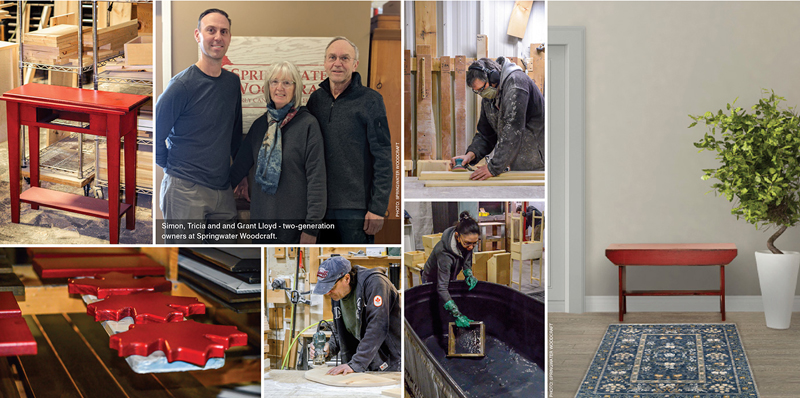 Photos: Woodworking Canada & Springwater Woodcraft
Simon, Tricia and and Grant Lloyd - two-generation owners at Springwater Woodcraft.Joining the family business
Lloyd says that even though he grew 
up working in the business as a youngster, it took him some time to realize that he wanted to stay with it after school and join the family company full time.
"I remember growing up in the business. I worked after school and during holidays, painting and cutting and staining and sanding - I seem to remember a lot of sanding," Simon says with a laugh. "It was pretty much a family affair and everyone helped out."
"But I really wasn't sure if that would be my career path," he says. "So after high school I went off to college to get degrees in marketing and entrepreneurship at Seneca for their business program and Ryerson for a Bachelor of Commerce.
"After graduation I came back and right away started working at the company again, but I still wasn't convinced that that's what I wanted to do. So my dad and I had a talk. When I first came back to working in the shop I just reverted back to the things I had always done, you know cutting and assembly or whatever.
"But my dad said there is more here I could be doing so we talked how that might happen. We decided that I should be moving to the front office to look after marketing and sales. And having gone to school for that it was an easy transition really, even though it was a little bit strange, because previously I had only ever worked in the shop."
Lloyd says it has worked out 
really well because it allowed his father to focus on what he liked most, which is looking after production.
"That's his first love really, he has no desire to sit in front of a computer, ever. But somebody has to do it and that's where I come in. So it's worked out very well. It's a good partnership.
Made by craftsmen 
not machines
Simon says he realizes that everyone is getting more into automation, but so far they have done very little of that and for a good reason.
"We have certainly been thinking about automation, we have so many very disparate products in our collection that it would be very difficult to do. Also, we have a really good team and it is part of what we do, you know the old-school manual production that is in keeping with traditional values and craftsmanship and our traditional product offering.
Everything is made in Canada, right here in our shop and it's mostly hand made. It's real craftsmanship and we take great pride in that.
"Obviously we have automated some of our processes and we do run a CNC, but I don't see a fully-articulated robotic arm in our future.
"It's part of our shtick, our appeal, that we can say everything is touched by hand all the way through. It goes with our story and the appeal of what we to," Lloyd says.
"We sell a romanticized vision of pioneer Canadians doing woodworking in their log cabins. The way things were made 100 to 150 years ago. Handmade and hand cut, that's the image we are going for. It's also what we do with our finishes; everything is kind of old school. So even if mauve is the hot colour right now, that's not what we do. We use the traditional colours that were available at the time."
Finishes are chosen from a palette of antique-inspired colours, then distressed with hand-rubbed care for a comfortable lived-in look. And their dedication to quality and value, along with timely and accurate deliveries has earned them a solid customer base.
Springwater Woodcraft uses wood sourced only from sustainably managed North American forests and their finishes are strictly non-toxic and water-based.
Springwater Woodcraft does not have a showroom and does not sell directly to consumers. Instead, eeverything goes through their dealers across Canada.
Most are independent furniture stores - such as a non-corporate Leon's store for example - as well as independent gift shops and designer boutiques.
"So some of the smaller stores would select some of our smaller items. They wouldn't stock our six-foot pantry, but they'll offer a collection of smaller, decorative items," says Lloyd.
"And our dealers can pick and choose what they want to buy. We don't tell them they have to get a certain percentage of our line and we also don't tell them how much they have to buy in a month or year. We just tell them here is what's available and they buy what they wish. It's entirely up to them and that system works well for everyone.
"We offer a fairly big line so there is a lot for them to choose from. And so they might order $1,000 one week and then nothing until next month and so on, but that's OK, people like that we are not forcing anyone into anything."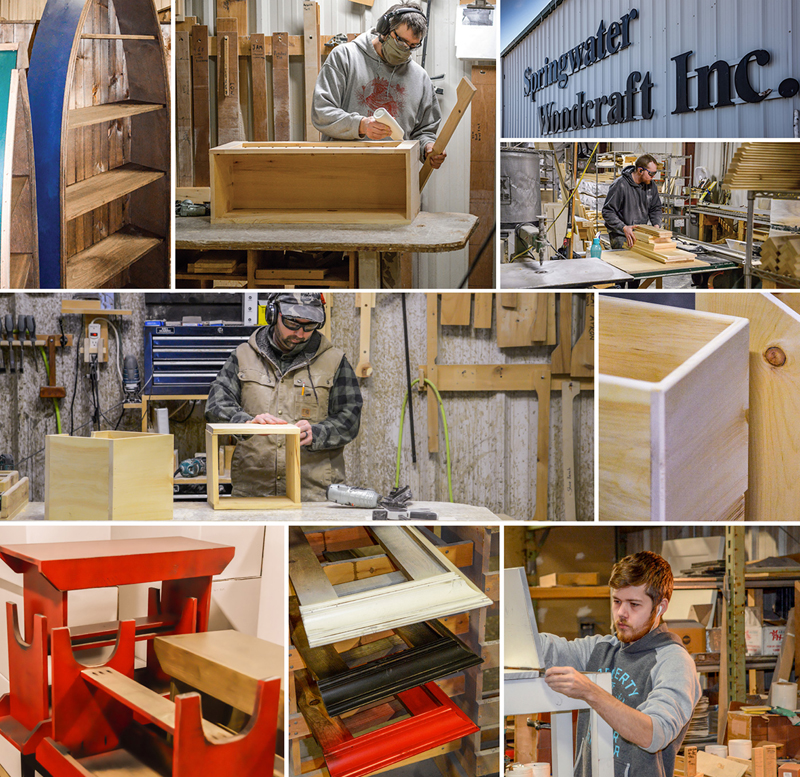 Real wood
Lloyd says they provide a handmade, very simple and straightforward product to retailers across Canada and that's the appeal to "what we do. It's a "real" product, made from wood and people enjoy it."
Eastern white pine is their most-used wood because it has a nice grain, takes the old finishes well and looks really nice once it's finished. Red pine looks awful and yellow pine has no real character, Lloyd says.
And while the pandemic created a number of challenges for the company, after a few weeks and the initial shutdown, just like everybody else, they saw demand ramp up and never come down.
"We shut down for about five weeks in those early days because we figured things would just drop off a cliff, but that did not happen. Instead orders just kept coming and it hasn't stopped since. Right now we are working at capacity and trying to catch up and fulfil our orders.
When the company started, it was very craft oriented, very low tech and in a sense they still are, but now they have a much bigger product range.
"We're into more furniture proper now," Lloyd says. "We still do all the little accent pieces, but now its also more larger pieces, everything from bookcases, pantries and tables to storage and benches."
We don't do any custom pieces either, but we do get a lot of our inspiration from customer suggestions," Lloyd says.
"And while we won't try to do the colour of the moment, we do listen to suggestions for products from our dealers and sales reps and even consumers just writing us to ask if we could start making a certain item."