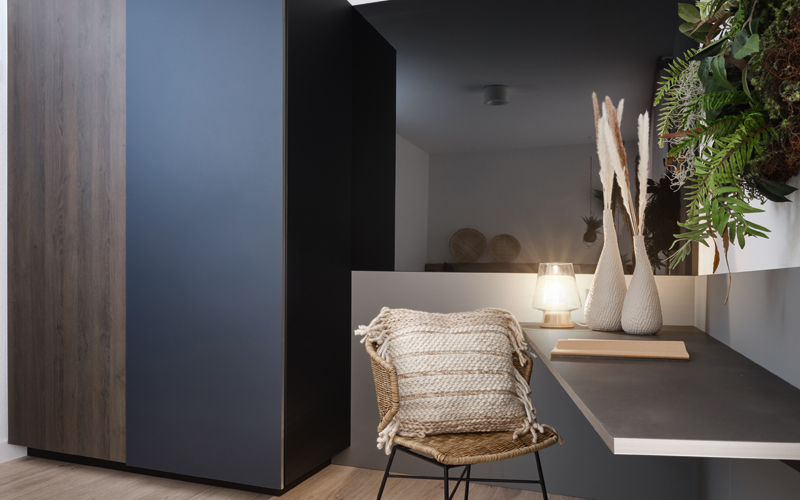 Photo: EGGERS
EGGER has updated its PerfectSense line of lacquered boards.

EGGER's updated PerfectSense line of lacquered boards increases application options and durability while processing.
With visual and tactile properties to engage the senses, EGGER's high-quality PerfectSense products have been a feature of luxury residential and commercial spaces for several years. Now, the wood-based materials manufacturer has enhanced its PerfectSense line to deliver new features and function and allow its customers to elevate the design of furniture and interiors.
Since the new product launch in 2015, Egger's PerfectSense matt and gloss MDF lacquered boards have offered interior design architects, designers, fabricators and end consumers an elegant look and feel and durability. Now, the company's new and improved PerfectSense lacquered boards not only possess enhanced quality, but will also increase performance and application versatility for high-end furniture and interior design concepts.
"Due to the global success and continuing trend of matte surfaces, we have further developed our well-known matte and high-gloss lacquered boards", says Hubert Höglauer, head of marketing and product management for furniture and interior design for EGGER Group.
With PerfectSense lacquered boards in Premium Matt (PM), customers can experience the new advantages when planning and processing the product, as Höglauer notes. "The innovative lacquer system has noticeably optimized the micro-scratch and scratch resistance of our matte lacquered board," says Höglauer. "As a result, we have extended the range of suitable applications for this product to horizontal surfaces, such as tables, counters and shelves."
PerfectSense lacquered boards in Premium Gloss (PG) are distinguished by their timeless elegance. The new Premium Gloss emphasizes the mirror-like finish and brilliant reflective properties for an expansive effect. Premium Gloss is now also ideal for less stressed horizontal surfaces, such as sideboards, for a high gloss finish.