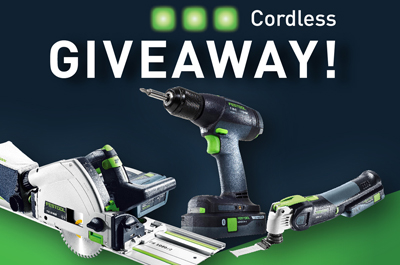 You can be a winner with Festool, a leading manufacturer of innovative, precision-engineered and durable power tool solutions, which is launching a huge giveaway to showcase their comprehensive, high-performing cordless line-up.
The total prize value is $6,470 and the giveaway runs from June 30 till July 15,
Offering products that operate quickly, safely, and accurately, the top-of-the-line power tool manufacturer is including some of its most innovative cordless solutions in the giveaway.
The Festool Cordless Giveaway will include state-of-the-art cordless solutions such as the new TSC 55 K Cordless Track Saw, and the OSC 18 Cordless Oscillating tool or the powerful and ergonomic T 18 Easy Drill.
Festool is also giving away Cooltainers, which is a portable cooler with foam insulation that integrates into the Festool Systainer storage and transport system.
1st and 2nd prize for the Festoool Cordless Giveaway include 1 Energy Set, 1 TSC 55 K Basic Cordless Track Saw, 1 T18 Easy Basic Cordless Drill, 1 OSC Basic Set Cordless Oscillator, and 1 FS 1400LR/32 Guide Rail. The 3rd and the 4th prize winners will receive a T18 Easy Plus Cordless Drill and 5th to 8th winners will be given the Cooltainer M 437 Portable Cooler.
To enter the giveaway fans and customers can visit https://www.festoolcanada.com/campaigns/landing-page/cordlessgiveaway and follow the steps starting Thursday, June 30 until Friday, July 15:
Full giveaway terms and regulations are published at festoolcanada.com/rules.
For more information, visit www.festoolcanada.com.