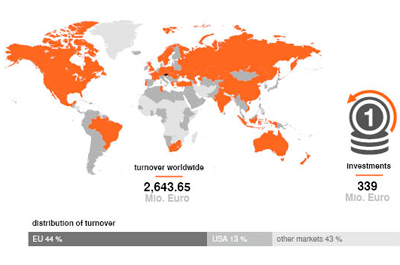 Blum has recorded 11.6 per cent growth for the 2021/2022 fiscal year ending June 30. Sales of 2.64 billion euros represent an increase of 266 million euros over the previous year.
Last year was another good year for kitchen and furniture manufacturers as consumers continued to invest in their homes and the demand for fittings has stabilized at a high level, says Philipp Blum, managing director of Julius Blum GmbH.
Last year has once again been challenging due to the ongoing COVID pandemic and the war in Ukraine, which makes our growth all the more significant, Blum says.
"That growth can be attributed to an increase in sales as well as price adjustments necessary as a result dramatic cost increases," says Blum.
The company has also added 644 employees last year, taking staff numbers worldwide to more than 9,422.
Development of international markets
Western Europe saw another big increase in sales, particularly in Italy, Germany and the UK. However, the political situation had a subduing effect on markets in Eastern Europe.
"We are shocked by Russia's war of aggression on Ukraine which has inflicted untold suffering on many people since it was launched in February. The war in the middle of Europe is shattering peace on the European continent and shaking the foundations of stability. Although our colleagues in our Ukrainian subsidiary are as well as can be expected, their health and well-being are a constant concern," says Blum.
"The lockdown in Shanghai and other Chinese cities in the spring of 2022 has also had a major impact on our customers there, but the Asian market has achieved good results on the whole," he continues. Business was also satisfactory in North and South America. However, international transport routes have created new challenges for the company. "Disruption is being caused by the war in Ukraine and the worldwide shortage of freight containers, heavy goods vehicles and drivers. The supply chain is still under severe pressure," Blum adds. The company is satisfied with order volumes and is guardedly optimistic about future developments. "We're pleased that we've been able to greatly reduce lead times for many product groups by increasing production capacity and recruiting new staff members over the past few months." says Blum.