Haunching application is not common in all industries, but there are specific machinery designs, which are prominent in cabinet door and window industries to perform haunching operations. Hunched profiles were traditionally produced with handheld tools, which was very labor intensive and had limited accuracy. Machinery technology was eventually implemented to reduce labor and improve joint quality and accuracy. Haunched joinery construction allows for three stabilization areas, a greater glued surface area, and creates a refined beaded miter look in the corners of the face frame. This joinery method was traditionally used in post and beam construction and furniture components, but has become very common in French miter doors and face frame cabinetry construction, as well as some window mullion designs.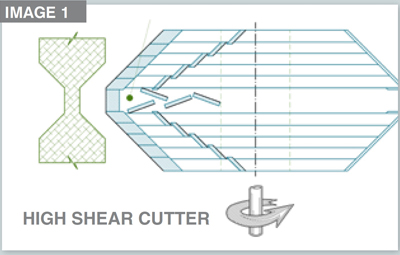 Machinery:

Haunching machines operate with specialized tools to notch the areas of the frame parts 
that will be joined with other frame parts. The same tool is used to cut the corners off the rails so that a perfect fit is formed between the notches created by the haunching machine and the abutting parts. This does seem like a very simple operation, however, there are many variables, which affect final quality and machining can be very difficult without proper machinery, tool and material selection.
CHALLENGES

Haunching applications usually involve cross-grain machining, which can be very difficult to perform without excessive tear out. Machine parameters and material composition play a large role in reduction of cross grain tear out. Softer wood species such as alder are particularly challenging to machine due to grain structure. The front face of the part can usually be machined without excessive tear out, but the back of part is often problematic. In some cases, such as face frame production, the tear out may not be an issue as the frame is being installed on the front of a cabinet, which hides poor cut quality. But in French miter door products, any poor cut quality will be exposed on the back of door when opened. Machine configuration and effective tool geometry can help overcome cut quality challenges and help produce premium quality joinery.
Traditional carbide insert tool designs:

Traditional tool designs do machine the profile; however, grain tear out is always a challenge due to cutting pressures on the material. The flat-faced carbide insert designs apply excessive pressure on wood grain, as they exit the cut, resulting in poor quality and often-unacceptable final products. There are various options to improve machine performance and cut quality.
SOLUTIONS
Machine Parameters: 
Any strategy to reduce grain tear out involves machine feed rate and RPM considerations. In general, a combination of higher spindle RPM and lower feed rate will produce best cut quality results. However, not all machinery is designed to run at high RPM and the size of cutting tool can also limit RPM options. Smaller diameter cutting tools are normally best to allow for RPM increase and reduced cutting pressure. Machine parameter changes can help improve cut quality, but proper machine and 
cutting tool design is the only way to ultimately solve machining problems.
Multi-rotational machinery
Original machine configurations normally had single spindle movement with a "backer block" to reduce tear out. The backer block does help support material as the cutting tool exits the cut but tear out is very difficult to eliminate on a consistent basis with only a backer block. Advanced machinery designs utilize multi-rotational tools which machine toward the inside of the part resulting in optimal cut quality on edge of parts. These machine designs effectively improve cut quality, but the price point of machine is much higher and cutting tool set up can be very tedious. Advanced cutting tool geometry will improve machine performance of both single and double spindle machines.
Advanced tool designs
Image #1 shows a tool with advanced geometry, which has proven to reduce tear out and produce better quality joinery. Advanced tool designs are laid out in a helical format with maximum face shear on the cutting edge. Notice the small sections of cutting edges arranged in a helical format to reduce cutting pressures. Each section has shear geometry, which limits cutting forces resulting in less grain tearing while exiting the cut. These designs can be made with carbide tipped cutting edges, but polycrystalline diamond cutting edges will always produce the best possible results and dramatically increase tool longevity.
CONCLUSION

Although haunching applications are not common in all woodworking products, they do play a critical role in specific cabinet and window designs. Haunched profiles present an important challenge for machine and tool designers tool optimize cut quality. Carefully consider machine designs and tooling geometry as well as raw material selection to ensure best possible cut quality results.