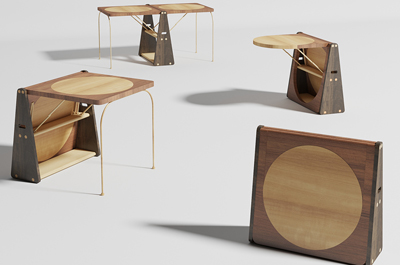 Formica Canada is calling future designers and invites Canadian students to participate in the 6th edition of the North American FORM 2023 Student Innovation Competition, by designing a distinctive piece of furniture that stems from their interpretation of maximalist design, using Formica Brand products.
This year's challenge asks students to submit a color rendering and project statement for a furniture design that stems from their interpretation of maximalist design.
The "new maximalism" revolves around maximum color, painterly print and rich textures. It allows a space for expressing individuality and unique perspectives. Students are asked to use their creativity when defining what maximalism means to them, which could be furniture with multiple patterns, unique architectural shapes or bold, saturated colors that draw the eye.
Student submissions must include three or more Formica or FENIX Brand products, including at least one from the SurfaceSet 2022. They will have the chance to win cash prizes and North American recognition and have their work showcased at NeoCon 2023.
The competition is open from Sept. 1 through March 6, 2023. A distinguished panel of industry and design professionals will judge the student submissions and the winners will be announced in April 2023.
"The 2022 edition of the competition attracted an exceptional group of Canadian students who distinguished themselves by a record number of participants, but also by the creativity and quality of the designs submitted," said Christelle Locat-Rainville, marketing director at Formica Canada. "We can't wait to see how they will interpret maximalism and to discover their creations".
The grand prize winner will receive a US $ 2,000 cash award and their design will be fabricated and displayed during NeoCon 2023 in Chicago. The second-place winner will be awarded US $ 1,000 and the third-place winner will receive US $ 500. The top three winners will also be invited to attend NeoCon 2023 as guests of Formica where they will have the opportunity to network with industry professionals and discover the design community.