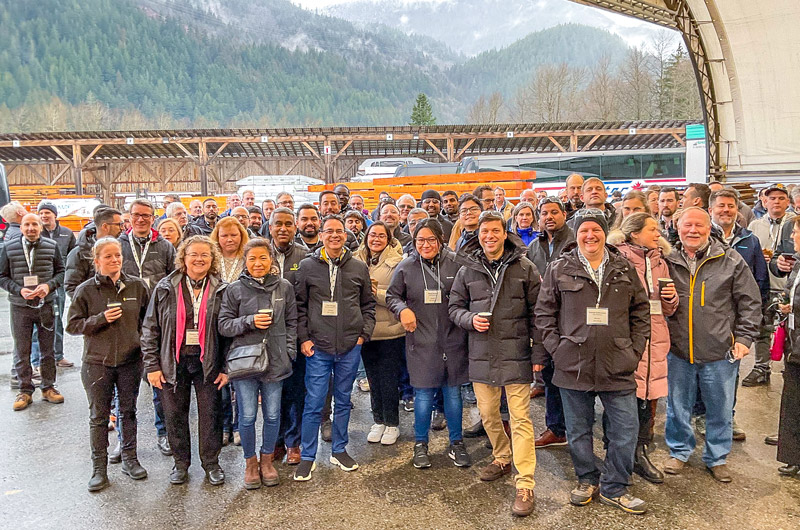 CKCA's Western Regional Event was sold out.


The Canadian Kitchen Cabinet Association's Western Regional Event in Richmond, B.C. was a great success.
The sold-out event saw some 140 attendees get together for two and a half days of tours, presentations and lots of networking. Based at the Sheraton Vancouver Airport in Richmond, attendees visited various manufacturing shops in Richmond, Surrey, Port Coquitlam, North Vancouver and Squamish.
CKCA Executive Director Sandra Wood, said with tours of Nickels Cabinets, Sunrise Kitchens, Centre for Advanced Wood Processing (CAWP) at University of British Columbia, Lauren Woodworking, Sofo Kitchens, Fraserwood Lumber and Leon Lebeniste, the group had a full schedule that provided lots of touring and networking.
In addition, attendees heard about a new recruitment program that CKCA is developing in partnership with Chris Leonard, Kaizen Institute and Northwest Skills in B.C.
"We also heard from keynote presenter, Connie Millard of POWERPODS and Yohaan Tommy from MNP and CKCA plans to offer online webinars to repeat these presentations based on the excellent response we've received."
CKCA used a similar approach for a panel discussion from September's National Forum that talked about the future of the industry. The recording of that session session is now available on the CKCA website for free.
"As was saw in Waterloo last September, the industry was keen to connect and there was a strong sense of community amongst attendees," Wood says.
"The Manufacturers Roundtable welcomed 60 manufacturers, one of the best turnouts ever. In addition, CKCA released a series of videos to compliment the HR programs launched in January.
"It was a real pleasure coming to B.C. CKCA is strong here and our members are very engaged and we hope through these face-to-face events, combined with the tools we've launched such as the online webinars and monthly manufacturers roundtable, we are driving more value that our members can really benefit from.
"We expect to have another excellent turnout for our National Forum, Sept. 28-30, in Moncton, New Brunswick.