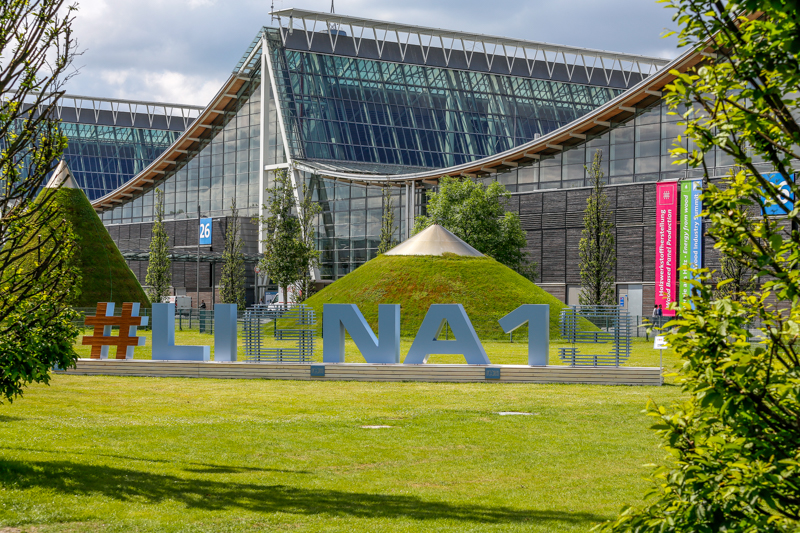 Photos: Woodworking
LIGNA continues in Hannover, Germany.

LIGNA.19 kicked off Monday with packed aisles, thousands of visitors and hundreds of machines under power.
Impressive for first-timers to be sure, but even industry veterans voiced surprise over the unusually strong attendance on opening day, and the number of innovations is simply staggering. Booth traffic continued strong Tuesday and Wednesday as well and the show will continue in Hannover, Germany until Friday.
"We are happy with the first few days of the show," said Anja Brokjans, LIGNA spokesperson.
"Exhibitors are telling us they are doing strong business at the show and customers came here ready to buy."
HOMAG is showing 50 machines, including six new series of machines spread out over Hall 14 and its InnovationCenter offers visitors a journey through the milestones of furniture production and a look into the future.
SCM Group, which reported double-digit growth in 2018, is showing its Smart&Human Factory, a cutting edge production facility offering mass customization.
Biesse Group's theme, Automaction, is highlighting the use of robotics and digitalization in technology and at WEINIG Group, which is celebrating its best quarter ever at this year's LIGNA, CEO Gregor Baumbusch said they have managed to buck the industry trend of lower machine sales with an increase in sales of nearly 6 per cent in 2019.
At Felder Group, visitors have the opportunity to see PCS in action. PCS is a revolutionary innovation in safety equipment for sliding table panel saws. Also, Felder is showing a world first in an innovative edgebander that offers PUR edgebanding without a glue pot. Ready for use in just 90 seconds, this FORMAT 4 machine uses PUR tape.
And more innovations are everywhere, from new tools to complete production lines and software, which becomes increasingly important as companies are preparing to transition their customers to Industry 4.0.
And the good news is that all this innovation is being made available to everyone.
This is no longer just the domain of the large furniture and kitchen manufacturers. All the large players as well as many smaller machine manufacturers are showing many opportunities for small companies to get into the latest technology as well.
For more on that and the many LIGNA innovations in general, keep an eye on www.woodworkingcanada.com
LIGNA attracts big crowds starting on opening day.